News
The Walking Dead: Daryl Dixon First Look Teases a New Direction for TWD
The first full look at The Walking Dead: Daryl Dixon finds our hero on European soil and experiencing some unexpected hope.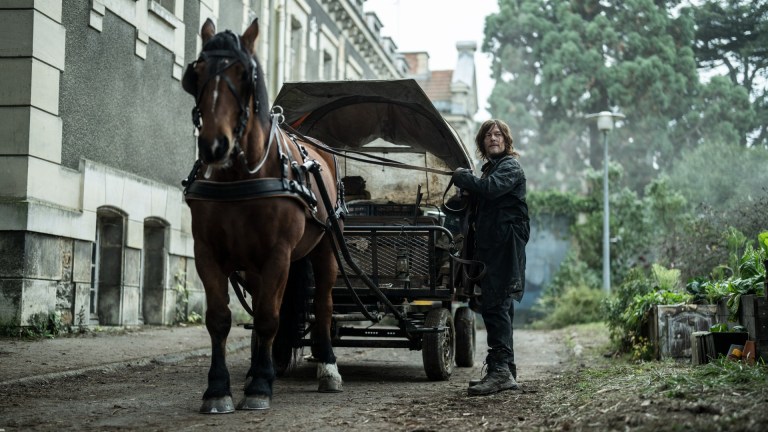 Hello, English-speaking readers. How's your French vocabulary nowadays? Well, based on our first official look at Walking Dead spinoff The Walking Dead: Daryl Dixon, you may want to start brushing up on the romance language soon.
The two-minute clip, which AMC premiered during episode 2 of The Walking Dead: Dead City, features Walking Dead hero Daryl Dixon (Norman Reedus) traversing a rundown European landscape and even encountering some graffiti that might be cause for hope (if he paid enough attention in French 101 to read it). Give the whole clip a look below.
The first notable bit here is that Daryl addresses himself into a tape recorder and says he comes from a place called The Commonwealth in America. This suggests that the massive community from flagship series is carrying on just fine and is perhaps even notably less corruptible under new leadership. Things get decidedly less optimistic from there as Daryl walks across a post-apocalyptic France that's every bit as broken, decayed, and dead-strewn as the United States.
Near the end of the clip, however, we get another indication that the tone of Daryl Dixon might be a bit more positive than The Walking Dead. It comes in the form of this hastily scrawled graffiti.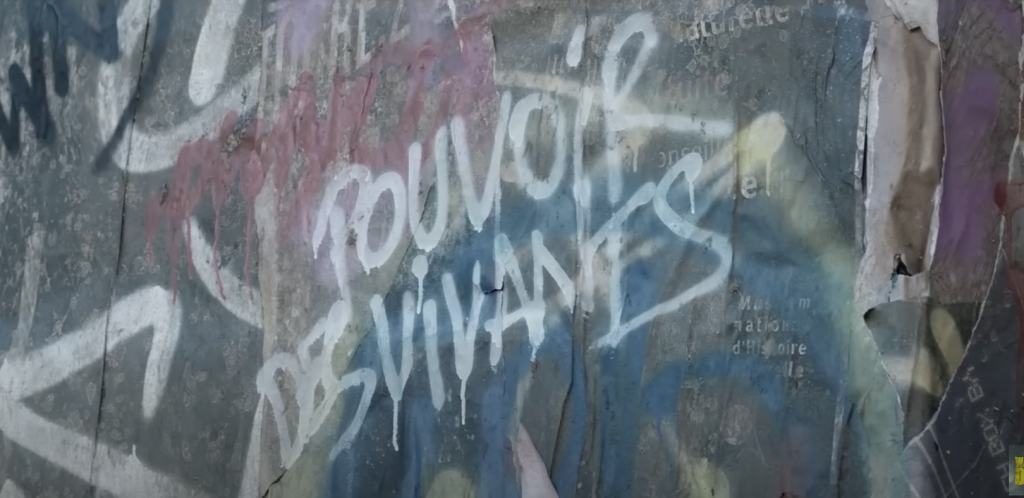 If Google Translate is to be trusted, "pouvoir des vivants" translates roughly to "power of the living." This is an uncommonly forceful declaration of living solidarity that suggests the French may not have fallen all the way down the dystopian rabbit hole that their American counterparts have. Of course, the rundown area surrounding it suggests that it didn't do them much good in the end.
Still, the positive nature of this graffiti is far different from the graffiti that traditionally littered the landscape of America on The Walking Dead. Through 11 seasons, that series frequently used painted signs as dark jokes and tonesetters. My personal favorite was the note that accompanied a man dead by suicide in season 2 "Got bit. Fever hit. World gone to shit. Might as well quit."
Still, one spray-painted message is obviously not enough to conclude that optimism reigns in post-apocalypse France. But the folks involved in the show have previously teased that this could be a more cheerful experience than The Walking Dead. According to Deadline, Clemence Posey's character Isabelle will be part of a "progressive religious group." And Adam Nagaitis's Quinn is the owner and operator of Demimonde, "a sexy underground nightclub." If France has room for both a "progressive" religious sect and a party palace then things can't be going too bad, can they? Additionally, in 2020 Reedus told Den of Geek that "the themes of the two shows are completely different."
Even AMC's synopsis for The Walking Dead: Daryl Dixon mentions resilience: In The Walking Dead: Daryl Dixon, Daryl (Norman Reedus) washes ashore in France and struggles to piece together how he got there and why. The series tracks his journey across a broken but resilient France as he hopes to find a way back home. As he makes the journey, though, the connections he forms along the way complicate his ultimate plan. The series stars Norman Reedus, Clémence Poésy, Adam Nagaitis, Anne Charrier, Eriq Ebouaney, Laika Blanc Francard, Romain Levi and Louis Puech Scigliuzzi and is executive produced by Scott M. Gimple, Showrunner David Zabel, Reedus, Greg Nicotero, Angela Kang, Brian Bockrath and Daniel Percival. 
Will Daryl Dixon be a surprisingly happy show? We'll find out when it premieres this fall.