Features
Fear the Walking Dead's Midseason Finale Sets up Rick Grimes' Return
The midseason finale of Fear the Walking Dead's final season brings the future of The Walking Dead intro clearer focus.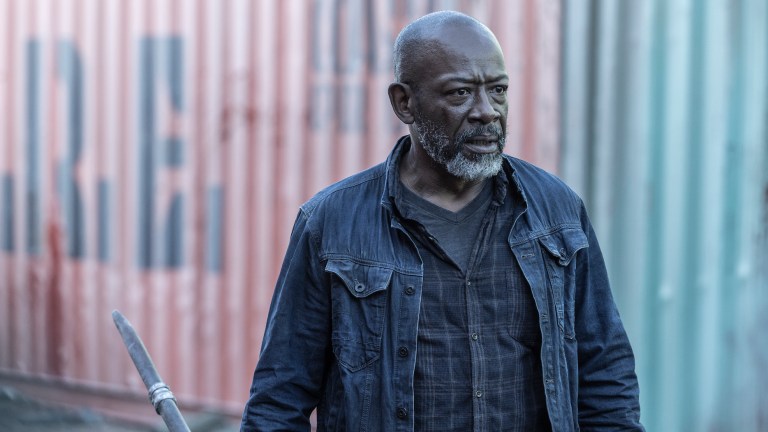 This article contains spoilers for Fear the Walking Dead season 8 episode 6.
The eighth and final season of Fear the Walking Dead has been pulling out all the stops to drive home the show's unique place in the franchise – and everything we'll miss when it's gone. Since day one, the series has been about families trying to stay together against all odds, and that heart wrenching theme has progressed into a fast-paced, chaotic, and – don't forget – terrifying mid-season finale with twists and cliffhangers galore.
"All I See is Red" find one of the primary protagonists, The Walking Dead alum Morgan Jones (Lennie James), reeling from the loss of his beloved, Grace (Karen David), as he tries to reunite with his daughter Mo (Zoey Merchant). This all occurs with the two locked in the center of an absolute whirlwind of horror as regret and grief threaten to overwhelm them. Yet, as he struggles against the cycle of violence that has haunted him since we met him in TWD's first season, Morgan remembers the words of his friend – Rick Grimes (Andrew Lincoln), which kicks off what promises to be a major plot thread in the lead-up to the pending Untitled Rick & Michonne series slated for 2024.
Fear the Walking Dead and The End of PADRE
Morgan's story has been the center of the final season, although, in classic TWD fashion, it's the ensemble cast around him that makes the whole thing click. Recent episodes have seen long-time FTWD fan favorite and pre-Morgan protagonist Madison (Kim Dickens) return after appearing to die in the fourth season. The health problems she has incurred as a result and the hope of reuniting with her children, Nick and Alicia, kept her locked into service for the mysterious child-stealing organization PADRE, but no longer.
Enlisting the help of Morgan and Grace's stolen daughter Mo, Madison has a change of heart and strives to reconnect Mo with her parents. This leads to the reveal that Morgan and Grace have been working for PADRE as well, with Mo's safety leveraged against them for seven long years. Similarly, Dwight and Sherry have also been blackmailed into service, with their son Finch's life on the line.
Much of the last season, the parents at the center of this drama – Morgan and Grace, Dwight and Sherry – have swung wildly between choosing to fight for their family's right to stay together and telling their children that they're incapable of protecting them and they must return to PADRE. As the organization openly uses the love they feel for their children as a weapon against them, Morgan is again reduced to the mentally fragile and dangerously paranoid state he was in when we first met him, which only escalated when he lost his son Duane.
Morgan Heads Off to Find Rick Grimes
As of the mid-season finale, PADRE, which is revealed to quite literally be two siblings in a trench coat loosely posing as their father, has fallen. Madison is working with Daniel and the parents of the children who were stolen to reunite families. Meanwhile, Morgan and Mo put Grace to rest, with Morgan using his radio to put out the call that he's looking for a man named Rick Grimes.
Back in the TWD finale, we saw that Rick has his own problems with a shady military organization as he seemingly attempts to flee a looming helicopter only to be dragged back in, we assume by the nefarious Civic Republic Military (CRM) that was partially explored in The Walking Dead: World Beyond. Still, he is able to leave a clue to his whereabouts behind, which Michonne (Danai Gurira) eventually found. As of "All I See is Red," we know that both Michonne and now Morgan are hot on Rick's trail. Whether this will lead to a Rick or Michonne appearance in the last round of FTWD episodes, it's impossible to say, but as of now, the groundwork is there.
Rick and Morgan's Timeless Friendship
Rick and Morgan first met with Morgan smacking Rick on the head with a shovel back in TWD's first season. Eventually, Morgan warms to Rick, revealing that he is allowing the undead corpse of his beloved wife to wander the streets due to his inability to put her down. This leads to his son Duane eventually being attacked and turned by his mother, at which time Morgan chains Duane in the attic and leaves him there. When Morgan and Rick reunite, Morgan is hanging on by a thread, but Rick is able to offer him a sense of community.
Over time, this has developed into one of the great friendships of TWD. As each of them have struggled against the horrors of their lives and the impact it has had on their own moral values, they've served as crucial counterparts to one another. While they have often been forced to go in very different directions, their paths seem to keep crossing despite it all.
With their first wives, Lori and Jenny, as well as Rick's son Carl and Morgan's son Duane both gone, they each still have children to fight for. For Morgan, that is Mo, while Rick and Michonne have Judith and R.J. While Morgan has been forced into service for PADRE, the implication of TWD's finale seems to be that Rick has been forced to work for CRM. As such, these two have led startlingly similar lives, with each of them nearly broken entirely by outside forces at various times.
Still, each has been able to help call the other back from the edge through friendship and understanding. Yet, in Morgan's words back in TWD's seventh season, "People can try and you set you in the right direction, but they can't show you the way." Their friendship has helped each of them grow, but most importantly, it has relied on the knowledge that each of them must be free to choose their own paths.
Will Rick Grimes Appear in Fear the Walking Dead?
In the last few episodes of season 8, Morgan returns to the house he once lived in with Jenny and Duane, but this time, Grace and Mo follow him there. He still struggles with laying his family to rest, but he's finally able to move past it for the sake of Grace and Mo. However, as Grace is bitten, his wounds are ripped open anew, and he again finds himself fighting against his own violent rages and blackouts. Yet, here, he is able to "break the cycle" from within, choosing to let Mo make her own decisions instead of making her life about the pain he has lived with.
Similarly, in the ninth season of TWD, Rick seemed to find a sense of peace that allowed him to put it all on the line to keep his family safe, even if it meant losing them. While these are the kind of things that inevitably occur during a zombie apocalypse, there is still something to be said for the way these two's paths have mirrored one another's, and the clock is ticking on when and how each man's story is going to conclude. It's only fitting if that entails a reunion, considering the massive importance they've played in each other's post-apocalypse lives.
With actor Lennie James recently announcing that FTWD's finale will be the conclusion of Morgan's character arc and potential hints that Rick's journey may likewise be drawing to a close, the mid-season finale has only reinforced the similarities between these two friends. Regularly torn apart, they keep finding each other against all odds, and if that isn't a sign of true friendship, we don't know what is.