News
What The Walking Dead Daryl and Carol Spinoff Will Be About
The Walking Dead star Norman Reedus tells Den of Geek what fans should expect from the Daryl and Carol spinoff in 2023.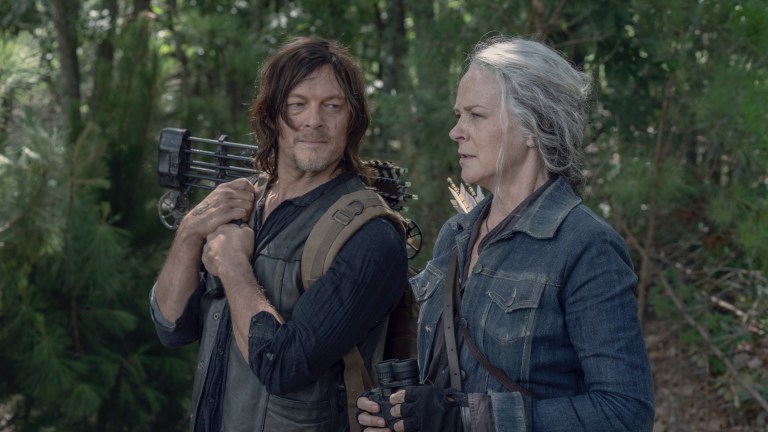 Although AMC's flagship zombie drama is in its endgame now, it hardly feels like a true ending for The Walking Dead universe. After all, the 11th and final season of the series will make way for a few other zombie projects to rise from the dead.
One of these new projects is a spinoff starring Daryl (Norman Reedus) and Carol (Melissa McBride), two of The Walking Dead's most beloved characters and the only two survivors left from the show's very first season. The untitled spinoff will once again be helmed by current Walking Dead showrunner Angela Kang, which suggests that this new show will be a true continuation of the story first begun in 2010.
Unsurprisingly, fans are dying to know what this new spinoff will be about and how it'll be different from what's come before. While it's still too early to tell what adventures await Daryl and Carol — the expanded, 24-episode season 11 is expected to run through late 2022 — Reedus was able to share a few tiny details about the new spinoff when we talked to him ahead of the season 10 finale, which is set to air on Oct. 4.
"I'm curious what the similarities will be and what the differences will be," Reedus says of the upcoming spinoff before coyly revealing that he knows "there'll be a lot of differences and I know the themes of the two shows are completely different, but the elements are still there. I imagine I'll see a zombie or two in the future."
But what exactly will Daryl and Carol actually get up to? Surely, there's a reason their story is continuing beyond the bigger show. Well, to hear how Reedus describes the show, it sounds like the zombie-killing duo might be going on a road trip beyond Alexandria.
"It's a different type of a show. It's about the two of us going to see who's left in the world," Reedus says, teasing that the show will see Daryl and Carol encounter new groups and characters as they travel from place to place. The actor also says that the spinoff will have a "revolving group of people" involved, which could indicate the story will focus more heavily on standalone, "monster-of-the-week" episodes, a format the heavily serialized franchise has mostly stayed away from.
"It's an opportunity for us to get really good actors and really good writers who don't have to sign a seven-year contract. They come in for an episode or two. I think for a lot of actors, that's an exciting possibility, exciting circumstance. I'm curious to have a revolving group of people."
Interestingly, Reedus points to two Westerns from the 1970s as hints as to what AMC is doing with the new show.
"I was a big fan of TV shows when I was a kid like Kung Fu or Billy Jack, where you have a character who's roaming the Earth and he gets into new situations, but when they leave, they change the tone of the environment by just being themselves passing through," says Reedus.
He is so excited about the new project that he's even pitched a song "over and over again" that he hopes will be the theme song for the spinoff. "Hopefully they use it."
Yes, that theme song business sure sounds interesting but what we really all want to know is if Dog will be joining Daryl and Carol in the spinoff. While Reedus didn't share any spinoff details about his very good boy, he did confirm that he is as fond of the best Walking Dead character as the rest of us are.
"I love Dog. I've been asking for a dog since season two and to finally get a dog is great, but that dog in particular just loves me. When I see the dog, he runs up and gets on his hind legs and gives me a hug. That's how much he loves me. He doesn't do that to anybody," Reedus says. "I want to work with the dog as much as possible. I think the dog should have his own spin-off show. I want a Dog action figure."
So there's hope!
Whatever the case, we're excited for the future of the franchise. A Daryl and Carol buddy road trip drama that introduces grisly new villains and memorable survivors every couple of episodes while exploring two of TV's most interesting characters sounds like the best way to continue the main Walking Dead story.
And it remains to be seen whether the spinoff will intersect in any way with the Rick Grimes movie that will explore where the franchise's main protagonist went after his disappearance in season 9. Chances are that, with Rick, Daryl, Carol, and even Michonne all out on the road at the same time, we'll get a reunion down the line.
But first comes the end of The Walking Dead itself. Reedus, along with the rest of the cast, is preparing to shoot what will be the final 30 episodes of the flagship series. As you'd expect, Reedus has some pretty strong feelings about the end of the show.
"I feel bittersweet about it," he says. "Part of me is ready for a spin-off and ready for the excitement of what that will be, and then another part of me is in denial. I've been doing this for a while now, it's become such a big part of my life. Part of me, it doesn't really seem real. And then again, we're shooting 30 straight episodes, so we might just want to kill each other by the end of it."
The Walking Dead season 10 will return in early 2021 for six "extra episodes," with season 11 set to premiere later next year. Read what Angela Kang told us about the remaining season 10 episodes here.
The Walking Dead season 10 finale airs Oct. 4 at 9 p.m. ET on AMC in the U.S. and Oct. 5 at 9 p.m. GMT on Fox in the U.K.