News
The Walking Dead Rick Grimes Movie Details Teased by Scott Gimple
Andrew Lincoln's return as Rick Grimes in The Walking Dead movie will be "bigger" in scale, teases showrunner Scott Gimple.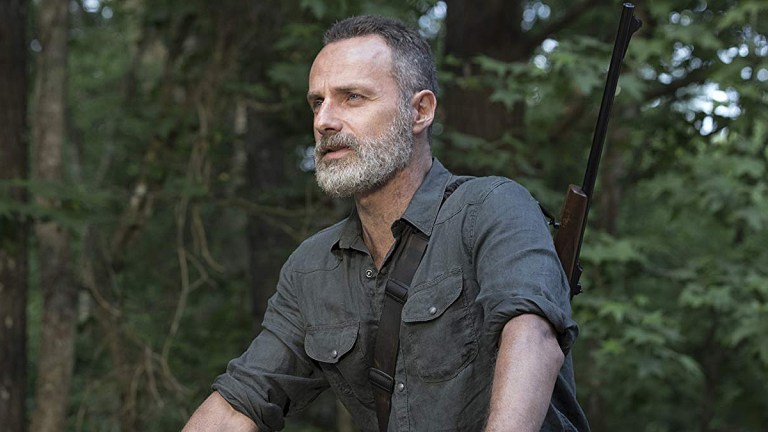 AMC's The Walking Dead famously ushered an explosive epic exit for its main character, Andrew Lincoln's Rick Grimes, only to surprisingly tease a return for said character in a planned film trilogy. Yet, well over a year after that event – with the series preparing to premiere the second part of Season 10, with Season 11 already confirmed – we still know next to nothing about Rick's movie medium crossover. Thankfully, the franchise's appointed maestro, Scott M. Gimple, has provided a much-needed update on the features.
In an interview with EW, Gimple teases a bolder (and bigger) new direction for the continuing story of Rick Grimes, which is confirmed to premiere at theaters. Yet, despite the length of time since the October 2018 trilogy announcement, Gimple also confirms that the first film has yet to appoint a director, and the script is still being refined; something that should discourage any rumors of a secret production akin to AMC's recent TV movie crossover with Netflix's El Camino: A Breaking Bad Movie. However, Gimple does provide some intriguing teases about the tone and scope of The Walking Dead Rick Grimes features. As he explains:
"We are going to continue to tell Rick's story, and we are going to discover so much of the world through that story. Rick will be challenged in different ways that, in some ways, everything that he's been through has sort of prepared him for. It's a much larger world than one that he had been operating in, and that was challenging in and of itself. Now things are heightened, and just as we're going to the movies — and it is the movies proper, suitably wide screen — we're going to be filling that screen with a brand new world."
Additionally, Gimple reveals that The Walking Dead's foray into film won't manifest as glorified TV movies, hinting of blockbuster-esque ambitions:
"The scale is bigger and the budget is bigger, and it's The Walking Dead, but heightened, both in the narrative themes, but also in just what we see onscreen. I say heightened, but I should also say it's also very different. It's not going to be the exact same thing we saw on television, just larger. We are going in some wild new directions. Movies are a different beast than television. Television is like, boom, we're done. Movies, to calibrate an hour and a half, two hours is no joke, and it's been a lot of fun, but it's a real challenge and we take it very seriously for the fans. We really want to deliver them something special, something worth their trip to the movies. We're trying to be very deliberate and deliver something new."
However, Gimple is remaining mum when it comes to the specific plot questions, of which there are many. Indeed, the very nature of a return for Rick Grimes – who was last seen flown away to an unknown destination in a helicopter after being grievously injured in a sacrificial explosion – has been the center of speculation in The Walking Dead TV Universe, especially since the series timeline shifted ahead in time by six years since his exit, rendering him a memory in the minds of the remaining main characters. With the possibility that the films take place earlier in the timeline, it raises questions about why Rick has yet to resurface in the main show's current six-year-advanced timeline.
Further Reading: The Walking Dead: How Rick Grimes Will Return
The timeline issue is especially crucial for The Walking Dead this season, since the imminent exit of cast member Danai Gurira will take Michonne off the table, prospectively putting a damper on one of the biggest expectations for Rick's return, a reunion between the post-apocalyptic warrior couple. However, we could still be in store for the guaranteed tear-jerker of a family reunion between Rick and his "little ass-kicker" of a daughter, Judith, and his son, R.J., who he's yet to meet. For now, the franchise boss is brushing off any attempt for answers on this front.
Gimple also addresses another major mystery with the Rick Grimes movies, that being their distribution strategy. The films were initially speculated to manifest as TV movies until early ephemera surprised fans with the statement, "only in theaters."  Yet, considering how the films will be self-distributed adaptations of a television IP, there is an understandable incredulity amongst speculators about theatrical exclusivity. Consequently, he has once again confirmed the plans for a theatrically-premiering film trilogy, stating:
"This is a theatrical film. Yes, there's AMC, there's Universal, there's Skybound. There are a lot of parties working together to cook up something special."
There's still no word on when to expect The Walking Dead Rick Grimes movie. However, the main series will resume Season 10 on AMC on February 23.
Joseph Baxter is a contributor for Den of Geek and Syfy Wire. You can find his work here. Follow him on Twitter @josbaxter.