News
The Walking Dead: Daryl and Carol to Receive Spinoff
Though The Walking Dead is coming to an end, Daryl Dixon (Norman Reedus) and Carol Peletier (Melissa McBride) are receiving their own spinoff series.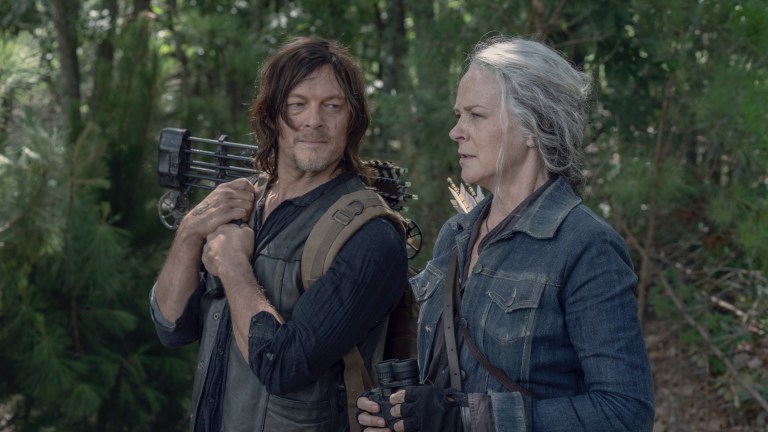 Hey, ever notice how Daryl and Carol's names rhyme on The Walking Dead? That's cute, they should get a spinoff! Well, AMC agrees with that sentiment and has greenlit a spinoff series starring Norman Reedus and Melissa McBride as their characters Daryl Dixon and Carol Peletier.
This news comes on the heels of the announcement that The Walking Dead franchise's flagship series will be concluding following its 11th season. But just like the shambling zombies that populate its world, The Walking Dead will continue on after death. The still unnamed Daryl and Carol spinoff will exist alongside the also-announced anthology series Tales of The Walking Dead. The show will be run by current Walking Dead showrunner Angela Kang and franchise content chief Scott Gimple. It is set to premiere sometime in 2023.
Both Daryl and Carol have been a part of The Walking Dead since the show's first season. Reedus's Daryl is purely a creation of the show, having never appeared in Robert Kirkman and Charlie Adlard's original comic series. But the gritty Southern survivalist proved to be a fan favorite and was elevated to lead status following Rick Grimes' (Andrew Lincoln) departure from the show
"I feel incredibly honored to be a part of The Walking Dead," Reedus said in a statement. "This show changed my life and career and everyone involved has truly been a family for me over the last decade. I'm thankful for AMC's love and support and know there's so much more story to tell and so much more to bring the best fans in the world. Daryl's relationship with Carol has always been my favorite relationship on the show (sorry Rick). I love the way these characters interact and relate to each other on so many levels and can't wait to see where their ride goes from here."
Carol was originally included in the original comic series. But as portrayed by McBride, the show version of the character has diverged wildly from that character's arc and has blossomed into a major character.
"Of course, I've always enjoyed working so closely with Norman throughout these many seasons. In playing Carol, and as a viewer of the show, I've also long been intrigued with 'Daryl and Carol,' and by what so early on between them, even then, felt somehow bound," McBride said. Their shared history is long, and each's own personal fight to survive, even longer – the more obvious aspect of what has kept them close and loyal. But there is also a rather mysterious aspect to their fondness for one another that I enjoy, and their playfulness when the world permits. I'm very curious! Angela has a way of shaking things up in great and unexpected ways. She's like a kid playing with the dimmer switch! I'm very excited!"
The Walking Dead will air its delayed season 10 finale on October 4. That will be followed by six extra season 10 episodes to air sometime in 2021. Combined with the super-sized 24-episode final season, that leaves 31 total episodes remaining before the franchise moves on to Daryl and Carol.