Reviews
The Walking Dead: World Beyond Review (Spoiler Free)
Take a look inside the world of The Walking Dead: World Beyond. Is the second spin-off set in a world of walkers worth your attention?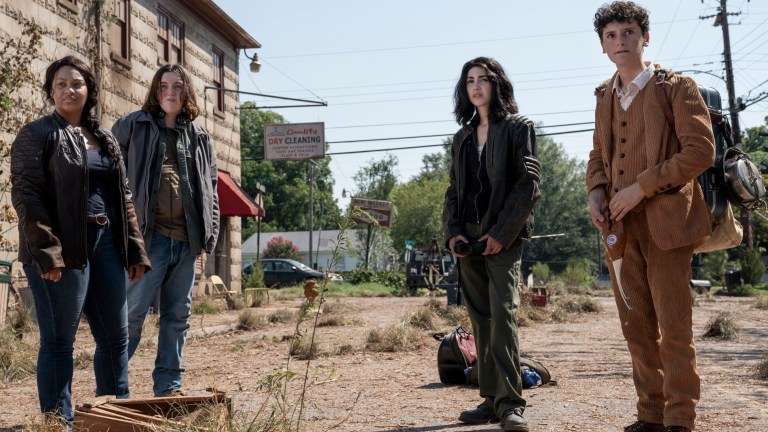 This spoiler-free review is based on the first two episodes of The Walking Dead: World Beyond.
One of the best things about The Walking Dead's expanding universe is that it gives the show's more talented writers and more skilled producers an opportunity to put their own creative stamp on the show and its legacy. Angela Kang took the reigns of the main property and has improved The Walking Dead significantly under her reign; her pending spinoff with Carol and Daryl shows promise, simply because she's proven herself as a showrunner and she's taking over a show with two of the most popular characters still kicking around Alexandria. With The Walking Dead: World Beyond, Matthew Negrete gets his chance to step out on his own, and the initial results are very promising indeed.
Like Angela Kang, Negrete is one of the most highly regarded scribes in the show's writers' room, and he's responsible for some of the most highly rated and emotionally gripping episodes of the show. He's gotten a great deal of trust from Walking Dead creative chief Scott Gimple in the past. Negrete has penned, by himself or as part of a pairing, "What Comes After," the emotionally-gripping final episode for Rick Grimes, the brooding blizzard episode "The Storm," the brutal "Spend" in which a character is left impaled to die and another is dragged to a gory-even-by-Walking-Dead-standards death, and "Consumed," a brilliant exploration of the history of Carol and her long-running friendship with Daryl Dixon. He seems to specialize in thoughtful, quiet, intelligent episodes that lean heavily on the history of The Walking Dead and the years of built-up back story between the characters, generally speaking.
In short, Matthew Negrete is responsible for some of the show's better moments in recent years, and putting a brilliant writer and producer with experience working on such a demanding type of show is never a bad first step. When Fear The Walking Dead was launched, the flagship show was drawing anywhere from 13 to 17 million viewers an episode; anything that rolled out with Walking Dead appended to it was destined to be successful, if only for a year or two. World Beyond, pardon the pun, is stepping into a much different world. The good will engendered by the main show has been squandered, fan support is dwindling despite a significant up-tick in quality, and World Beyond seems to be serving as something of a test run to see what sort of spin-offs The Walking Dead can support, and to what level both current fans and former fans will take a chance on something new.
There are only so many ways to change up the world of the zombie apocalypse, but World Beyond manages to find a wrinkle, not in the stories of the people who survived the fall of humanity, but in the people who come of age in the relative peace and security of hard-won communities. It's not the survivors, it's the next generation. These are children who have grown into young adulthood behind walls, who have been given the tools necessary to survive the apocalypse but who have not been given the opportunity (or more accurately, had the misfortune) to exercise those skills. From weapons training to martial arts and chemistry, the first generation of survivor children know what to do, they just haven't necessarily had to do it in a life-or-death situation. It's the difference between book smarts and street smarts.
In this dangerous universe, being too book smart can get you killed.
At its core, World Beyond is a young adult drama, albeit one in unusual circumstances. The four main teen characters highlighted in the first episode, Hope (Alexa Mansour), Iris (Aliyah Royale), Silas (Hal Cumpston), and Elton (Nicolas Cantu, who makes an immediate impression from his first appearance), have all grown up in the relative comfort of the Campus Colony, but all of them bear the scars of generational trauma from being elementary school students or younger when the world collapsed around them. They're too young to really remember how life in the old world was, but remember enough, specifically about that one huge trauma at a crucial point in their development, to be continually effected by it even after settling into a safe, prosperous community with strong walls and no real nearby walker threat.
How that trauma effects the four younger leads is a major component of the first two episodes. The four teens have all responded to the same events in different ways, which reflects in their different personalities. They may not know much about the before times, but the events of the fall have changed them in vastly different ways, while also giving them a shared traumatic experience to bond them together. The show's older characters, Felix (Nico Tortorella) and Huck (Annet Mahendru), offering a different perspective on that day as high school or college-aged people going through that very same traumatic series of events. They're no less marked, but it manifests differently in an 18 year old than it would in a 7 year old, and that's something that the show makes a point of exploring almost immediately in its first two episodes.
If nothing else, World Beyond offers something different from the original show, and that's a welcome difference. It's a different world, and a different experience, in a different part of the former United States after a significant leap forward in time. In that sense, the show's title serves multiple purposes. It's both the world beyond Rick Grimes and company struggling for survival against The Whisperers and a metaphor for a young person's journey from the familiarity and routine of gym class, student government, and homework into the larger, scarier world beyond known as adulthood. Growing up is terrifying even in a world without zombies; in this world beyond our own, growing up might be the last thing a high schooler ever does.