Reviews
The Walking Dead Season 10 Episode 16 Review: A Certain Doom (Spoiler Free)
The Walking Dead season 10 "ends" with a fun episode that ties up a few loose ends. Read our spoiler-free review of "A Certain Doom" here.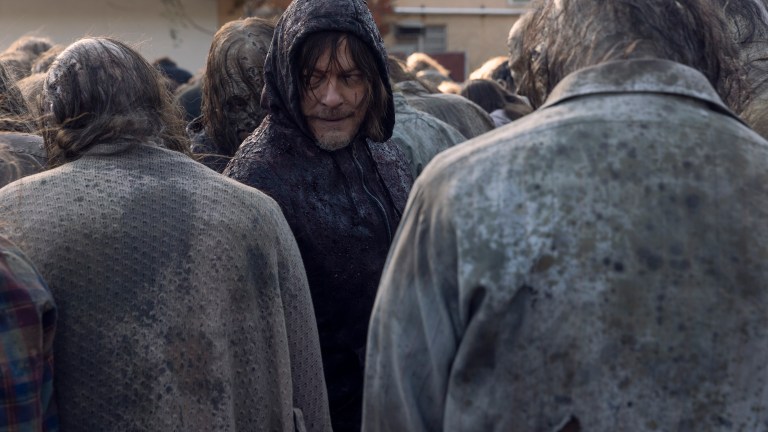 The end may be in sight but there's still plenty of story to tell. That's the overall tone of The Walking Dead season 10 "finale" episode, "A Certain Doom," which closes another chapter in the show's long run while also introducing the next. The episode, which sees Beta and the remaining Whisperers launch one last attack against Alexandria and the other communities, really feels like the conclusion of two years' worth of storytelling, as those that remain after the "death" of Rick Grimes in season 9 band together at last to take down the show's grisliest enemies yet.
The setup of the episode is quite exciting: Beta has brought what remains of his walker herd to bear on his enemies, who are holed up inside an abandoned hospital, a building big enough to house the combined populations of Alexandria, Hilltop, Oceanside, and the Kingdom, but that will prove incredibly difficult to protect in the long run. It's not a spoiler to say that the Whisperers eventually break through the hospital's defenses because how else did you expect things to go?
This may be the biggest zombie horde that the good guys have ever faced and the special effects team does a great job of making their numbers feel truly massive. Bird's-eye view shots of the horde surrounding the hospital are guaranteed to make you feel more than a bit tense right before director Greg Nicotero zooms in to show you the carnage from the ground.
Without spoiling the episode's big set piece too much, I'll just say that showrunner Angela Kang and writer Corey Reed have found an interesting way for the heroes to deal with the Whisperer horde without breaking the bank at AMC. I wouldn't call it low-budget but I do feel like the episode circumvents what could have been The Walking Dead's "Helm's Deep" moment. Ultimately, the big fight isn't quite as good as Alpha's assault on the Hilltop in "Morning Star" and "Walk With Us" or even the walker invasion in season 5's "No Way Out" midseason premiere. There are some scary bits, with lots of gore thrown in, but maybe my expectations were a little too high for what can actually be done on basic cable (and in the middle of a pandemic, no less).
All that said, Alexandria's plan for beating the Whisperers and their horde is absolutely outrageous, leading to not only the single best moment of the episode but also one of those rare instances where the show doesn't take itself too seriously. In the post-Scott Gimple years, The Walking Dead has really learned to have fun again, and "A Certain Doom" is a prime example of how Kang has changed the tone of the series for the better. Wait until you watch the scene I'm talking about. It's great, especially since all of the actors involved play it incredibly straight.
It's also not a spoiler to say that Lauren Cohan is back as Maggie in this episode. Those expecting a big reunion will get it, but the episode doesn't really explore where Maggie's been all of this time or what her plans are now that she's back. There's barely any time for exposition. At a brisk 45 minutes, the pacing is incredibly tight, always moving ahead, with only a few quick breaths in between for characters to talk things out. Carol and Lydia get a particularly nice moment to address the elephant in the room.
We also get to see a bit more of Eugene, Yumiko, Princess, and Ezekiel's journey to meet the mysterious Stephanie. Fans of the comics by Robert Kirkman and Charlie Adlard likely know where this storyline is headed, but knowing the show's track record when it comes to adapting the book, you can expect The Walking Dead to change a few things along the way. Our time with Team Eugene in "A Certain Doom" is brief but worthwhile.
Melissa McBride is undoubtedly the star of the episode, giving us Carol at her most vulnerable. I loved every single scene she was in. Jeffrey Dean Morgan remains incredibly charming and fun to watch, too. He shares a scene with Norman Reedus that will likely be a fan favorite. Seth Gilliam as Father Gabriel only gets better and better. We rarely see the actor in action sequences where he is front and center, but he gets one here, and it'll get your heart pumping.
The Walking Dead is back and over too soon. But while "A Certain Doom" is considered the finale of season 10, it won't actually be the last episode of the season. AMC has announced six "extra" season 10 episodes to air in 2021, and "A Certain Doom" definitely leaves a few doors open to explore next year. Until then, fans will definitely be talking about that ending.
"A Certain Doom" airs on Oct. 4 at 9 pm ET on AMC.