News
The Walking Dead: World Beyond Introduces Its Young Characters
In a Den of Geek exclusive, The Walking Dead: World Beyond has unveiled a featurette to help viewers get acquainted with the show's fresh-faced cast.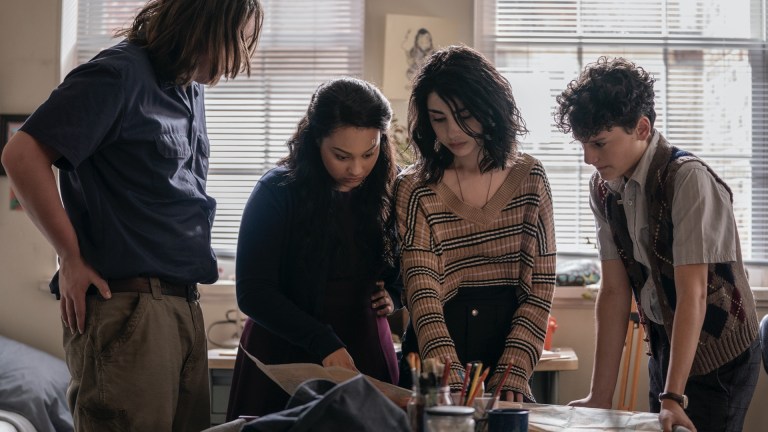 Created in October of 2003 by Robert Kirkman, The Walking Dead franchise is now old enough to drive and nearly old enough to vote. With that in mind, the latest TWD franchise is going to be injecting some fresh blood into the proceedings.
Premiering on Oct. 4 after The Walking Dead season 10 finale, The Walking Dead: World Beyond will be a unique experiment for the long-running AMC monolith. For starters, World Beyond won't be reaching anywhere near the flagship series' staggering 11-season run. The network has already announced that World Beyond will be a limited engagement, receiving two seasons of 10-episode each. 
Then there's the fact that World Beyond features a cast of young characters who have lived the majority of their lives among the walking dead and have grown accustomed to the apocalypse.
"Our story picks up ten years after the apocalypse and our characters have grown up in this place of safety," showrunner Matthew Negrete says.
In the interest of getting acquainted with those characters for whom zombies are the norm, AMC has unveiled an exclusive new featurette introducing the franchise's latest young heroes. Check it out below.
"Trauma defines all of us," Negrete says in the clip. "Regardless of how safe we are now it's what happened in those hard times that really makes an impact on us. Especially when you're a young kid."
The central four characters of The Walking Dead: World Beyond are high school aged teenagers, while two others are on the cusp of adulthood.
Iris Bennett (Aliyah Royale) is wise beyond her years and is the class president of the Campus Colony of Omaha. And her position is very much in keeping with her personality.
"Iris is always putting on that class president smile," Royale says.
According to Negrete, Iris's hopeful mindset is indicative of a world in which the zombie apocalypse has settled down into something resembling calm and kids no longer have to worry about nothing but the present moment.
"She sees her life as something that should be dedicated to the future," he says.
Hope Bennett (Alexa Mansour) is Iris's more rebellious and hard-charging sister.
"Hope, she's a rebel. She likes to get into trouble. For her it's really about pushing the limits," Negrete says.
Mansour details how she sees Hope in relation to her more responsible sister: "Hope wants to come off as being a badass, but deep down she has a lot of guilt from when she was a kid. I think Iris wants to be a little more like Hope, thinking that she's a risk-taker, but deep down Hope is equally as scared."
Elton Ortiz (Nicolas Cantu) is The Walking Dead: World Beyond's resident young scientist. Escaping beyond the friendly confines of his community is a convenient excuse to learn more about the world. But it's not all analytical thinking for the youngster.
"Elton is very family-oriented and he knows what it's like to lose somebody so when the girls want to find their father he's very into that," Cantu says.
Silas Plaskett (Hal Cumpston) is the final piece in World Beyond's young quartet. According to the featurette, he has come to the Campus Colony to escape rumors of his violent past. 
"Silas is a shy, soft-spoken gentle giant," Cumpston says. "When he hears of a chance to leave and go on an adventure, even when it's a post-apocalyptic world with zombies out there, it's a better situation for him."
Felix Carlucci (Nico Tortorella) and Huck (Annet Mahendru) are the closest thing to adults in Iris, Hope, and company's world. The featurette describes them as protectors.
"The girls and the dad are very much his chosen family," Tortorella says of Felix. "I feel like because of that he feels like he owes his life to them."
Huck on the other hand is just a straight up badass according to Mansour. And according to the actress who plays her she takes her role as protector seriously.
"Huck wants Hope to find the light in her own way. Huck will go above and beyond to make sure she has her chance at growing up," Mahendru says.
Given its expansive name, The Walking Dead: World Beyond will likely expand its environs and original base of characters in good time. But for now at least you know the young adventurers it's starting out with. 
"There's a sense of innocence to this show. I think what people are going to find with this show and these characters is that there's an inspiration to it," Negrete says.