Features
The Real True Crime Stories Behind Hulu's Mother Undercover
From stopping a corrupt judge to escaping Jonestown, here are the stranger-than-fiction real life stories behind Hulu's Mother Undercover.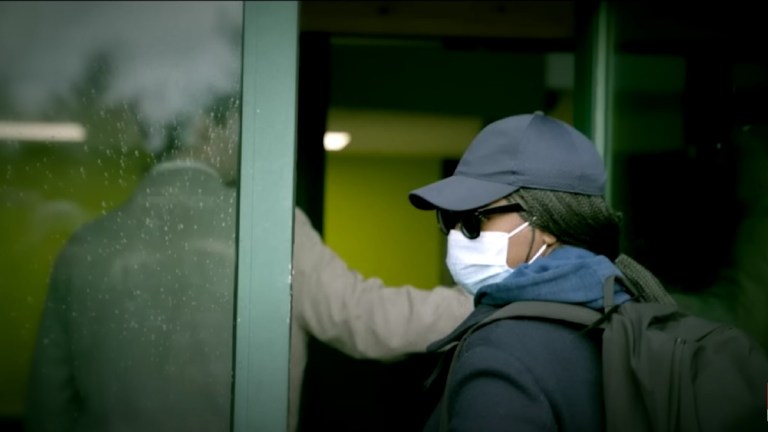 Next up in Hulu's summer of true crime is Mother Undercover, which follows four mothers on a mission to get justice for their children. From murderers to corrupt judges, these women take matters into their own hands as they engage in covert operations and become undercover amateur detectives.
Across four gripping episodes, four mothers show their resilience as they overcome incidents of murder, international kidnapping, mass suicide and judicial corruption all for their children. While some may already think they know some of the stories, hearing from family members and friends adds even more depth to the captivating tales these women tell.
Episode 1: Mom vs. Killer – The Story of Lisa Espinosa and Raymond "RJ" Pantoja
On April 10, 2016, Lisa's 26-year-old son Raymond Pantoja, better known as RJ or his rap name Hommi, was shot and killed outside of a club in the Kensington neighborhood of Philadelphia while he was trying to stop an altercation. From that very moment, Lisa channeled her grief to not only find her son's killer but also become a voice to help push through legislation to curb gun violence.
At the time of her son's death, it was common that many cases would go unsolved as Philadelphia Police only closed 52 percent of the 280 homicides they had in 2015. It was expected that Espinosa would become another one of the city's bereaved mothers who lost their child to street violence and never find out who killed them. But as the episode depicts Lisa refused to let her son's killer walk free despite multiple threats warning her to back off and witnesses, including the friends RJ was with on the night, refusing to testify.
The police's lack of progress with her son's case led Espinosa to start her own investigation handing out fliers, attending rallies and using the media to tell her son's story. We hear how she found out about videos on social media that showed RJ's death as he defended his friends, before the suspect kills him with a 9mm handgun. We discover how she used the comments made on those videos on sites like Facebook to find witnesses. Once found, she discovered where they worked or who they associated with and then used covert ways such as shopping at the grocery store to get information from them. Everyday she put herself in danger until her evidence and an anonymous tip led police to arrest her son's killer, Giovanny Perales.
In May 2019, Perales was sentenced to 14 – 28 years in prison. The series reveals that he is eligible for parole in 2030.
Episode 2: Mom vs. Kidnapper – The Story of Tiffany Rubin and Kobe Lee
On Aug. 21 2007, special education teacher Tiffany Rubin's son, Kobe Lee disappeared while visiting his father, Jeffrey Salko. While she initially tried to stay positive Rubin feared that her ex-boyfriend, Salko, had taken Kobe to his native South Korea and her fears were confirmed after she hacked his email account.
Her quest to get her son back saw her take to social media pages in hope of finding someone who knew her son and it paid off as in January 2008 she received a tip on her Myspace page from Kobe's teacher in South Korea telling her where to find Kobe. It's at this point she accepted the help of American Association for Lost Children founder Mark Miller.
Rubin and Miller arrived in South Korea on March 23 2008 and met with Kobe's teacher who helped them figure out a way to get into the school undetected. Disguised in a wig, makeup to lighten her skin in order to help her fit in better and Miller as lookout, Rubin reunited with her son at his school and the trio then embarked on a highly anxious journey to the U.S. Embassy.
At two points Salko almost stopped them getting to the US, once when he called the embassy pretending to be a school official and told them not to issue Kobe with a passport and again when they arrived at the airport, and it was discovered Salko had already begun the process of making Kobe a Korean citizen. However, after U.S. officials negotiated with the Korean immigration they let them off with a $100 fine and Rubin was able to take her son back to the US.
Kobe is now 22 and a teacher and an author. Salko was arrested in Guam on Oct. 2, 2008 trying to re-enter the US. He was sentenced to 3 years in prison for International Parental Kidnapping. He is still wanted by the Supreme Court of New York for property violations and failure to pay fines in excess of $400,000.
If you want to watch more about Tiffany's fight to get her son back, a Lifetime movie of the events was made starring Taraji P. Henson and Terry O'Quinn called Taken from Me: The Tiffany Rubin Story. Hulu also did a previous documentary about Tiffany's story called Beyond the Headlines: The Tiffany Rubin Story.
Episode 3: Mom vs. Corruption – Frieda Hanimov and The Corruption of NY State Supreme Court Justice Gerald P. Garson
Frieda Hanimov's American dream came crashing down after she divorced her husband Yury Hanimov with whom she shared three children Yaniv, Sharon, and Natti. When she divorced her husband she unknowingly signed away her rights to any of her husband's assets. So she got a lawyer to try to stop the divorce and hoped that New York State Supreme Court justice, Judge Gerald Garson would rule fairly but she was wrong.
Garson told her if she wasn't going to settle she'd end up in jail so feeling she had no other option she agreed to the divorce. However, that was only the beginning of her problems with Garson. Two years later, Frieda remarried and became pregnant. Her ex-husband became jealous and called the police on her saying she had hit their son with a belt. She was arrested and when she got out she was told her husband was filing for custody of all three kids and the judge deciding this would be Judge Garson.
Refusing to let every ruling go against her again, Frieda approached Nissim Elmann who she heard was boasting that he had influence with Garson. When Frieda called him, he told her he had Garson in his pocket and if she paid, she could also get full custody of her kids. When she asked him to prove it, Elmann called the judge in front of her. It was at this point Frieda decided to get the police involved.
Nine months after Frieda went undercover, the police were able to arrest Judge Garson. Garson was sentenced to 3-10 years in prison, had his legal license removed and was suspended from the bench. Garson also gave police information on Clarence Norman Jr, Chair of the Kings County Democratic Party who was guilty of violating campaign laws, falsifying business records, grand larceny and extortion of two sitting judges.
As a result of the investigation New York reformed court proceedings so now there is a rotation of law guardians in family courts to avoid collisions between attorneys and judges.
Episode 4: Mom vs. Cult – The Story of Leslie Wagner-Wilson and Jakari Jones
At 22, Leslie Wagner-Wilson escaped death with her 3-year-old son, Jakari as she walked over 30 miles through the jungles of Guyana with nine others. Her decision allowed her to escape what would become one of the largest mass deaths in American history.
Wagner-Wilson's family had joined the cult People's Temple in the late '60s after her sister Michelle became involved in drugs. Her mother had been told that People's Temple, had a great drug rehab program. But by 15 she had doubts about leader Jim Jones' message, which heightened in the '70s as abuse and tyranny claims began to rise about the organization. It was then Jones took his followers to Jonestown, his sanctuary in Guyana.
In November 1978, U.S. Congressman Leo Ryan traveled to Guyana to inspect the Peoples Temple's activities. When he went to return home with some Temple members who wanted to leave, Jones ordered for them to be shot at the airstrip. Five people, including Ryan, were shot and killed, and 11 others were wounded.
It was on this same day, Nov. 18, 1978, Jones ordered the deaths of 918 followers by poisoning them with cyanide that was mixed into Flavor Aid (often misreported as Kool-Aid). 304 of those murdered were children. Wagner-Wilson lost six of her family members including her mother and husband. Jones was found dead from a gunshot wound to the head.
If you want to read more about Leslie's escape or Jonestown, check out No Church In The Wild: Act 1 & 2, Jonestown: Terror in the Jungle, Truth and Lies: Jonestown Paradise Lost, Jonestown: The Women Behind the Massacre. Wagner-Wilson has also written a book called "Slavery of Faith."
What Can I Watch Next?
Mother Undercover is the third docuseries in ABC News Studios' and Hulu's true crime summer slate. The final series will be released on Aug. 3 called Demons and Saviors, which tells the story of a woman who was convicted of murdering her three-year-old daughter because the public believed she had telekinetic abilities, something she continually denied. The two previous series released earlier this summer were The Ashley Madison Affair and Betrayal: The Perfect Husband.
If you're looking for true crime that's similar to Mother Undercover then check out Pretty Baby: Brooke Shields, Sins Of Our Mother, My Daughter's Killer, or Why Did You Kill Me.
All four episodes of Mother Undercover are available to stream on Hulu in the U.S. now.