Features
Betrayal: The Perfect Husband – The Real Story of Jenifer Faison and Spencer Herron
Hit podcast Betrayal is now a Hulu documentary series.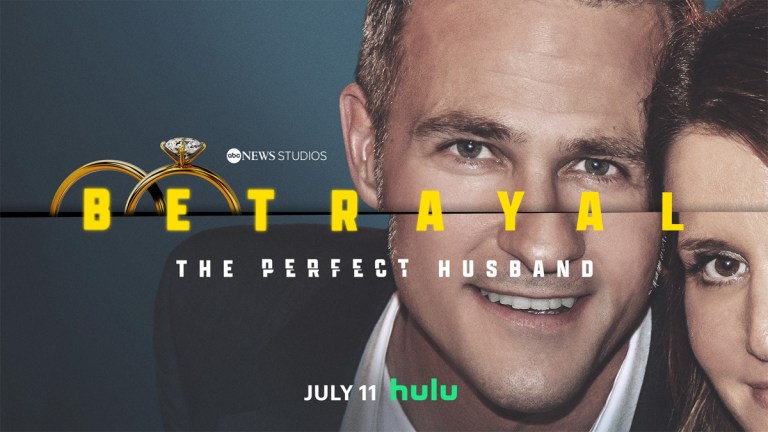 Hulu is continuing its summer of true crime with new docuseries Betrayal: The Perfect Husband, which tells the story of a brave high school student who spoke up about being sexually assaulted by her teacher Spencer Herron.
The focus of this docuseries is one that true crime fans may already be familiar with through the hit podcast Betrayal, which explored Herron's crimes. Hulu's adaptation of the podcast attempts to add more depth to this story as it tracks how, while Herron was manipulating those around him, he was able to maintain the persona of a beloved teacher as well as a loving husband. Jenifer Faison thought she was living a fairytale romance with her college sweetheart until, one afternoon in June 2018, she discovered that the man she deemed to be her perfect husband was living a double life.
While the docuseries may not add anything new for those who'd followed the hit podcast, it does bring up questions about the way we interact with true crime. Faison's history as a TV producer once again raises the debate over how exploitative the treatment of the case is here, especially as until the final episode of the Hulu series, the story is mostly told from Faison's perspective rather than that of the criminal case victim. It also raises questions about the law and how society repeatedly fails to believe the victim because the accused was widely considered a "nice guy."
Who Is Spencer Herron, and How Did He Meet His Wife, Jenifer Faison?
Spencer Herron is a former teacher and convicted sex offender who in 2018, was arrested for the sexual assault of a student. During his time as a teacher Herron was Cobb County teacher of the year twice and worked as a video production teacher at Kell High School in Marietta, Georgia.
As the podcast and Hulu series tell it, he and Faison first met while attending Berry College in Georgia, where Herron was the station manager at the college's television station. Herron was a year older than Faison and so after he graduated, Faison decided that during her final year she didn't want to be tied down and so broke up with him. Herron got married, had children and began teaching video production at Kell High School. He was also playing in a band in the Air National Guard.
Meanwhile, Faison had graduated from college and become a TV producer on shows such as Judge Judy and Extreme Makeover: Home Edition which saw her nominated for an Emmy.
The pair reconnected after Herron had divorced his first wife and Faison commented on Herron's 20-year college reunion photo on Facebook. After work trips saw them both in New York at the same time, the pair got back together and Faison moved to Georgia. The two were eventually married and opened up a wine bar together.
In 2018, after Faison came home from a work trip, she found Herron distraught and telling her that it was all over. Moments later, the police turned up to arrest him. She subsequently discovered that her "perfect" husband was being charged with three felony counts of sexual assault by a teacher. After the news of his crimes came out, Faison went to shut down her husband's Facebook account where she discovered hundreds of pictures of naked women. The Facebook account then led her to his emails, where she found "over 60 women" he was talking to.
Why Did Jenifer Faison Start the Betrayal Podcast?
While Faison never confirms exactly why she decided to adapt her hit podcast into a Hulu series, she does document what led her to starting the Betrayal podcast led by Faison and producer Andrea Gunning.
After gaining access to our husband's Facebook and email accounts, Faison started meticulously investigating her husband's secret life. Betrayal: The Perfect Husband reveals that Faison had made multiple charts, timelines and documents detailing the different affairs and women her husband was sleeping with over the course of their marriage. Her investigation allowed her to discover that he had cheated on her during the week of their wedding and that he'd had six to seven two-year affairs, some of them at the same time. The women Herron had slept with included sex workers and also friends of theirs he cheated with in places including their wine bar and their home.
Betrayal: The Perfect Husband reveals that while this is all going on, Herron's victim, a student who later identified herself as Rachel, was suffering immensely, both from the aftermath of the sexual assaults and from victim blaming. Some members of the community still felt that Herron was a nice guy and refused to believe his guilt.
It was during the Betrayal podcast that Rachel decided to come forward and reveal her name and her story. She has since gone on to take part in speaking engagements with Faison, who calls her a friend and thanks her for her bravery.
During a speaking engagement featured in the Hulu series, Rachel reveals that because of Herron's sexual abuse she "went from a happy, carefree, and hopeful teenager to a cynical, angry, and depressed one. I completely shut myself out from people. I withdrew from my family and my friends and by the time I was a senior, I had no communication with anyone that I was involved with at school. I felt like I wasn't deserving of anything good in my life."
Why Was Spencer Herron Convicted?
While the legal age of consent in Georgia is 16 – the age Rachel was when Herron started to have sex with her – it is illegal in Georgia for an educator to have sexual relations with any student, regardless of their age.
Upon knowing that Herron was likely to be found guilty at trial, he ended up taking a plea deal In January 2019 that would see him sentenced to 20 years but would only serve five years behind bars and the remaining 15 under probation. He would also have to register as a sex offender.
The Hulu docuseries revealed that Herron was able to have unfiltered access to students through his profession as a teacher but also by hosting multiple after-school clubs that facilitated his assaults. The series also illuminated Herron's questionable behaviour prior to his conviction such as covering his windows with a blanket so that no-one could see into his office.
Something the Hulu series glosses over is how, after Herron was convicted, a lawsuit was filed against the school for not vetting clubs and field trips appropriately. Prosecutors involved in Herron's case said that over the course of 2016 and 2017 Herron arranged to be alone with his victim "under the pretence of meeting for a non-existent school club." While Herron was already in prison by this point, the 2019 lawsuit was filed against former Kell High Principal Ed Wagner, 2019 Kell Principal Andy Bristow; and Vice Principal Susan Stoddard. The filing said that the three officials violated district policy requiring review and approval of new clubs and field trips.
The lawsuit also went on to explain that "Defendants permitted Kell High School teacher Spencer Herron to use the so-called Drone Club as a means to repeatedly sexually assault [the student] at various locations inside Kell High School during or after meetings." It added Herron also assaulted the girl on "field trips." The former student, now a rising sophomore in college, wrote in response to written questions submitted to her lawyer that the lawsuit is important "to help make sure other girls are safe when they go to school."
When filing the lawsuit, the victim said in a written statement that she was doing it because "I want girls to know that it is wrong for a trusted adult to abuse that trust to manipulate them into doing things they are not comfortable with. Victims should also not feel guilty or ashamed of themselves."
Something else the Hulu series fails to mention is that another reason Herron's case was so popular with the media at the time was because it was not the first time that the county had come under scrutiny for its handling of sex abuse cases. A mother in East Cobb had previously started a parents' group to pressure the district to adopt changes after other sexual abuse cases in the country.
Where Is Rachel Now?
The end of the series reveals that Rachel is now 22 years old and graduated from college in 2022. She continues to advocate for women.
Where Is Spencer Herron Now?
Herron declined to comment within the series and any conversations that he had with Faison or victims featured in the documentary were re-enacted with actors.
However, Herron was granted parole and released from prison in the summer of 2022 and the Hulu series reveals that he stayed with family after leaving prison.
What Can I Watch Next?
If you want even more true crime, then Hulu has two more series coming up: Mother Undercover which explores the extent four mothers go to in order to protect their children, and Demons and Saviors, which tells the story of a woman convicted of murdering her three-year-old daughter because the public believed she had telekinetic abilities, something she continually denied. Hulu also released The Ashley Madison Affair last week.
If you're looking for true crime that's similar to Betrayal: The Perfect Husband then check out Victim/Suspect, Unbelievable, Murder to Mercy: The Cyntoia Brown Story or Athlete A.
Betrayal: The Perfect Husband premieres on Hulu in the US on July 11.