Features
1980s Detective Series Bergerac Was the Perfect Reference for Black Mirror's "Loch Henry"
The John Nettles-starring crime show isn't just a cultural shorthand for tweeness, its cosy crime genre make an apt contrast with today's true crime docs. Spoilers.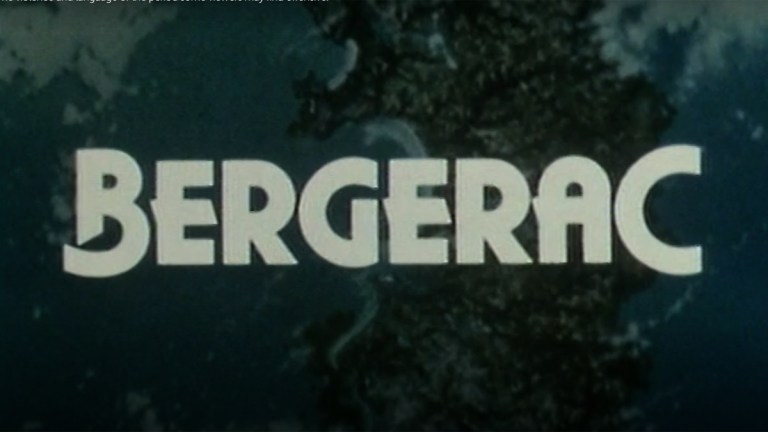 Warning: contains major spoilers for Black Mirror episode "Loch Henry".
A brushed cymbal, a laidback fretless bassline, jazz drums and some sleazy horns. Oh yeah, you think, crime. Then wait a minute, what's that sound? An accordion?! Where are we – the mean streets of 1970s Chicago or the chirpy colour of a French 1960s Jacques Demy picture?
I'll tell you where we are: Jersey.
Part of the Channel Islands between the UK and France, Jersey enjoys judicial independence and self-government, just like its most famous export (after tax avoidance): 1980s maverick detective Jim Bergerac.
Played by John Nettles between 1981 and 1991 on BBC One, Jim Bergerac was a police detective turned PI, and the sheriff 'round Jersey's picturesque parts. Handsome, troubled, popular with the ladies, and the driver of a signature burgundy Triumph Roadster, Bergerac used to be Mr Sunday Night. For a decade, just after Songs of Praise, when the forty-somethings of today would have been being nagged to wash behind their ears and get to bed because there's school in the morning, that's the sound you would have heard in 15 million living rooms around the UK. The brushed cymbal and laidback fretless bassline telling you that Jim Bergerac was on his way.
The ubiquity of Bergerac, a BBC One cosy crime series that was as much a tourist ad for Jersey's beautiful coastlines as anything, has made it a cultural shorthand for tweeness. Despite storylines dealing with arms dealing, Nazis, the lead character's alcoholism and divorce, and lots and lots of murder, Bergerac will always carry a whiff of naff, even among its fans. For many, its name will always be a kind of punchline, the TV de Papa, indissociable from its Sunday evening timeslot and all the beige telephone and tinned vegetables 1980s memories that brings back.
Bergerac's cultural status made it the perfect choice when Black Mirror episode "Loch Henry" wanted to evoke a sense of dull domesticity about a character. When young filmmakers Davis and Pia come from London to visit his mother Janet's remote Scottish home, they pull faces and prod fun at her collection of Bergerac episodes, taped from the telly onto VHS cassettes. "Mum had a crush on John Nettles… she used to say he had a nice bum," Davis explains, with an eye-roll. Silly old, boring Janet, with her twee crush on handsome, safe John Nettles. Let's see those opening credits again – ha ha! The olden days!
The real contents of Janet's harmless Bergerac VHS tapes is the major twist in "Loch Henry". As Pia and Davis research the true crime documentary they're making about an historical local serial killer, they unearth some deeply unsettling truths. Janet and her late husband Kenny, Davis' dad, were far from beige in their tastes and habits. They were the secret sadists who filmed themselves sexually torturing the victims of famed serial killer Iain Adair, using the cover of Kenny's police status and their apparent normalcy to hide, before Kenny did away with Adair and pinned the lot on him.
The gulf between safe old Bergerac and Janet and Kenny's monstrous crimes is a horrifying joke, exactly the kind of comedy juxtaposition that might have ended up in one of Black Mirror creator Charlie Brooker's TV columns back in his critic days.
In the context of "Loch Henry" though, referencing Bergerac also serves another, possibly inadvertent, purpose. It's an episode about the dubious ethics of making true crime documentaries, exploring our salacious attraction to the darkest and most depraved real-life stories.
True crime and serial killer docs have become the bread and butter of a streaming service like Netflix. When, in Black Mirror season six's first episode "Joan Is Awful", Annie Murphy's Joan and her boyfriend are scrolling fictional Netflix clone app Streamberry looking for something to watch, she suggests "Loch Henry, the Scottish murder thing". No, says the boyfriend. He can't do any more true crime right now, "not after Gacy" (Netflix's Conversations With a Killer: The John Wayne Gacy Tapes came out in 2022.) In "Loch Henry", when a character asks "what was that Netflix thing about the man who killed those women?", it's met with a wry "might have to narrow that down."
By reminding us of a time when audiences took their crime storytelling in the gentle form of Bergerac (cosy crime is still big, but it's certainly not currently the phenomenon that true crime is), "Loch Henry" prompts us to think about what's changed.
What's the effect of watching real-life murders vs scripted murder mysteries? Actual and sometimes unsolved investigations vs the reassurance of everything being wrapped up inside a one-hour runtime? "Loch Henry: Truth Will Out" and all the personal pain dug up in the making of it, vs the fictive simplicity of a Bergerac? Contrast the commodification of real people's tragedies for profit with the tourism spike Jersey enjoyed thanks to handsome Jim.
They're planning a reboot, you know.
Bergerac is available to stream on BritBox in the UK and the US. All episodes of Black Mirror season six are available to stream now on Netflix.