Features
The 8 Corniest Characters in TV History
A love of bad catchphrases and a lack of self-awareness are just a couple of traits TV's corniest characters share.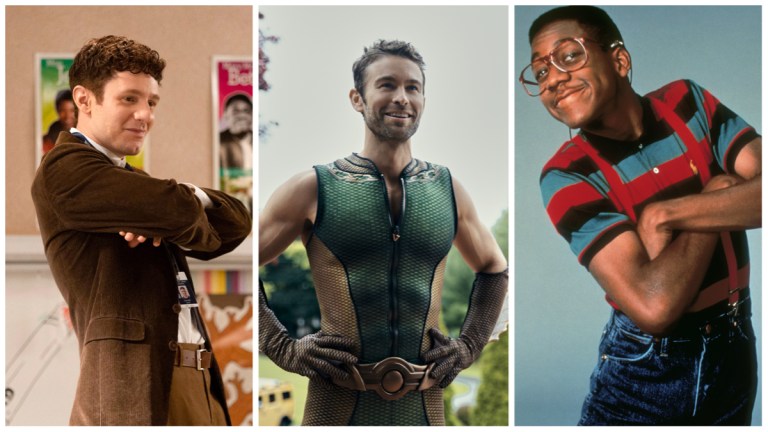 Corny characters are nothing new to television. In fact, our favorite shows have always featured people with exaggerated behaviors and trite one-liners. Corny characters make us laugh, they make us groan, and they epitomize the best and worst aspects of TV storytelling.
We decided it would be a blast to put on our corny caps, and figure out which sappy figures have the most memorable throughout history. Corny has a large variety of interpretations and definitions. Just because these characters are on this list, it doesn't mean they're not well-written or acted. It just means they've come to symbolize specific aspects of what makes television often outlandish.
Danny Tanner – Full House
I could have chosen any number of characters from the classic '80s sitcom Full House, but the widowed patriarch of the Tanner household takes the corny crown from his brother-in-law Jesse Katsopolis (John Stamos) and his best friend Joey Gladstone (Dave Coulier). Danny isn't corny because he's a good dad or because he's overprotective of his daughters. 
No, Danny oozes uncool vibes because he's the type of dad who has no awareness of his surroundings. He constantly embarasses family and friends with his toolish personality on the fictional morning show "Wake Up, San Francisco" and he obsessively cleans every square inch of his home in a way that seems to be making fun of people with obsessive-compulsive disorder. I'm not sure the late Bob Saget thought much of the opportunity to portray the character, as much of his real-life comedy stood in stark contrast to the cheeky depiction he put over the airwaves here.
Steve Urkel – Family Matters
Steve Urkel is supposed to be cartoony. That's the point of the character. Still, Family Matters' most cringy kid was sure to make everyone roll their eyes several times per episode with his booger-board glasses and Fred Mertz-esque trousers. Urkel tops off his package with several uninspired catchphrases espoused episodically with his nasally voice. Jaleel White is nothing like Urkle in real-life, something fans like to parade around to prove just how ridiculous the character was.
There's something to be said about how iconic Urkel is, though. People who've never seen Family Matters would recognize him at first glance, even as the show has been phased out of syndication in recent years. He's a potpourri of shoddy stereotypes about unpopular kids that are so dated it'd be hard to find any child who behaves the way Urkel does, now or back in the day.
Saul Goodman – Breaking Bad
Hear me out. When I say Saul Goodman is corny, I'm not talking about Jimmy McGill from Better Call Saul. Jimmy is one of the most fleshed out, interesting, and cohesive characters in TV history. No, I'm talking about the Saul Goodman we're originally introduced to in Breaking Bad way back in 2009. The criminal lawyer Walter White (Bryan Cranston) and Jesse Pinkman (Aaron Paul) lean on for support and money laundering purposes is incredibly corny. 
Saul is a completely one-dimensional cutout, a man who makes his living off cracking sleazy quips and satirizing the worst aspects of the legal profession. If you turned on an episode of the show and didn't know what the point of Saul's character is, you'd definitely hear his lines and think he looks completely out of place amongst the others. The way creators Vince Gilligan and Peter Gould were able to turn this goofy hack into the empathetic man he is in the prequel series is nothing short of mesmerizing.
Tim Taylor – Home Improvement
Long before Tim Allen became an angry old crank barking about the unfairness of Last Man Standing being canceled for the gazillionth time, he starred as the lovable lug Tim Taylor on Home Improvement. The sitcom was a mish-mash of gender-role derision that showed Allen at a time when he clearly had a lot more self-awareness than he does now. The character's most memorable traits were his signature neanderthal grunt and his recurring apathy towards using a power tool the way it was intended to be.
Home Improvement was actually one of the more sharply-written family sitcoms of its era during the first few seasons, but its inability to evolve as the years went on made Tim Taylor look even cornier, especially as the writers tried to make his wife Jill (Patricia Richardson) and friend Al Borland (Richard Karn) more adaptable and relatable.
Vito Spatafore – The Sopranos
The Sopranos deftly discussed a lot of different social topics throughout its incredible seven seasons on HBO, but acceptance of homosexuality in the mob was not one of them. Vito Spatafore (Joseph R. Gannascoli) started out as just another member of Tony's crew before creator David Chase and company decided to turn him into a conduit for queer studies.
Vito doesn't represent the struggle of someone trying to come out in a realistic way. Instead, the character serves more as a required token so that Tony can talk about his opinions on gay people with Dr. Melfi (Lorraine Bracco). The storyline is stretched way too far, encompassing almost an entire season's worth of screen time. Also, Vito is the main factor in the only scene in the show that is truly cinematically unsound, the execution of Jackie Jr. (Jason Cerbone).
The Deep – The Boys
There's a lot of startlingly good acting performances in The Boys, but Chase Crawford's turn as the downtrodden aquatic wunderkind The Deep is one of the most hilarious. In a group of superheroes with a wide array of powers, The Deep stands out for having one of the most innocuous ones. His ability to communicate with animals always starts out optimistically until a dolphin is flying out of a moving vehicle or a whale is being speared by a boat.  
The Boys' need to keep making life more miserable for The Deep with each passing season is like a car accident you just can't look away from. Here's hoping there's something good in store for the Aquaman knockoff before the show closes its run. I mean, we need to know how "Deeper: A Memoir" ends, right?
Barry Goldberg – The Goldbergs
Barry Goldberg began his run on the very, very, very (somehow it's still going) long-lasting The Goldbergs as a unique blend of older-brother insecurities and meme-able runs out the room. Troy Gentile does a phenomenal job of capturing all the little things that make Barry a lovable loser. The flanderization of Barry was bound to happen as the seasons went on, though, and this is what makes him one of TV's current corny kings.
Viewers now have little sense of what motivates Barry or where he's going in his story arc. Other characters in the show have a semblance of direction, such as Adam (Sean Giambrone) going off to college and Beverly (Wendi McLendon-Covey) grappling with her husband's passing. Barry has been distilled into his purest quirks. He hangs out with his childhood friends and wears the same three outfits while mooching off the family fridge. It was a novel characterization in 2013 in small doses, but the corny-meter has been broken by Barry in 2022.
Jacob Hill – Abbott Elementary
There are a lot of brilliant analyses of the public school system and the people who inhabit it in Abbott Elementary, but Jacob takes all of the things we already knew about teachers and shines a brighter light on them. Mr. Hill likes to pretend he can rap. He likes to think standing on his desk like he's Robin Williams in Dead Poets Society is awesome and that the students are laughing with him, when they're actually laughing at him. 
His fellow teachers ostracize him in ironic ways, but it's all in good fun. No matter how corny Jacob is, viewers, students, and co-workers understand that it's all part of what makes him a phenomenal educator, and Abbott Elementary wouldn't be the same without him.
Who's your favorite corny character on TV? Let us know in the comments section below!