Features
Taskmaster's Best Prize Tasks: From Dead Pets to Hiding in Greg Davies' Wardrobe
From David Baddiel's dead cat to an unforgettable haircut reveal, these are Taskmaster's finest prize task entries.
Warning: contains, well, would you call them spoilers? Anyway, those.
Taskmaster's weekly prize task involves each contestant bringing in an item that responds to the same prompt (Most Powerful Smell/Best Chair/Most Important Document…) in the hope of winning the lot at the end of the episode. It's the first task of every show, a chance for the comedians to land a punchline early doors, and points-wise, to bag what series 15 runner-up Ivo Graham might refer to as "a Sweet Five".
All that time to plan the perfect response! What a boon for swots and "Be Prepared" types, you might think. Sometimes. And sometimes not. The capricious nature of the Taskmaster's scoring logic often finds painstakingly honed prize task entries sent away with a single point while zero-thought efforts delivered with conviction sail off with the big money. And by big money, we mean framed photographs of Frankie Boyle's children, and a promise from Sally Phillips to fossilise a human turd.
From the meticulously designed to the laterally thought-out, to the genuinely daring, let's count down Taskmaster's (main series only) Top 20 prize task submissions. (And yes, of course the mohawk is Top 3.)
20. David Baddiel's Best Defunct Thing
Of all the sentimental possessions volunteered as prizes on Taskmaster (Romesh Ranganathan's wedding ring, Bridget Christie's horror box filled with her children's discarded hair, teeth and umbilical cords, Greg Davies' own reconstructed childhood toy…), David Baddiel wins for submitting the ashes of his beloved cat Monkey as "Best Defunct Thing". Up against a bin filled with used syringes (courtesy of Rose Matafeo's flatmate), how could it not?
19. Jenny Eclair's Best Thing To Play With in Your Bathroom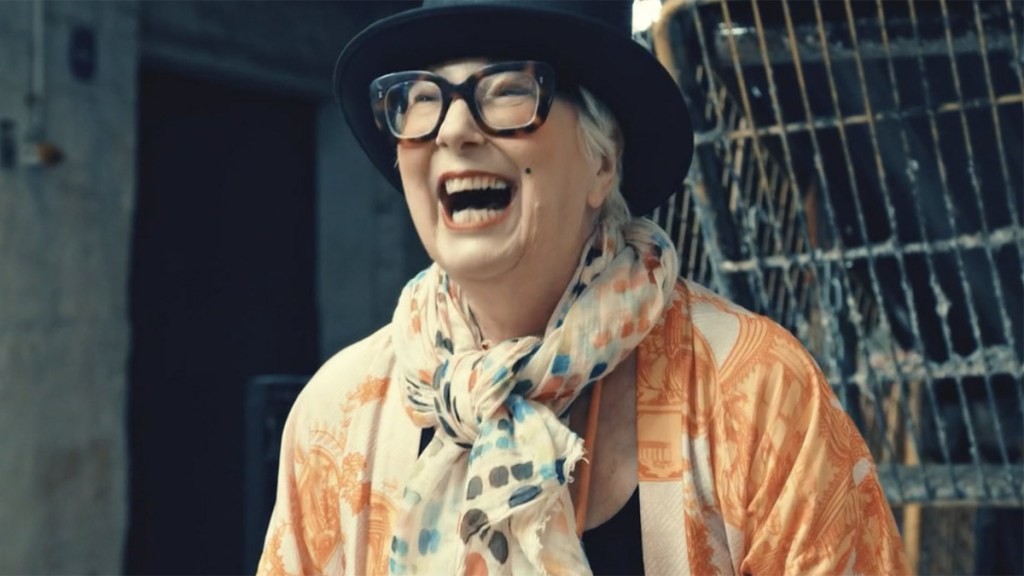 On this list for pure chutzpah, Jenny Eclair (pictured above in her potato hat of joy) is perhaps the only Taskmaster contestant to realise the true potential of the prize task system – namely, that comedians can use it as a shopping list for stuff they want. When asked to submit a "Best Thing to Play With in Your Bathroom" in series 15, Eclair used it as an excuse to get the show to order a 70 quid mouth guard cleaning pod she very much planned to take home regardless of whether she won the episode. The woman's a sneaky genius (see also: her getting a plug for her novel snuck in to the 'Sneakiest Item' task.) Masterfully underhanded.
18. Noel Fielding's Most Boastful Item
Joe Lycett has met The Chuckle Brothers, Mel Giedroyc's guinea pig won best in show, and Lolly Adefope could do GCSE-level Maths aged nine but none of that boast-worthy action compares to Noel Fielding having been voted Sexiest Man of 2008 and bringing in an edition of the NME to prove it. A simple, unarguable win.
17. Dave Gorman's Most Handsome Relative
Another non-negotiable win here. Taskmaster has done its best to disrupt family harmony over the years, not least when it set 'Worst Present from a Named Relative' in series seven (Rhod Gilbert brought in an ornament his wife had given him that Greg Davies had originally gifted to her). In series three though, the show gave the contestants a chance to praise their nearest and dearest by asking for a photo of their most handsome relative. When Dave Gorman could prove that his great-grandmother's niece had married the cousin of Cary Grant, he won hands down. From 4:38 in the above video.
16. Lou Sanders' Most Powerful Smell
Series eight comedian Lou Sanders's prize task entries were always creative and occasionally flirtatious (See: bringing in a computer generated image of the baby she and Greg would have for Best Face.) If flirtatious is the right word for choosing, in the "Most Powerful Smell" category (From 3.55 in the above video), to name a cologne themed around the Taskmaster "Greg Davies All Over Your Neck".
15. Fern Brady's Most Jaw-Dropping Thing
Read Fern Brady's excellent memoir Strong Female Character and you'll know she's experienced no shortage of jaw-dropping things, but for this task, she plumped for the time a rescue chicken was named after her and then died. This one was all in the delivery. RIP Fern Chicken Brady, second of her name.
14. Mike Wozniak's Best Thing You Can Carry (But Only Just)
Cryptic crossword-style lateral thinking (so, a flock of chickens for 'Best Thing With Lots of Layers', as one example courtesy of Victoria Coren Mitchell) can pay dividends in the prize task. Mike Wozniak found that out when he opted for a tune as the best thing he could carry (but only just), and performed a sweet ditty about the animal world. As a point of order, Joe Thomas technically did the same thing three series earlier when he opted for a musical note as the "Nicest Thing to Hold", but that only scored him four points.
13. Munya Chawawa's Most Underestimated Item
Anecdotes from Munya Chawawa's Zimbabwean childhood became a mainstay of his time on series 14, and though this one only earned him a single point from the Taskmaster (for being total bollocks), the commitment to the bit demands recognition. The most underestimated item in Chawawa's view was the rock and rope-based "Zimbabwe boomerang" used to deter none other than the ("widely discredited" – Greg) Norfolk panther.
12. Iain Stirling's Best Pair of Things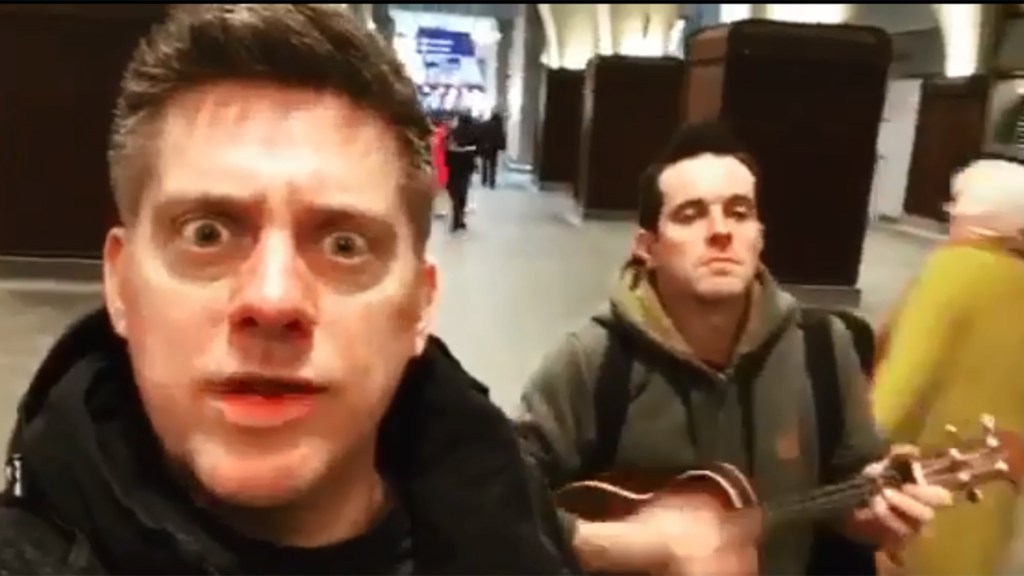 Iain Stirling went all out when it came to prize tasks in series eight, once memorably dressing entirely in specially commissioned clothing decorated with the Taskmaster's mug for "Best Face". His competitive streak led to some real effort being put in, including this from the 'wrangle a celebrity mate to do something' Taskmaster genre. Stirling wrangled two celebrity mates – fellow children's TV presenters Dick and Dom – for the "Best Pair of Things" prize task. The pair performed a bespoke song to camera, not that it was enough to beat Shirley Bassey's discarded pop socks. Oi oi. Oi oi.
11. Tim Key's Most Beautiful Item
Sometimes earnest is the way to go. When asked to nominate his Most Beautiful Item, series one's Tim Key had eyes only for the ecclesiastical majesty of Cologne Cathedral in Germany, and so he bought a flexible return flight there so the lucky episode winner could make the pilgrimage and bask in that beauty with their own eyes. Generosity, ambition, and an early hint at what Taskmaster could be to an unimpeded mind. Obviously he won the whole five points, and had a lovely day trip there in the company of Frank Skinner, Josh Widdicombe and Alex Horne (the others were meant to come too but they all dropped out).
10. Lolly Adefope's Most Cash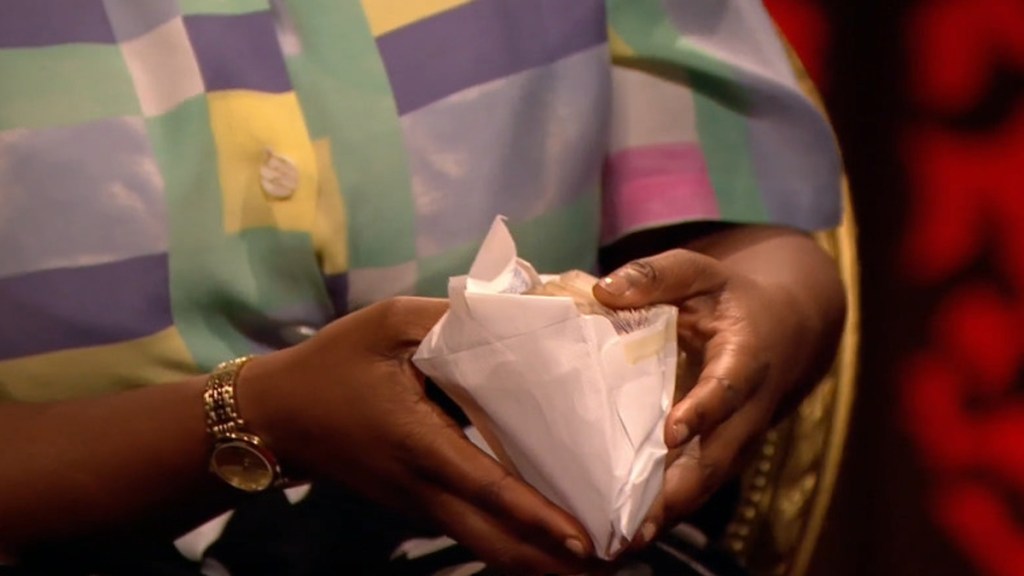 Josh Widdicombe signing a blank cheque for any amount up to £20k in series one's "Most Valuable Item" prize task was genuinely thrilling (the rumour goes that Frank Skinner cashed it for £19k and then returned it immediately), but in series four, Lolly Adefope went one better, literally. For "Most Cash" in series four, she brought in a signed blank cheque with the intention of adding 1p to the winning total to ensure a win. And if that didn't do it, then Lolly whipped out a cool £2k in readies. It was a baller move, and possibly even beats the baby Lolly pic she submitted for the "Cutest Thing" category.
9. Joe Wilkinson's Most Important Document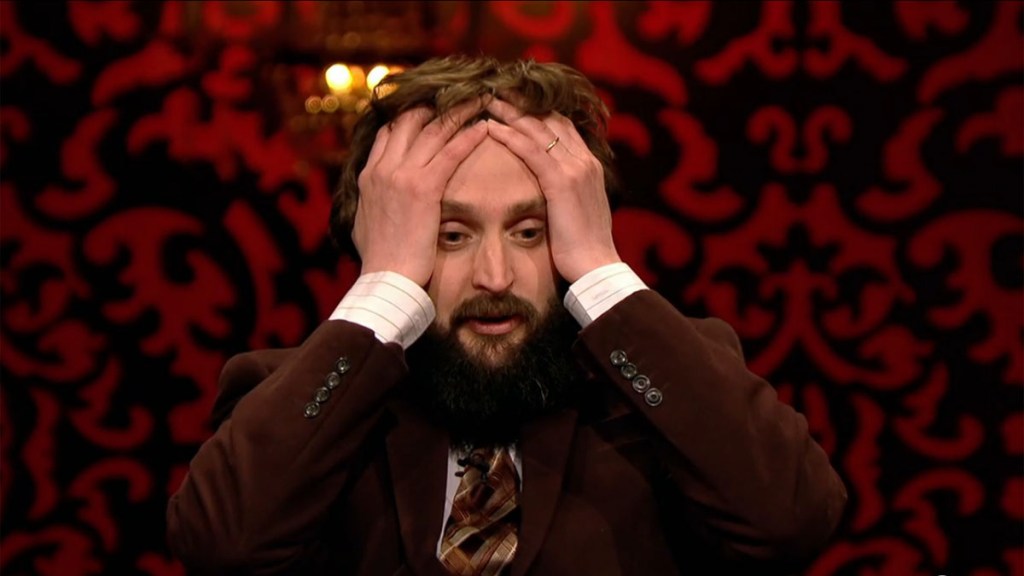 Apply logic and even the slightest research to it and it's clear that Joe Wilkinson offering up his marriage certificate for series two's "Most Important Document" prize task isn't actually that big a gamble (replacements cost £11 and take just four days to issue), but it's the symbolism of the thing. Back in the day when it was still easy to believe that the episodic prizes were irretrievably lost should the original owner not win the episode, the idea of Wilkinson casually dropping official gov.uk paper on a comedy show was exciting.
8. Mel Giedroyc's Most Interesting Autograph on the Most Interesting Vegetable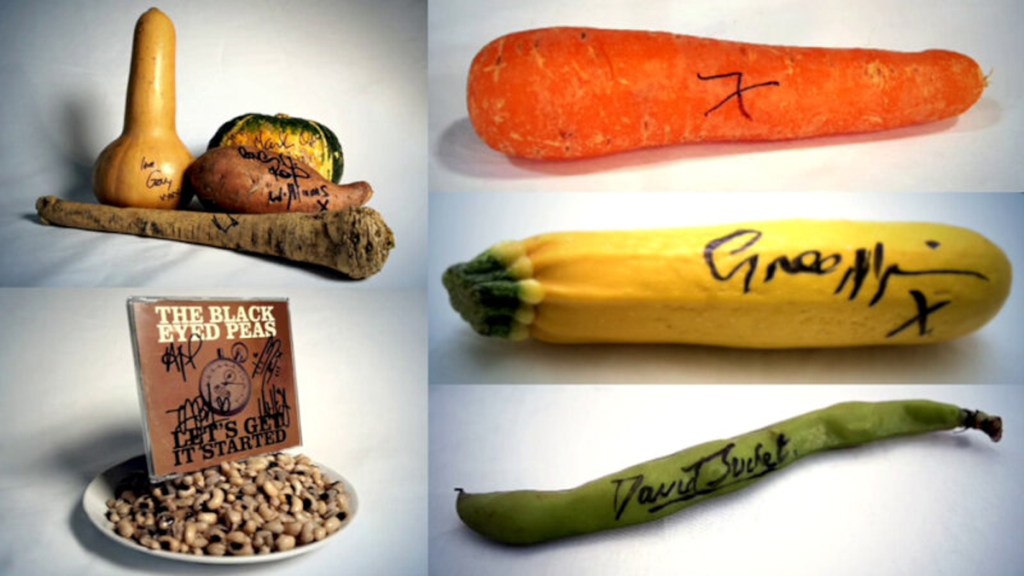 The absurd simplicity of David Suchet's signature on a broad bean won this series four task for Noel Fielding, and much of the discussion was devoted to Joe Lycett having fraudulently obtained the scrawl of Greg Davies on a yellow courgette by feeding him the lie that it was "for charity", but Mel Giedroyc deserves plaudits for determination and vision. She got four fifths of Take That: Howard on a horseradish, Gary on a butternut squash, Mark on a heritage squash and Robbie on a sweet potato (Jason was unavailable).
7. Phil Wang's Most Confusing Thing
This one's here not because it's a great prize task entry, but because it led to one of Taskmaster fans' favourite moments on the show. The frustration of watching the Taskmaster struggle to open Phil Wang's Chinese puzzle box (he haggled for it, obviously) led to a colourful outburst from series seven's James Acaster, who was duly taken to the side of the stage for a little corrective chat by Greg Davies.
6. Series 12's Most Desirable Thing for the Person Below You in the Alphabet (or the Highest Alphabetically if You're the Lowest Alphabetically)
Vive la revolution! When series 12's comedians were tasked with a Secret Santa-style present-buying mission, the idea was that they'd take the piss out of their fellow contestants in gift form. But guess what? Love won. Desiree Burch bought Guz Khan a bespoke painting of a Bully Kutta dog that he adored, Khan gave Morgana Robinson one of his trademark long coats that she adored, and everybody promised that if they won the episode, they'd make sure the presents went to the person intended. "This has really backfired, it's a love-in!" complained the Taskmaster (from 1:45 in the video above). "We have defeated the format of your show" declared Guz Khan. "You haven't," said the Taskmaster, "because I'm going to go backstage and cut that painting up!"
5. Bob Mortimer's Best Thing They've Made Themselves
Bob Mortimer's wind-up spinning trunk elephant circus toy made such a memorable entry as a hand-made "Sausage or Pork Pie Presentation Unit" (to encourage his kids to eat the cheaper meats) in series five that it merited a return appearance in the first Champion of Champions special as his Best Thing, this time fulfilling the function of a "Broccoli Rotation and Delivery Unit" (to encourage his kids to fall in love with broccoli, or you know, for adults, if you're having a do). Indelible genius.
4. Mark Watson's Most High Octane Item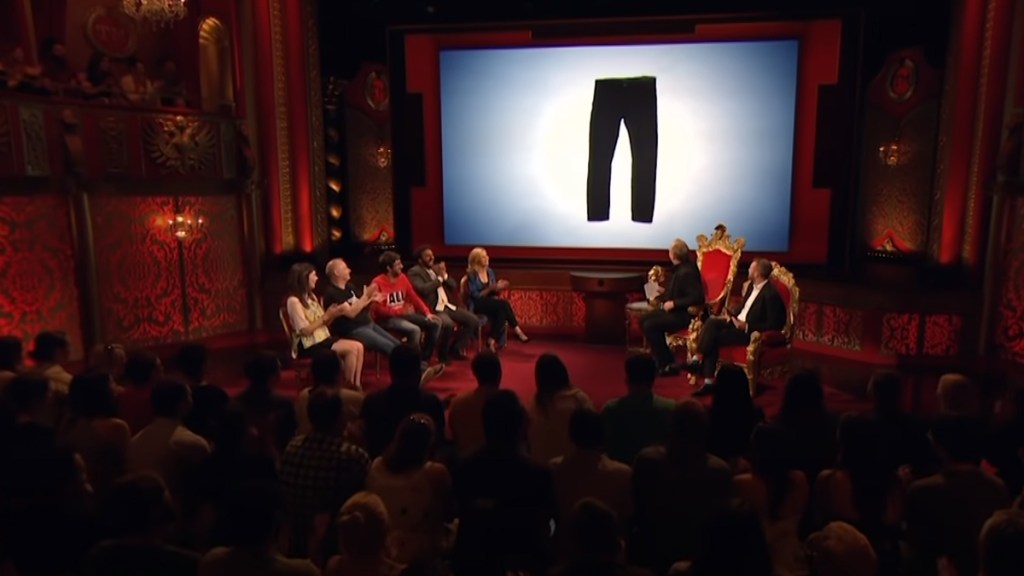 In series nine, Taskmaster encouraged theft with the prize task category "Best Thing You've Taken From Somebody Else's House", for which Ed Gamble presented three items stolen from Greg Davies' house while the Taskmaster was relaxing in his hot tub. That though, was sanctioned stealing; this was a genuine crime, and deserves its own heist movie re-enactment. Picture the scene: Greg Davies performing a stand-up gig, while his support act Ed Gamble hoofs it out of his dressing room with a pair of his trousers, ready to pass on to the fence, Mark Watson. High octane? The highest octane!
3. Bridget Christie's Item That Sounds the Funniest When You Say Its Name Over and Over Again
Stop cock. Stop cock. Stop cock. Stop cock. Stop cock. Stop cock. Stop cock. Stop cock. Stop cock. Stop cock. Stop cock. Stop cock. Stop cock. Stop cock. Stop cock. Stop cock. Stop cock. Stop cock. Stop cock. Stop cock. Stop cock. There was even a sort of dance. Unforgettable.
2. Rhod Gilbert's Creepiest Thing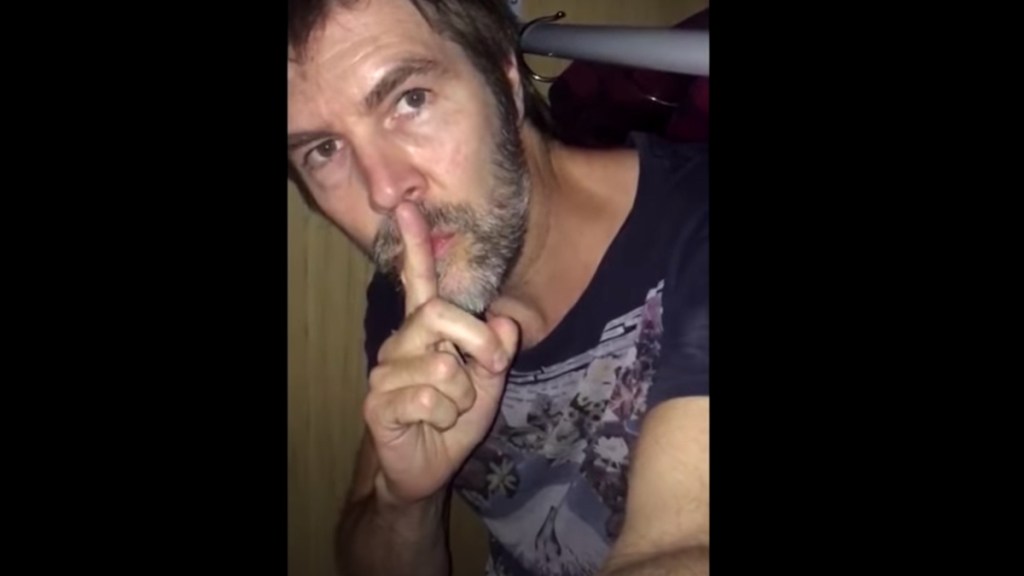 Rhod Gilbert's extra-curricular friendship with the Taskmaster paid off handsomely in series seven's prize tasks – mostly for Gilbert's determined efforts to enter a photo of Greg Davies posing in his pants for every single category. Gilbert exposed Davies' childhood toy sex secrets, got Davies' mum to wear a Fez in the bath, and never stopped finding the underwear picture funny. His most audacious effort though, was this submission for "Creepiest Thing" in which Gilbert hid inside Davies' wardrobe after a party one night, and filmed him sleeping. It doesn't get creepier.
1. Mike Wozniak's Thing That Makes You Look Toughest
What else could top this list? What. Else. When Mike Wozniak, absolute bloody milk guzzler that he is, was asked to submit the thing that made him look toughest in the series 11 finale, he did not half-arse it. Opening the show wearing a sort of capacious crown, he whipped it off to reveal… the full Travis Bickle. A mohawk as high as our hearts! It was a thrill on the scale of Josh Widdicombe's foot tattoo. Tick tock, may it forever be tough guy o'clock.
Taskmaster is available to stream on Channel4.com