News
Penny Dreadful: City of Angels News and Episode Guide
Penny Dreadful: City of Angels continues the supernatural legacy of the original Showtime series, shifting its setting to 1930s Los Angeles.
Penny Dreadful may have been a beloved, star-studded peak television offering that closed up shop after just three seasons, but the classic-literature-crossover Showtime supernatural series' legacy lives on with a sequel. The new show is called Penny Dreadful: City of Angels!
While the sequel series makes a dramatic shift away from the settings and characters of 2014-2016's Penny Dreadful, it has the support of its key personnel, namely creator John Logan, who returns to serve as writer and executive producer, joined in the latter capacity by Michael Aguilar, who's worked on recent Showtime offerings Kidding and I'm Dying Up Here.
Along with Logan and Aguilar, Penny Dreadful: City of Angels sees executive producers on board in Oscar winner Sam Mendes (Skyfall, American Beauty) and Pippa Harris (Revolutionary Road) on behalf of Neal Street Productions. Logan is onboard via his Desert Wolf Productions. James Bagley is also on board, serving as co-executive producer.
Keep up with news and our reviews for Penny Dreadful: City of Angels right here.
Penny Dreadful: City of Angels Episode Guide
Penny Dreadful: City of Angels Episode 1 – Santa Muerte
LAPD detectives Tiago Vega and Lewis Michener investigate a murder; Tiago's brother, Raul, battles Councilman Charlton Townsend over California's first freeway; Tiago's mother, Maria, pleads with Santa Muerte.
air date: 4/26/20
Read our review of "Santa Muerte" here.
Penny Dreadful: City of Angels Episode 2 – Dead People Lie Down
Raul Vega lies on the brink of death; Tiago and Lewis meet radio evangelist Sister Molly Finnister; Councilman Townsend furthers his political goals; Peter Craft runs into Elsa at the beach; Lewis and his friends investigate Third Reich activities.
air date: 5/3/20
Penny Dreadful: City of Angels Episode 3 – Wicked Old World
Tiago and Molly try to escape their complicated lives; Lewis interrogates a young Cal-Tech student; Townsend and Alex's agenda is jeopardized by a councilwoman; Peter Craft discovers a dark truth at Elsa's home; Mateo visits a Chicano dance hall.
air date: 5/10/20
Read our review of "Wicked Old World" here.
Penny Dreadful: City of Angels Episode 4 – Josefina and the Holy Spirit
Tiago scours Sister Molly's beach house for clues; Peter Craft invites Elsa to a party; Lewis asks a gangster to help battle the growing Nazi menace in Los Angeles; Josefina Vega has a harrowing encounter with the police; Mateo seeks retribution.
air date: 5/17/20
Penny Dreadful: City of Angels Episode 5 – Children of the Royal Sun
Josefina confides in Sister Molly, who's shocked to discover Josefina is Tiago's sister; Tiago and Lewis' investigation takes them to the Vega House; Townsend gets a lecture about his personal life; Tiago confronts Mateo.
air date: 5/24/20
Read our review of "Children of the Royal Sun" here.
Penny Dreadful: City of Angels Episode 6 – How It Is With Brothers
Tiago and Lewis interrogate Diego; Adelaide warns Molly about her personal desires; Townsend learns of Kurt's surprising past; Peter Craft makes a decision about his marriage with Linda; Maria tracks down Mateo and pleads with him to come home.
air date: 5/31/20
Penny Dreadful: City of Angels Episode 7 – Maria and the Beast
Molly visits Tiago at his apartment; Dottie and Lewis confront Brian; Elsa and Frank move in with the Crafts; Alex and Townsend discuss how to defeat Councilwoman Beck; Lewis enlists Tiago to join his covert operations; Maria summons Santa Muerte.
air date: 6/7/20
Read our review of "Maria and the Beast" here.
Penny Dreadful: City of Angels Episode 8 – Hide and Seek
Lewis confronts Townsend in his office; Tiago interrogates Adelaide; Rio begs Mateo to forget his old family and embrace her and the Pachucos; Peter visits Linda at the asylum, only to find her ready for war.
air date: 6/14/20
Penny Dreadful: City of Angels Episode 9 – Sing, Sing, Sing
Tiago and Lewis are tested in danger; Townsend is forced to turn to a last resort; spurred on by Elsa, Peter decides to take Tom, Trevor and Frank to the movies; Lewis oversees the prison transfer of Diego Lopez.
air date: 6/21/20
Read our review of "Sing, Sing, Sing" here.
Penny Dreadful: City of Angels Episode 10 – Day of the Dead
Sad news spreads through the Crimson Cat; Fly Rico tries to placate the volatile crowd while Rio argues for vengeance; Peter Craft, Elsa and the boys are trapped in their car during a riot as Tiago tries to help Mateo.
air date: 6/28/20
Penny Dreadful: City of Angels Trailer
Check out the first footage for Penny Dreadful: City of Angels right here…
Penny Dreadful: City of Angels Photos
The very first onscreen images from Showtime sequel series Penny Dreadful: City of Angels have arrived, and can be viewed in full on EW.
The duo of images reveal star Natalie Dormer (in a diversely gothic sartorial style, with one dress that would fit perfectly on her old show, Game of Thrones,) as Magda, a shapeshifting demon who the actress describes to the outlet as "a delicious, multi­dimensional thrill," and an "agent of chaos" who can "sow the seeds of disorder." The actress also reveals that the first season will showcase three of Magda's human manifestations, explaining that "The audience will discover who those identities are as they continue to watch the show."
Additionally, Dormer reveals an ongoing ideological clash at the center of a complex central relationship between the pessimistic Magda and her optimistic sister, Santa Muerte (Lorenza Izzo), who, as an immortal Angel of Holy Death, serves as a ferrywoman, guiding souls to the afterlife.
And here is the striking original poster for the series.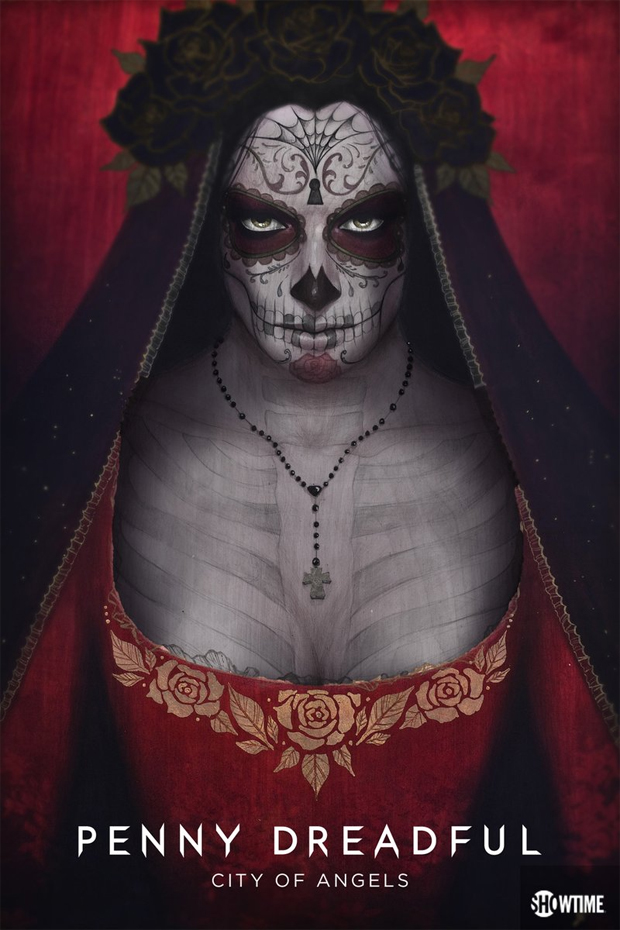 Penny Dreadful: City of Angels Cast
Natalie Dormer will play Magda, a character Showtime describes as "a supernatural demon who can take the appearance of anyone she chooses and manifests in a number of guises throughout the story. Charismatic, clever and chameleonic, Magda is a dangerous enemy and an invaluable ally." While Dormer has been featured on numerous high-profile platforms, she's probably best known for her role as Margaery Tyrell in Game of Thrones, also as Cressida from The Hunger Games: Mockingjay Parts I & II, and as Anne Boleyn on The Tudors. She recently starred on Amazon's television series remake, Picnic at Hanging Rock, and appeared opposite Mel Gibson and Sean Penn in the historical dictionary drama, The Professor and the Madman.
Jessica Garza will play Josefina, described as "the youngest of the Vega family [of protagonist Tiago Vega, played by Daniel Zovatto]. She plays the part of the quiet and overlooked younger sister but possesses a powerful spirit waiting to be unleashed." Garza, and up-and-comer, was recently seen fielding TV runs on USA Network's The Purge and History's Six. She's also banked appearances on shows such as A.P. Bio, Modern Family, Sweet/Vicious and NCIS.
Johnathan Nieves will play Mateo Vega, described as "Tiago's volatile younger brother. Though essentially goodhearted, he lacks the clear strength and ambition of Tiago and is vulnerable to both his own capricious emotions and influences around him." The CV of Nieves, a newcomer, only consists of a handful of TV appearances on shows such as New Amsterdam, Better Call Saul, Shameless and Chicago Fire, with a lone film credit in 2017's Neighborhood Food Drive.
Daniel Zovatto is set as the star of Penny Dreadful: City of Angels, as first reported by Deadline. His character, Tiago Vega, will be treated as the male protagonist of the series, despite its ensemble status. As the Los Angeles Police Department's first Mexican-American detective, Tiago's reality in 1938 will be rife with – as the report describes – "racism, childhood trauma and faith issues." Additionally, the seemingly inexplicable occurrences of the supernatural should also be present on his plate, per the show's theme. Zovatto, a Costa Rica-born actor, was prominently seen in horror movies Don't Breathe and It Follows, and the Greta Gerwig-directed comedy, Lady Bird. He'll be coming off a TV run on HBO's Here and Now, having fielded runs on the Bret Easton Ellis-developed The Deleted, ABC's Revenge and is also remembered from a Season 2 run on AMC's Fear the Walking Dead.
Michael Gladis will play Councilman Charlton Townsend, "the ambitious head of the L.A. City Council's Transportation Committee; a man of killer instincts and ruthless political wiles." Gladis has fielded several runs on high-profile TV shows, notably Feed the Beast, Extant, Reckless, Eagleheart and Mad Men, and also appeared in 2015 franchise sequel Terminator: Genisys.
Lorenza Izzo will play the role of Santa Muerte, "the Angel of Holy Death and sister of the charismatic demoness, Magda (Dormer)." Izzo's stock has been rising in recent years, with a role banked in Quentin Tarantino's Once Upon a Time in Hollywood, with appearances in The House with a Clock in its Walls, Life Itself and The Green Inferno. As mentioned she, along with Gladis, was a main cast member on AMC's Feed the Beast.
Adam Rodriguez (Criminal Minds, Magic Mike) will play Raul Vega, "the eldest son of the Vega family and a righteous union leader and advocate for his people. Wise to the ways of the world, Raul tries to be a father-figure to his brother Tiago (Zovatto)."
Thomas Kretschmann (Belin Station, Avengers: Age of Ultron) will play Richard Goss, "an aristocratic and mysterious German architect with grand plans for the future of Los Angeles: a manipulative master builder with unsettling connections to City Hall."
Dominic Sherwood (Shadowhunters, Vampire Hunters) will play Kurt, "the chauffer and bodyguard for Richard Goss (Kretschmann). There's more to Kurt than meets the eye: an unexpected depth and surprising background."
Ethan Peck (Star Trek: Discovery – as Spock, The Sorcerer's Apprentice) will play Herman Ackermann, "the charismatic second-in-command at the German-American Bund. His aggressive politics, heated rhetoric, and personal magnetism inevitably create tension within the group and for the Bund's leader, Peter Craft (Rory Kinnear)."
Amy Madigan will play Miss Adelaide Finnister, described as "the mother of the charismatic radio evangelist Sister Molly (Kerry Bishé). Miss Adelaide shrewdly manages the church's finances and oversees the growing religious empire." Madigan, a veteran actress, best remembered from films such as Field of Dreams and Uncle Buck, recently fielded a TV run on Audience's crime drama, Ice, and will next appear in Blumhouse action film The Hunt (not to be confused with the star-studded Amazon series brandishing the same title.)
Brent Spiner will portray Capt. Ned Vanderhoff, "the Precinct Captain at the Hollenbeck police station in Boyle Heights – the boss of Tiago Vega (Daniel Zovatto) and Lewis Michener (Nathan Lane). A veteran officer under a lot pressure, Vanderhoff struggles to keep a lid on the volatile and changing city." Spiner, who will obviously be forever best-known as aspiringly anthropomorphic android Data from TV's Star Trek: The Next Generation and its film offerings, recently – besides a regular array of voice work and TV guest spots – put in a memorably demonic main villain run on Cinemax's Robert Kirkman-comic-based horror series, Outcast.
Lin Shaye will play Dottie Minter, "a friend and ally of Detective Lewis Michener (Nathan Lane) Cunning, wry and clever, Dottie is an invaluable operative in the battle against Third Reich espionage in Los Angeles." Shaye, a veteran actress, has come into a recent career Renaissance as a go-to horror film star, notably off James Wan's 2010 haunted franchise starter, Insidious, for which she returned for its three sequels, respectively in 2013, 2015 and 2018. Besides a role in 2014's Ouija and its 2016 sequel, she's banked plenty of other recent horror film roles, and – apropos to her genre home – will appear in the January-2020 scheduled remake movie of The Grudge.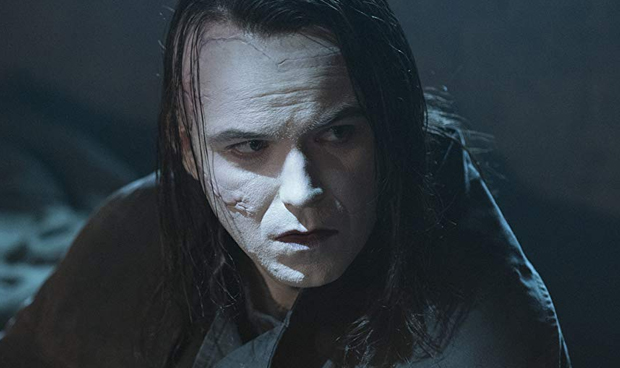 Rory Kinnear is confirmed for a Penny Dreadful return. The news should delight fans of the original series. However (and this is a big "however"), he's not reprising his memorably tragic role as John Clare/The Creature/Caliban (as pictured above). Indeed, affirming the anthological nature of this new series entry, Kinnear will join the main cast to play a new character, Dr. Peter Craft, who Showtime describes as "a successful German pediatrician and the head of the German-American Bund, an organization he hopes will keep the United States isolated from the growing threat of war in Europe."
Besides his role on Showtime's original Penny Dreadful, Kinnear is probably best known as MI6 man Bill Tanner in the Daniel Craig-headlined James Bond films, and has appeared in films such as the recent Brexit TV movie, iBoy and The Imitation Game. He's also fielded TV runs on Quacks, Count Arthur Strong and Guerilla.
Adriana Barraza has joined the cast, as reported Variety. She will play Maria Vega, described as "the powerful matriarch of the Vega family, who will go to any lengths to protect her children from the dangerous world of 1938 social politics, as well as from the chilling supernatural forces invading their lives." While Barraza, a Mexican actress, has mostly stayed home for film and television roles, she's been branching out stateside, notably with a recurring run on FX's The Strain – memorably as the vampire-virus-afflicted mother of Miguel Gomez's Gus – and films such as Thor, Drag Me to Hell (2009), Babel, Wild Horses and Cake. She was recently seen in Dora and the Lost City of Gold and Sylvester Stallone-starring sequel actioner, Rambo 5: Last Blood.
Nathan Lane is also in this cast, as first reported by Variety. He will play Lewis Michener, described as "a veteran officer in the LAPD, wise to the ways of the world and ruthless in pursuit of his goals." Lewis will be assigned as the partner of series protagonist Tiago Vega (Daniel Zovatto), to whom he will also serve as a mentor. Lane, a decorated three-time Tony winning, five-time Emmy nominated actor, has been fielding a TV run on ABC's Modern Family, along with a notable 2018 guest role on NBC's The Blacklist and a run on FX's American Crime Story's 2016 O.J. Simpson-centric first season. Known as the voice of meerkat Timon in Disney's The Lion King, Lane became a household name off a memorable performance opposite Robin Williams in 1996's The Birdcage, and cemented his stardom in 2005's The Producers, in which he and Matthew Broderick put their acclaimed Broadway adaptation of the Mel Brooks classic comedy to film.
Penny Dreadful: City of Angels Story
Penny Dreadful: City of Angels brandishes the tag line: "Sometimes what's dead doesn't always remain." The show is described as a "spiritual descendant" of the original series, set to focus on an entirely new set of characters, moving the mythos chronologically ahead and a whole continent away from the previous show's Victorian London setting to 1938 Los Angeles. There, the backdrop – teeming with social tension – will facilitate events rooted in Mexican-American aspects of supernatural folklore, with denizens who are in conflict over their respective focuses of worship, with some loyal to the deity, Santa Muerte, and others who worship the Devil. Consequently, the series is described as an amalgamation of the social realities of the setting and time period with themes centering on the occult.
"We were so thrilled when John Logan came to us with this wildly original take on the Penny Dreadful mythology that explores both the human spirit and the spirit world here in California." Gary Levine, President of Programming, Showtime Networks Inc., said in a statement , "Penny Dreadful: City of Angels promises to be an extraordinary saga of familial love set against the terrifying monsters that are around us and within us."
While the original series balanced themes of magic and monsters with the economic desperation and soot-and-smog-strewn realities of Victorian London, City of Angels will apparently exercise a balance of its own between the socio-political and supernatural. As creator John Logan explains:
"Penny Dreadful: City of Angels will have a social consciousness and historical awareness that we chose not to explore in the Penny Dreadful London storylines," Logan said. "We will now be grappling with specific historical and real world political, religious, social and racial issues. In 1938, Los Angeles was facing some hard questions about its future and its soul. Our characters must do the same. There are no easy answers. There are only powerful questions and arresting moral challenges. As always in the world of Penny Dreadful, there are no heroes or villains in this world, only protagonists and antagonists; complicated and conflicted characters living on the fulcrum of moral choice."
We'll update this with more information as it becomes available!