News
Penny Dreadful: City of Angels Canceled After One Season
Dreadfuls call on Santa Muerte. The freeway will never get built now as Showtime cancels Penny Dreadful: City of Angels.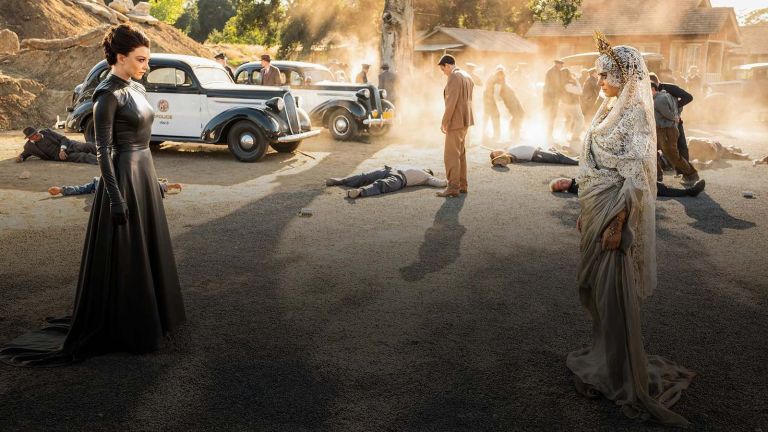 Penny Dreadful: City of Angels was canceled by Showtime, according to Variety. The resurrection of the Penny Dreadful brand opened with its patron, Santa Muerte, as she carries the souls of the newly dead to whatever comes next, just so long as it's not on the premium cable channel.
"Showtime has decided not to move forward with another season of Penny Dreadful: City of Angels," Showtime announced in a statement. "We would like to thank executive producers John Logan, Michael Aguilar and the entire cast and crew for their outstanding work on this project."
The series starred Natalie Dormer (Game of Thrones) in multiple roles, ethereal and otherwise, but predominantly as a supernatural shape-shifting agent of chaos. Nathan Lane captured the patter of the time period as the partner of Daniel Zovatto's starring turn as the first Chicano detective in Los Angeles. The series also starred Kerry Bishé as a famed radio evangelist, Rory Kinnear, who was on the original Penny Dreadful, and Adriana Barraza. The largely ensemble cast also included Michael Gladis, Jessica Garza, Johnathan Nieves, Amy Madigan, Brent Spiner, Piper Perabo and Ethan Peck.
"When a grisly murder shocks the city, Detective Tiago Vega (Daniel Zovatto) and his partner Lewis Michener (Lane) become embroiled in an epic story that reflects the rich history of Los Angeles: from the building of the city's first freeways and its deep traditions of Mexican-American folklore, to the dangerous espionage actions of the Third Reich and the rise of radio evangelism," reads the official synopsis, as per Variety. "Before long, Tiago and his family are grappling with powerful forces that threaten to tear them apart."
The series was billed as a spiritual descendant of the original Penny Dreadful series, which was set in Victorian-era London and populated by classic monsters of horror literature. It ran for three seasons beginning in 2014 and was nominated for 13 Primetime Emmys. Eva Green was nominated for a Golden Globe for her turn as Vanessa Ives, a mystic who teamed with a monster hunting explorer and a gunslinging wolfman over absinthe. The series has a loyal fanbase who call themselves "The Dreadfuls."
Penny Dreadful: City of Angels was set in 1938 Los Angeles amidst social and political tension. Nazis were the dominant monsters, along with the arrogant rich, who preyed on the revolutionary poor. Detectives Vega and Michener are temporarily and unwittingly reassigned as traffic cops on the freeway to social engineering hell. Series creator John Logan infused the series, which was set just before World War II, with contemporary social commentary.
Penny Dreadful: City of Angels was set in the light of day, for the most part. The realism of the time period overwhelmed the macabre horror of the original series. It was a supernatural crime procedural with noir overtones.