Reviews
Penny Dreadful: City of Angels Episode 5 Review – Children of the Royal Sun
Tiago confronts tough choices on Penny Dreadful: City of Angels' "Children of the Royal Sun."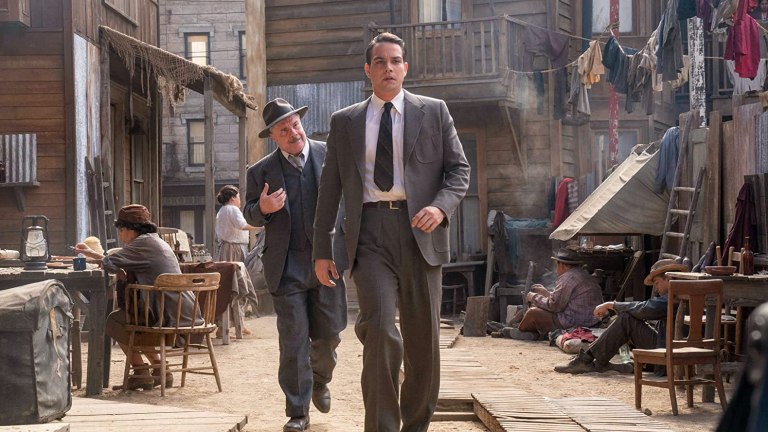 This Penny Dreadful: City of Angels review contains spoilers.
Penny Dreadful: City of Angels Episode 5
Penny Dreadful: City of Angels episode 5, "Children of the Royal Sun," is a streetwise episode. Even the spirituality is grounded in concrete. The older believers keep their shrines in dark rooms, the younger ones want to dance to show reverence but all the cool joints are closed down. Meanwhile city councilmen do the old soft shoe all over their neighborhood.
Elsa, one of the many guises Natalie Dormer takes as the darkest angel in the city, manages to get out by herself. Of course, she's never really alone. The episode opens as Magda, all decked out in Goth finery that nightclub won't see again until the 90s, steps out to cut a rug, or a throat, she hasn't decided. Once again she goes unnoticed until she transforms into her German persona, and when she does she doesn't remain a wallflower for long. Magda is a whisperer, putting bad ideas into otherwise good men. She is also apparently a telepath, picking up some good ideas along with some bad men. Either that or she just has a real knack for pickup lines.
It's interesting how Elsa populates her fake life with real victims. This is probably because she has to fool a doctor. Dr. Peter Craft (Rory Kinnear) is a guy who can't even be loud and sarcastic while playing the board game Sorry. Elsa is amazing in shock, but even more so as a glint of glee shines through her beaten eyes as Dr. Craft jumps up to do her dirty work. We don't know yet where she wants to take Peter, and why she can't just whisper the sweet nothings she wants him to hear. We do know he is a committed follower. But she binds him to her in a blood bond beyond anything the Vega family experiences. To be fair, there's nothing like sex on a shallow grave to bring two people together.
Mateo (Johnathan Nieves) gets one of the sexiest fittings in TV history. His Pachuco makeover doesn't stop with the threads. Magda's street level revolutionary persona has already burned herself into Mateo's skin with the tattoo, and into his soul with her purge. She tells him to say goodbye to the blood of the enemies, to hiding his pride and power, to say goodbye to weak, worthless gods, and hello to hedonism. The scene is hot. Mateo is completely converted by the time Fly Rico drops in to cut himself a slice of heaven. The first words out of Mateo's mouth are to take the blame and protect the Pachuco queen. He is a quick learner and keeps any next words to himself.
Sister Molly (Kerry Bishé) can really spin a story. She tells Josefina the same tale she told her brother Tiago, with very different conclusions. Detective Vega gets an inspiring post-coitus parable, while Josefina Vega gets the full gospel. Molly does have a little more sense than the average evangelist. She sees Tiago's childhood burn marks as the touch of spirit they are. But Josefina and Sister Molly's scenes together forge a stronger spiritual bond. The two actors play off each other in a horrifically sad but magnetic way. Josefina's eyes are the eyes of a true believer who has found a calling.
Every single actor on Penny Dreadful: City of Angels is at the top of their game on this show. But Jessica Garza is not playing. As Josefina, Garza gives the most emotionally effective performance. She functions almost like another camera. We didn't see the act the cop perpetuated on her which ultimately gets him killed in the last episode. We saw her reacting to it. We don't only feel Sister Molly's spiritual presence merely because of the presence, but also in how Josefina's eyes take it in, completely becoming engulfed in an understanding she makes visually clear. She is locked on every word, breath and thought coming out of the radio evangelist, and we actually worry for her. We don't want her to be taken in by some charlatan tent revivalist.
Molly is just as naked emotionally, almost equally effecting, but because of the different twists she gave to the story she shared between sister and brother, we don't know if she's actually being sincere. Sister Molly sells sincerity by the pound onstage. We don't want to think of her as the snake oil salesperson Detective Michener pegged her as in their first meeting, but we can't allow ourselves to trust her. It is easier to believe the righteous rage of dark and white sisters of tears, Santa Muerte (Lorenza Izzo) and Magda. Bishé's Molly makes it more than believable. Every word she chokes back, every memory she forces out of suppression feels real, which only makes it harder to maintain the trust. This is especially true when Molly learns who Josefina's brother is. We see the mental click, and we see her file it away for good keeping. It is a tool.
The cops are on a vendetta after the murder and sloppy disposal of Jimmy Reilly, and they're turning Los Angeles upside down. Tiago and Lewis's partnership gets tested quite a bit over the course of the episode. The younger cop is hiding so many things from his partner that Lewis can't help but complain. Tiago is somehow personally involved in so many things which the LAPD are investigating he could be a ringleader. We get the sense he is being manipulated by forces out of his control. There are no occult road signs to this, no thunder cracks or mystical manifestations. It is coming from the very real evidence of his own mysterious actions. He's either being a really good cop protecting his sources or he's an accessory after the fact.
Lewis says the obvious: Tiago will be talking with someone before the investigations are over. The racist cop had his throat slit ear to ear and dumped in front of the actual precinct house he works at. Lewis calls it a declaration of war and doesn't give Tiago the option of declaring himself a conscientious objector. He's got to put his conscientiousness to better use. At first it seems like Tiago's going to toe the thin blue line, he even takes Lewis to meet his family. His mother makes a very strong impression on Lewis, as he does on her.
The first interrogation, of Sofia on the street, is cut short just as it's getting interesting and Lewis calls foul. He tells his partner to get it together because he doesn't like what he's seeing. The witness is cooperating and Tiago brushes it off. But when Tiago gets serious he scares his partner. The first Mexican detective on the LAPD goes full-on blue, threatening deportation and explicitly detailing how mothers are separated from children. Daniel Zovatto does an ocular version of a silent scream in these scenes. He's ordering these people to shut up or give it up, because he needs to control the information. Tiago is a mess trying to clean himself up and Zovatto keeps it messy. Lewis sees his partner as an unstable armed yoyo.
Nathan Lane is of course masterful. When he learns he's got to see Tiago's brother Raul (Adam Rodriguez), who even Tiago had to shoot in the head, he says "can't wait," and any tension in the scene both disappears into humor and doubles because we know what he's not saying. He is sincere when he tells Tiago's mother Maria her son is a standup guy. This is minutes after being told to stand down. "Wait, let me guess, you're not actually Jewish," he says to her when she introduces him to Santa Muerte.
Dottie Minter's (Lin Shaye) shakedown of the rocket scientist is just as effective. Jewish guilt works on people who want to blow up the world no matter what their faith. It helps that the grandmotherly stranger in the automat knows her way around home-made bombs. The soundtrack adds to the mystery and suspense as Kurt, the third Reich Big Brother, is watching.
Councilman Townsend's (Michael Gladis) assistant Alex, Magda in mousy glasses, can also throw guilt. "Imagine what your father would say," she warns her boss as he rhapsodizes over more than the surf and turf at the Derby, and you have to take your hat off to her. She steers him like an expensive black sedan. She understands who rare love is in the world, especially when it's a forbidden desire. But she's not one to let that get in the way of her boss' ambitions. She's inundated herself so far into his life he doesn't remember a time she wasn't there. He is pretty light on his feet for a big guy.
Tiago is not quite so light on his toes. He does a jump onto a car during a chase scene which looks very painful, and the detective slips off the top very realistically. The ending screams ambiguity of the cruelest kind. "Children of the Royal Sun" deals with the collateral damage left by last week's most violent episode, and turns in a character study on the run. The episode works best because it splits at the seams.