Reviews
Penny Dreadful: City of Angels Episode 3 Review – Wicked Old World
Penny Dreadful: City of Angels pivots from the streets to the dance halls, where it really starts to swing.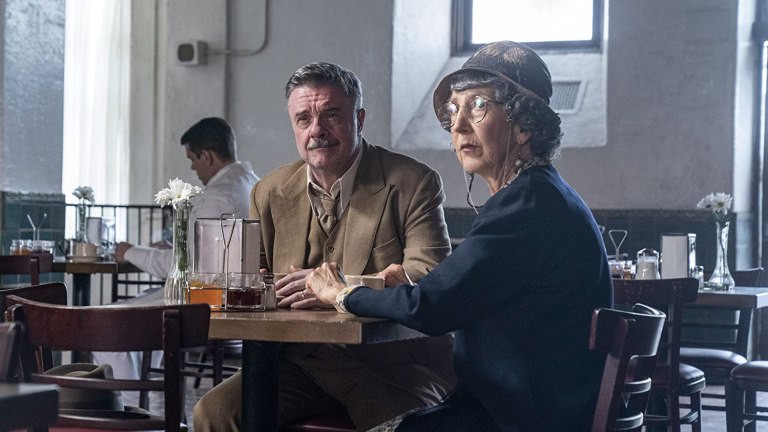 This Penny Dreadful: City of Angels review contains spoilers.
Penny Dreadful: City of Angels Episode 3
Penny Dreadful: City of Angels episode 3, "Wicked Old World," opens in the morgue, where Detective Lewis is once again skirting police procedure. It's tough to draw the line on where the spiritual deviltry and everyday corruption diverge on the series. Lewis is completely justified in his request to the coroner, but the act takes on a special significance in a show which began with an occult request.
Nathan Lane, who plays Detective Lewis, has a great face to paint the human condition on. He walks out of the morgue as a detective, with the bullets which were found in the skulls of his friends in his hand, and immediately turns into a grieving and tortured aging Jew. Lane shows, not only the pain, but the guilt and the fear of what's to come. It's his fault those two people are dead. He knew they weren't professionals when he sent them after a suspected Nazi collaborator. And he knows how horribly he underestimated his target. Lane can go home after this scene, and it comes before the opening credits.
The acting, in general, is fantastic on the series, and so many of the characters walk between different worlds. Lewis' partner Tiago, the main protagonist in a show dominated by a supernatural mistress, not only has to jump between the cop world he works in and the Mexican culture he was born to, but also between the world of cop and criminal. No, he didn't do anything wrong, but he's an accessory after the fact, and he's loading up on more accessories. Daniel Zovatto shows a good deal of restraint, letting his eyes and body language speak louder than his words. He lets his brothers do all the shouting for him. His older brother, Raul (Adam Rodriguez), the one he shot, probably knows Tiago the best. He is angry and he is respectful, but keeps them both on a leash which he can let out occasionally.
Magda doesn't need accessories before or after the fact, and she's got a closet full of them. But she is her own rogues' gallery and every one of her guises have closets of their own. As Alex, Councilman Townsend's personal assistant, she wears the mousey suit and glasses of a bookstore clerk in a noir flick on a rainy day. But we know she is an astute political assassin under the frames as she watches Councilwoman Beverly Beck agitate her boss. As Elsa, she offsets her housedress with the wounds of domestic violence and subliminal race-baiting to lure Dr. Craft (Rory Kinnear). Magda also knows less can be more and saves her best ensemble for the Crimson Cat dance hall.
The best scenes of the episode happen at the after-hours club. The installment even takes a rare leisurely time out for a very fun dance sequence which does not overplay its welcome. Tiago's little brother Mateo (Johnathan Nieves) has either been taking lessons, or Magda is leading him supernaturally. Indeed, some of the moves appear to defy any gravitational pull but hers. It is part seduction, part recruitment and the zoot suits make it more exciting. On the original series, most of the monstrous occurrences happened in dark shadows. In the new iteration, the darkness breathes life and warmth into the goings on. Some of the scariest things still happen in the dark. Last week, Lewis' friends were executed on a dark road. Tonight, the monsters who emerge happen to be the men in blue, but the violence they inflict is just as frightening as anything a Frankenstein monster could mete out. Of course, as The Simpsons taught us, hitting someone in the dark is a victimless crime, so when Magda's Pachuco persona draws first blood this reviewer cheered.
Sister Molly (Kerry Bishé) opens her segment with what is probably foreshadowing. Before she skips out early on rehearsals, Molly tells her mother, Miss Adelaide (Amy Madigan), there's no reason Randolph has to drive her to a fitting, it's not like someone's going to kidnap her. But in real life, the character Sister Molly was kidnapped, or slipped away from the public for what might have been an affair. This is exactly what she does with Tiago as they hide in plain sight at the amusement park at the Santa Monica Pier. Randolph, by the way, is as frightening a character as any monster in the original Penny Dreadful series. He's part Luca Brasi from The Godfather and part…no, he's all Luca, just a slimmer model, regardless of how much cotton candy he gets on his fingers. Her mom's pretty scary as well. She turns the "Popeye the Sailor Man" song into a threatening dirge.
As good as she is, she is a rank amateur at the backhanded threat when compared with the full frontal assault of the Nazis taking over Los Angeles, one beautiful street at a time. There are union organizing signs behind every bus stop on those streets, and both the radicals and the Pachucos are doing their best to maintain ownership. But when Agnes blows her cool and sizzles over into Magna, she burns her tag all over them. The urban destruction she leaves in her wake is a great effect, because it is in a more familiar area, but also because of the mystery it brings. We assume the people walking down the boulevard don't see the Santa of the dark smashing windows, so what do they see? And what are they reacting to? Is this break between the para and the normal enough to bring dark forces into the light of reality?
The evils at the center of the City of Angels are mostly real demons. Magda doesn't really have to push very far to bring out the corruption, ambition, oppression, or hatred in the pawns she's moving directly. But even the ones who aren't in her influence are ripe for all manner of temptation. Good cops do bad things without any help from her at all. Bad cops on the show are just waiting their turn. Sister Molly's mother is obviously hiding something, and we get the feeling Molly herself is not as angelic as her voice. Sure, she wants to be normal, anonymous and free, but she still knows how to enslave a congregation, even if it's one parishioner at a time. Magda has a very similar power as the Pachuco recruitment tool. She is positively magnetic, stirring her army of one, the brother of the opposition.
The only reason men hide anything is because of money or pussy, Lewis tells Tiago over gimlets. Magda finds a way to put a different spin on this which is suitable for framing. "Wicked Old World" is, once again, far more rooted in the evils of city planning than sacred architecture. Penny Dreadful: City of Angels limits the sickness of the soul on earth because there's no scurvy in heaven.