Reviews
Penny Dreadful: City of Angels Episode 9 Review – Sing, Sing, Sing
The Vega family reunites for one last swing at the Cheshire Cat on Penny Dreadful: City of Angels' "Sing, Sing, Sing."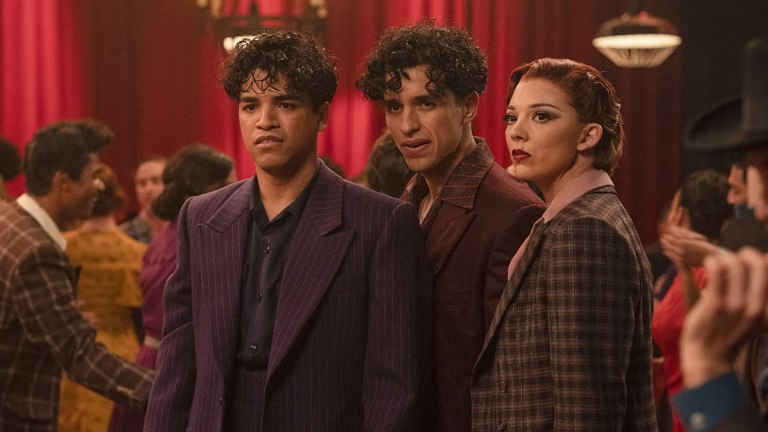 This Penny Dreadful: City of Angels review contains spoilers.
Penny Dreadful: City of Angels Episode 9
Penny Dreadful: City of Angels episode 9, "Sing, Sing, Sing," is, for the most part, a celebration, but not because of any anti-fascist resistance or solved crime. Last week's cat and mouse game didn't catch itself a canary. Tonight's episode opens where last week's left off. Detectives Tiago Vega (Daniel Zovatto) and Lewis Michener (Nathan Lane) are licking their wounds after a machine gun ambush sidetracked their takedown. Michener is most pissed about the loss of his classic V-12 car and he's running on all pistons.
The standoff between Michener and Richard Goss (Thomas Kretschmann) is a joy to behold. There are so many layers to it, beyond the enormously satisfying dialogue. Michener's a Jew in a restricted club, which has to be fun for Lane to play going in. Plus, he gets to offer up his own gun to the man who wants him dead so bad you can taste it on the fine steak. Goss is wonderfully underplayed. He starts out by telling Michener he's overplayed his hand and then proceeds to show him how the cards are dealt. He doesn't even deal from the bottom of the deck before we know Michener hasn't got an ace in the hole.
Councilman Charlton Townsend (Michael Gladis) also only has one card to play, and he bets his birthright on it. Magda (Natalie Dormer) has been assembling men of a certain birth, not quite noble but usually wealthy. Everyone from Richard Goss to Councilwoman Beck has been chiding Townsend for being his father's son, but we haven't been given the details of who this mystery daddy is. As Townsend drives up to the opulent mansion, we hope he's brought a gift. Because his father would never bet on a losing horse, a thoroughbred's head would be just perfect in the bedroom. The father we've heard so little about is played by the late Brian Dennehy. The first thing he does to his son is pour salt on the wound of his derailed motorway, attributing it to Townsend's rival Councilwoman Beck. His next is to tell his son to get his head out of the clouds and look to the skies, that's where the future is. Jerome Townsend is forward thinking. He doesn't disparage his son for being gay, but for being weak.
If Sister Molly (Kerry Bishé) wants to be just plain Molly she should start by not debuting a new hat for every appearance. At the very least she should stop bringing up how far from plain she is. It only increases the distance between her and anyone around her. Oh, I didn't mean to be born special, but if I could give it all away, it would be for one night of dancing. The Crimson Cat scenes are always exciting. It could be the music. It could be the dancing. But it is actually because this is where the action changes the beat. Throughout the scene, the tale of Diego Lopez's (Adan Rocha) move from police custody to San Quentin plays out. The drums from the club's dance floor begin as Detective Michener begins transport of the prisoner, and we get the feeling Diego is going to be saved by a Pachuco street gang. Oh how wrong that is.
The song we hear as we enter the club is also the inspiration for the episode's title. Benny Goodman's arrangement of Louis Prima's "Sing, Sing, Sing (With a Swing)" is dance floor magic. The Vega family may have splintered since the beginning of the series, but they come together on the ballroom floor. Like many family reunions, theirs is fraught with squabbles and sibling rivalries. Every member of this family has at least one issue with at least one of the others. It starts to feel like one-upmanship, a true competition with who is the blackest sheep of the family. Even Josefina (Jessica Garza), whose soul has been bleached clean, is bedeviled in the eyes of her mother. And it's not because she dyed her hair red, it's because she's converted to the whitest of churches, a black mark to a family which reveres Santa Muerte. Each of the Vega family gets to boil their troubles to the top of the pot but Tiago blows the roof off the place. To paraphrase the aforementioned Louis Prima, he ain't got nobody. He's not Mexican enough, not white enough, not cop enough. He's a disappointment to all.
When you add Molly, Rio and Rico into the mix it becomes a free-for-all, which they express in free-style swing. I hope no one finds the club scenes indulgent, because there really is a lot going on, and they're not telling it in interpretive dance. The stories which unfold under their feet are not open to interpretation. They are raw, honest and simple truths energetically told, and in every combination. Josefina dances with Fly Rico Rico (Sebastian Chacon), who also goes broad shoulder to broad shoulder with Mateo (Johnathan Nieves), who takes Maria (Adriana Barraza) out for a spin, proving all the world's problems can be solved by making a joyful noise to the lord.
It's a treacherous tango, but an extremely satisfying one to twirl with the family. Mateo asks Maria if she can just be his mom for one night, promising "we can fight tomorrow." Maria's voices, like the music which surrounds the scene, are so modulated she could be singing. She varies up on the delivery, the cadence, the tension and even the vibrato until her lines come out as if through an instrument. Barraza has amazing tone control. At one point Elsa asks Maria if she knows what she is. "When I know, I'll tell you," Maria answers, on her knees cleaning spilled orange juice. She is vulnerable and yet defiant. "When you know, it will be too late," Elsa warns. This is one brazen supernatural creature, taunting the one person who may very well be able to see her through her guises. But Maria is pretty sure of herself as well. "You may as well howl to the moon," she tells her employer's wife after Elsa offers an olive branch.
It looks like Magda is losing everything tonight. Elsa can't regress Dr. Craft (Rory Kinnear) back to being Dr. Krupp. Townsend's father grounds Alex's plan for a mayoralty take off. Rio watches the Vega family reassemble as a unit she cannot control. Maria is there at almost every turn. But she is not on Belvedere, where the ending happens. It is one of the scariest sequences the series has offered so far, but it has nothing to do with the occult. This is something which is neither hidden nor paranormal. It is all too normal, which is what makes it scary. There is evil enough in the mundane world without the angel of death whispering in anyone's ears. Penny Dreadful: City of Angels, which probably shot this scene months ago, is at its most timely and prescient as similar incidences occur even today.
"Sing, Sing, Sing" is an eventful episode even as most of it plays out in a leisurely setting. Even the gangster Benny Berman (Brad Garrett) is taking a break from his nouveaux riche house improvement project to make a new lifelong friend of Detective Michener (in a scene which could have gone on forever, happily, as these two bounce off each other hysterically and dramatically). The bulk of the episode is dedicated to the family dynamic – the Vegas, Townsends, Crafts and even the fractured Micheners – but it appears it will take an extended family to take on the problems of the world. The penultimate episode of the season sets up a dramatic scenario for the closing. The family had its dance, now it's time to pay the piper, as well as the horns, reeds and especially the drummer.