Features
Patton Oswalt and Liz Garbus on How I'll Be Gone in the Dark Helped Track The Golden State Killer
Director Liz Garbus and husband of late author Michelle McNamara on the impact and legacy of the extraordinary true crime book.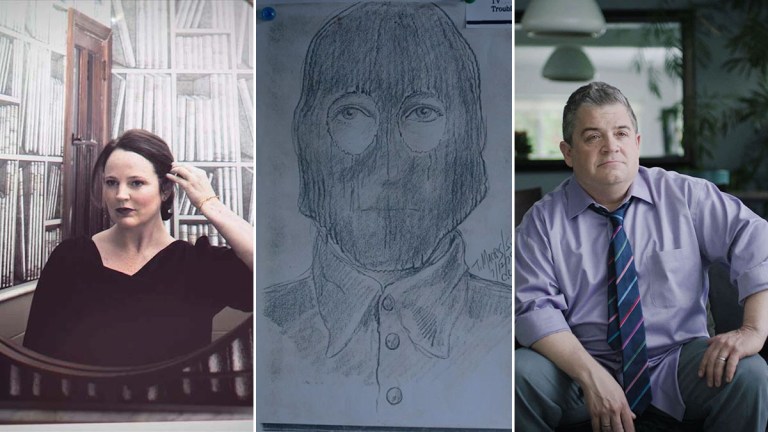 Contains spoilers for the whole series of I'll Be Gone In The Dark, in terms of what actually happened in the true case.
Patton Oswalt has only seen the first four episodes of six part series I'll Be Gone in the Dark, despite being heavily involved and appearing in the show. "Each one took such an emotional chunk out of me," he explains. It's completely understandable. This a show based on the true crime best seller that Oswalt's late wife Michelle McNamara wrote about her obsessive pursuit of the man she called The Golden State Killer – a man who raped 50 women and killed 13 people.
But this is true crime like you've never seen it. In the hands of director Liz Garbus the HBO series is more like a 'making of' the book – placing McNamara front and centre and featuring reams of footage of Michelle herself talking about the case and interviewing key people. The show also focuses on Michelle's friends and her collaborators – the people who finished the book after her sudden death in April 2016, and the victims that found a voice and found each other through Michelle's work. Even without knowing Michelle personally it is incredibly moving. The last two episodes in particular, which deal with the circumstances around Michelle's death and Oswalt's memories of finding her and having to break the news to his daughter are very tough to watch.
It is, however, a very beautiful tribute to a much loved wife, mother, sister, friend, writer and citizen detective whose dogged work helped track down a killer decades after he'd become dormant and give comfort to the survivors of a series of particularly horrific crimes.
When we commence our lockdown Zoom chat, Patton Oswalt is sat in a screening room drinking a cup of tea (PG Tips – pyramid bag – the classic) while Liz Garbus is in a light room flanked by an impressive wall of books. It's a strange interview. We are talking days before Joseph James DeAngelo entered a guilty plea to 13 murder and 13 kidnapping charges, as well as hopefully will be admitting to the 50 rapes which he can't be charged with because of the statute of limitations. The two praise each other, are supportive of each other, there's a certain rawness to the conversation and a feeling that even though the two have worked closely together to produce this incredible series, putting it out into the world is another challenge again – it's a journey they're on together that's not over yet.
We chat about Michelle, D'Angelo, the survivors and how this amazing series came about.
Den of Geek: The book was optioned from a 'galley', which is a very early version of the text. Patton, at that point, did you have any specifications of how it should be adapted?
Patton Oswalt: I didn't have any specifications, because I couldn't see how it could be done. It was Liz. Liz is such an amazing storyteller and such an amazing arranger of materials to tell a story that you might not have known was there. So for her to approach such a massive amount of material and do it in this multilayered, three-pronged way you'll see, is amazing. But I don't know why I'm answering this question. Liz, how did you do this? It was amazing.
Liz Garbus: Well, but I mean, Patton was totally open and supportive and helpful and never said, "Do this." Or, "Don't do this." Or, "Make sure you say this." Or, "Don't say this." We never had that conversation. It was always, "What do you need? And here it is. And what's the goddamn iPad password?"
PO: Oh my God, that's right. We had to unlock both of her laptops … I gave you two laptops, an iPad and her phone and we had to unlock all of them.
LG: The FBI can come to us next time they need help! But what was amazing was through all of that technology, we had Michelle's voice. We had her voice memos, her interviews with investigators, her interviews with survivors. So you could really feel like you were on this journey along with her. Once we realized we had material like that, that really guided the structural approach, where we felt like, "Okay, we can make Michelle feel present here." And that was really the goal – to interweave her investigation and story with the survivors, and then of course with law enforcement and the ultimate capture of the suspect, the perpetrator.
DoG: It's advertised as being based on the book. But really it's the story of 'the making of' the book. It must've been difficult to weave all those different elements in together.
LG: It was, but it was also what made it so exciting. But that's an interesting comment. It's about the making of the book, yeah. I think that's right, because it really was about that artistic and investigative journey that she went on.
DoG: You presumably didn't know at the beginning that you were going to get that level of access. How much did you know about who was going to be willing to talk to you?
LG: No, none of that is known at the beginning. So every time you start a project, it's a little bit of a leap of faith, where you're like, "Okay. What are we going to do? What are we going to get?" But we knew we had Michelle, her archive, that material, that voice. And historically I've been able to get people to talk, so I felt like, "Well, we'll get people to talk." And there was law enforcement.
Remember, when we started, we didn't know Joseph DeAngelo [was the GSK] so people still wanted publicity for the case. Michelle was creating GSK as a household name, and this was going to be an extension of that. Of course, he was caught, so there was a slightly different needle to thread, but we did believe people would be willing to talk.
PO: And by the way, if I could just interject, not only did Liz not know the amount of materials she'd be getting and who would talk and who wouldn't, you'll also see in the documentary, she did not know that on the first day that she would start filming the documentary, that Joseph would be caught. So she had to also adapt and roll with all of that. It's such an extraordinary feat of filmmaking.
DoG: Patton, did you find that there were things that you were uncovering that you didn't perhaps know about as well?
PO: No, I mean, obviously there were pictures and video from her friends and stuff I'd never seen, but we were always very, very open about our lives with each other. I knew about what had happened to her in Belfast. I knew that whole story. But to hear her voice sort of recreated… It wasn't that I didn't know this stuff. I didn't think I'd be hearing this voice again. So to hear it again was a bit of a shock. That was new for me.
DoG: How involved were you in the edit, Patton? Were you seeing episodes as they went along?
PO: I really wasn't involved in the edit. I mean, I watched the rough cuts. Of the six episodes, I was able to watch the first four, and at the end of episode four… because each one took such an emotional chunk out of me. I remember I did call you, Liz, and go, "I can't watch five and six. And I hope you're not angry that I can't watch these."
Not only did she understand, I also then told Billy Jensen and Paul Holes and Paul Haynes that I couldn't watch the last two, because I felt so much guilt. Like, "Why can't I watch these?" And Paul Holes told me, "I don't think I'll be able to watch all of these. Why are you torturing yourself?" So that felt a little better, but it was a really rough sit for me. I can't imagine what it was like for Liz to have to keep living with and re-cutting this material.
LG: Well, I mean, you had your heart in there. I mean, I feel like I know Michelle, but I did not. I can imagine how much that brought up.
DoG: It's also a really beautiful tribute. I wondered what you think she might have made of it?
PO: What I love about Michelle is there's no way that I could have ever predicted how she would react to or feel about anything. That was so amazing. So people ask me, "How would she feel about Joseph DeAngelo?" She would feel in a way that would completely surprise me and blindside me and make me rethink everything I thought, which is how she reacted to everything. Like the way that she would bring stuff and thoughts and things always made me just kind of go, "Oh, I hadn't even … Oh my God." So, I do not know. And that's what is so amazing about her still.
DoG: Joseph DeAngelo was caught just when you started filming, which is crazy. How did you both feel when that happened?
PO: I remember us standing in the lobby of the Sofitel in Chicago that morning. We were about to all go to New York, and Billy and Paul had started getting pings on their phones at like 4:00 in the morning. Like, "Oh, they've got a suspect. They're going to arraign him."vAnd at first we were like, "Oh, it's another false lead."vAnd then it became clear about 5:00 AM, that, no, this was real, and it's happening. You see some of it in the doc, but I remember us just sitting there and Liz kind of not … not that I want to speak for you. I'll give this to you. But I do remember that thing of her going, "Wow. Well, this is really interesting." You could see her mind is going a million miles an hour. Like, "I've got to call 20 people now. What the hell do we do?" Am I accurate in thinking that?
LG: Well, what was amazing was we went to bed after this night that we had just met Michelle's family. And Patton, and Billy and Paul had done this great reading with Gillian Flynn, and we went to bed. Then we're all going to fly to New York, but my camera person was booked on some other job. So he had left at like 5:00 in the morning. I was like, "How are we going to get Patton, what are we going to do?" So somebody breaks out their iPhone as Patton is coming out the elevator and shoots him on the plane. We're flying to New York, and we know there's a press conference scheduled. So we're like, "Okay, well, we have to shoot them seeing this press conference."
In New York it was not hard to find our amazing cinematographer. We were able to capture Patton and Billy and Paul, hearing that name for the first time and hearing how law enforcement had put it together. So it was a scramble.
PO: I remember there being a very darkly comic moment during the press conference when Billy and I and Paul were watching, someone asked, "Did Michelle McNamara's book have anything to do with catching this man?" And the guy, the sheriff's representative or whoever, said "Michelle McNamara's book had nothing to do with us capturing the Golden State Killer."
That's the name that she came up with! It was one of the weirdest moments of disconnect. It felt sick to laugh at that point, but we all were kind of like, "Did he just hear what he said?"
LG: On that point, Paul Holes, who is largely credited for getting the guy, calls Michelle his partner. I mean, it wasn't just that Michelle had this megaphone to bring attention to the case. She did have that. But with Paul Holes, they were sharing ideas, tips, like, "Oh, do you think he was the Visalia Ransacker?" They were in that process together. And for law enforcement to share with a civilian like that, it was very meaningful. But people are proprietary and I get it. It doesn't matter. He was caught.
PO: Michelle would not have cared. Michelle was Frances McDormand in Fargo. She'd think, "I can just be tucking my kid into a bed and getting her breakfast ready. Let the cops nab him. that's not my job. I don't care. I just want him caught."
DoG: The fact that the statute of limitations means he can't be charged for those 50 rapes made me feel incredibly uncomfortable. Do you have any thoughts on that?
LG: I do have something to say, because one of the things that we've learned, and I hope it is true, is that he is going to plead guilty next week. From what I understand, he will plead to those rapes. And I think it's very, very important, because some of the survivors, even if he is in prison forever, the emptiness of not having your name on those charges erases and minimizes the terrible torture and crime that you went through, like rape was minimized back in the day and is still often minimized.
So I think that the happy answer to that is perhaps not due to our criminal justice system, but despite it, they will have that closure for those rapes.
PO: Also it goes back to something that Michelle was always saying. "Don't lean on closure as a concept because there's rarely ever closure." This is just another illustration of how she was right about that in a very, very terrible way.
DoG: Perhaps your documentary is giving voices to those people – they have a voice and a face.
PO: That's such a tribute to Liz's genius and empathy, that she focuses on that in the documentary and gives them such a voice.
LG: Michelle did too. That was Michelle's goal, this victim-centered approach. They're much more interesting than the perpetrator.
DoG: Have many of the interviewees seen the documentary and have you had much feedback from them?
LG: And it's just starting now.
DoG: I wondered what you thought about the whole concept of citizens detectives? Do you think this might inspire more? And Liz, you made Lost Girls, which is about the Long Island Serial Killer case, which hasn't been solved. Do you think there's potential for kind of armchair detectives to be able to be motivated and help with these things?
LG: I hope so. The Long Island Serial Killer, all those young women who were sex workers who were murdered, and of course, like these 50 rapes were discounted in the '70s, their lives have been discounted, because they're sex workers. The value that society puts on the victims is too often a factor in what cases get attention and don't. So, yes, I hope people will carry on Michelle's legacy. And also, Michelle had a case in her life – the murder of Kathy Lombardo who was a neighbor of hers as a teenager, which was, as Patton says, her origin story of what got her so fascinated in unsolved crime.
It would be great if there were some Michelle McNamaras-in-training who wanted to bring attention to and crack that case.
PO: That would be great.
DoG: Maybe some of Michelle's colleagues might even consider that? Do you know what they're planning to do next?
PO: Billy Jensen obviously works in that world. Paul Haynes has been kind of pulled into it. So inspiring another generation of Michelle McNamaras would, I think, be fantastic, especially because there are often so many limited resources on these cases as far as police departments are concerned. So yes, definitely.
DoG: Lost Girls was really interesting as a dramatization, as opposed to a documentary, and I wondered how either of you would feel about this being made into a dramatization additionally?
PO: The word "dramatization" is problematic for me. I think that Michelle wanted to un-dramatize this stuff and show the kind of grim reality of it. I think this is the absolute best format for telling this. I don't think the story needs to be told again. But again, I couldn't clearly see how it could be a documentary. So maybe there is a way that I'm just not seeing but I don't know how you top this in terms of telling this story perfectly.
LG: Patton was clear at the beginning he was interested in it being a doc. And I think that was really smart. There was so much material, and Michelle was so unique so let's hear her and listen to her and really bring the incredible writing that's in the book into the documentary. I haven't really thought that far. We're still finishing the doc. So we're still finishing episode six, but I think the fact that we had the real survivors and the real Michelle, was very rich and rewarding for us.
DoG: You must have shot hundreds of hours of footage. Was there anything that was cut that you weren't able to get in that you kind of wish you could have done?
LG: Oh, yeah. Well, of course. The survivors all have complicated, fascinating, interesting lives. So there's always so much more story to tell. I wish we had more time to talk about the Lombardo case that we mentioned, Michelle's origin story. But I think I'm really happy with what we were able to get in there and grateful to HBO for allowing us to kind of tell a well- paced, deep dive into the story.