Finders Keepers: The Spiritual Sister Documentary to Tiger King
Loved Netflix's Tiger King doc? Welcome to your next obsession, Finders Keepers, a bizarre story of a legal battle over a severed human leg...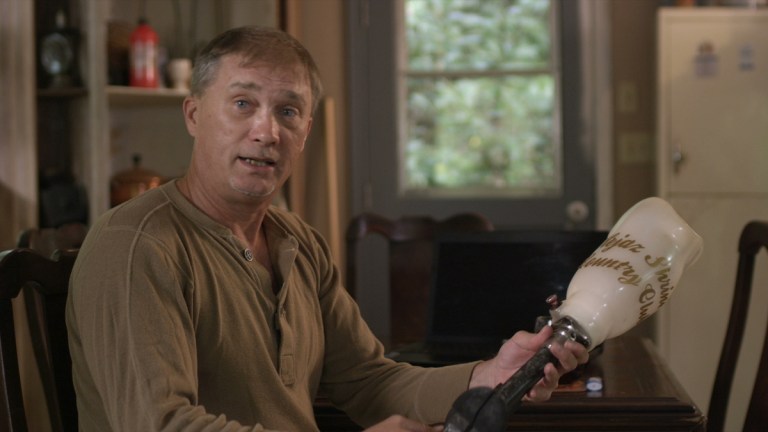 Tiger King: Murder, Mayhem and Madness has taken the locked down world by storm, inspiring a whirlwind of memes, at least one lawsuit, and even prompting Netflix to release a hastily put together 'Aftershow' catching up with some of the main players after the series became a humungous hit.
Reaching viewers who wouldn't necessarily have called themselves documentary fans, Tiger King may have inspired audiences to seek out other true life stories. But if you're someone who just needs more like Tiger King, Finders Keepers, which is available for free with Amazon Prime, is your next stop. So much so that the 2015 documentary, directed by Bryan Carberry and Clay Tweel, actually feels like a companion piece.
Here's the logline: "A story about fame, addiction and a custody battle over a man's leg."
Intrigued? It gets weirder.
Finders Keepers is a story about a bitter rivalry between two men who are in some ways two sides of the same coin. Both have tragic backstories (one is addicted to drugs the other addicted to fame) and their parallel paths lead to redemption, disillusionment and a plan to run for President in the 2016 US election…
Finders Keepers begins in Maidan, North Carolina where local wheeler-dealer Shannon Whisnant buys a storage unit at auction containing a smoker. When he opens the smoker, Whisnant gets more than he'd bargained for: namely a human leg, which is resting inside.
Not the start of a horrific true crime tale, but something altogether stranger begins to unfold as news of Whisnant's find reaches a man called John Wood and his family. Wood had had his leg amputated after a plane crash, which had taken the life of his father. He'd asked the hospital to let him have the leg after amputation with a view to including it in a memorial to his late father. But instead of the skeletal remains Wood had expected he was instead given the whole foot and leg complete with tendons, flesh, toenails and all.
John did the only natural thing. He attempted to home-embalm and mummify the leg, then left it in the smoker. But in the throes of addiction which began after the death of his father, Wood failed to keep up repayments on the storage unit and lost his leg as well as all of his other belongings.
When Wood drives to Maiden to reclaim the leg there's a problem. Whisnant doesn't want to give it back. Instead he sees the leg as an opportunity for the fame and fortune he has always desired, initially setting up the smoker as a roadside attraction, and later producing merchandise around the leg and calling himself 'Foot Man'.
All this is just the set up for a poignant story of big personalities, legal vs moral ownership rights, the reality TV circus, and the class divide.
While Tiger King is largely populated by conmen and scumbags, Finders Keepers deals with its subjects in a far more sympathetic fashion.
Wood came from money – he was the son of a furniture mogul and according to Whisnant had a roller rink in his basement (just one of many bizarre details which are never mentioned again). Whisnant is a blue collar man who felt like a nobody because he was never invited to Wood's house as a kid (whether this is meant metaphorically or literally is unclear). Meanwhile Wood's addiction destroys his life utterly, leaving him estranged from his family and completely destitute. His failure in life coupled with his grief and guilt over his father's death has become inextricably linked to the severed leg. He feels as if the leg is the only thing he has left.
It's a story that feels like it could only happen in America. It's a glimpse at the strange goings on in a Southern state that would sound unbelievable were it not true. It demonstrably is true – Wood and Whisnant even appeared on episodes of Jerry Springer, World's Dumbest Hillbillies, and Judge Mathis, as well as featuring in numerous news reports. You can listen to Whisnant talking on the Film School Rejects In The Mouth Of Dorkness Podcast here.
The documentary unfolds in wild ways which we wouldn't want to spoil, though it almost plays like a softer, sadder but no less bizarre sister piece to Tiger King, with two lives linked for better or worse.
Sadly in November 2016, almost two years after the documentary premiered at the January 2015 Sundance film festival Shannon Whisnant passed away after a heart attack. While the documentarians told Vogue in 2015 that generally speaking both Wood and Whisnant were happy with the doc, with Whisnant's only complaint being that it was too short and he wasn't in it enough, larger than life Whisnant was less circumspect talking to the In The Mouth Of Dorkness Podcast.
"I disliked it from the first time I seen it," he said. "It could have been 10 stars instead of 8.8. It's hard to get 400 hours of footage into 83 minutes…fuck editors, they should be stoned to death."
Finders Keepers is available to watch on Amazon.