Features
Only Murders in the Building Season 2 Recap: Who Killed Bunny Folger?
Third season. Third murder. Third opportunity to watch Hulu's Only Murders in the Building. Here's a refresher on what happened in season 2.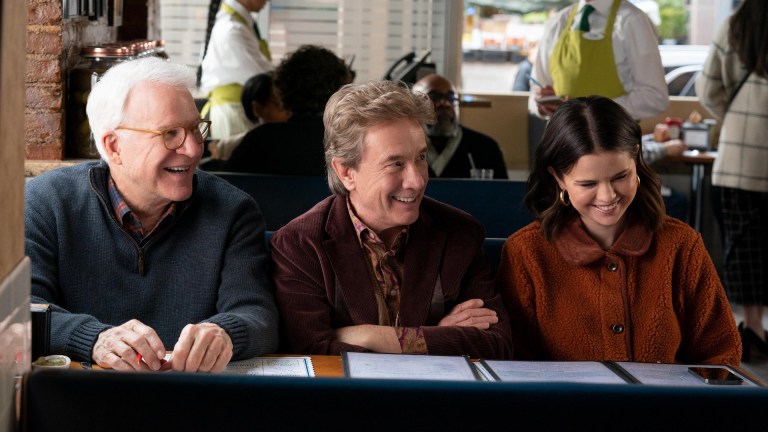 This article contains spoilers for Only Murders in the Building seasons 1 and 2.
The faith that Hulu and its parent company Disney display in Only Murders in the Building has been a refreshing change of pace considering how easily other streaming shows have been, well… murdered in recent years. 
The extravagant comedic mystery, grounded by legends old (Steve Martin and Martin Short) and new (Selena Gomez) has been an amazing ride for two seasons, full of fun, danger, intrigue, and humor that has made it one of the most binge-worthy series this decade. The only thing audiences look forward to more than a new season is going back and rewatching the previous season after learning the truth. Like discovering an old 20 dollar bill in your pocket you thought long lost, the rewatchability factor of Only Murders is the little secret you thought was dead and gone, only to pop up and reward you once more.
Yet there is so much to keep track of. Much like the secret passageways of the Arconia apartment building, this show is full of hidden gems. There are secret lovers, secret identities, secret affairs, even secret Easter eggs in the title sequences. With so many mysteries swirling around, it's time to shed some light on all those secrets, before you sit down and catch up with everyone's favorite amateur detectives.
Who Killed Bunny Folger?
The Only Murders in the Building season 2 murder victim was actually the first victim audiences saw onscreen in season 1. In the prologue to the Tim Kono investigation that makes up the first season, "Bloody Mabel" is discovered hovering over a body. The body turns out to be that of Bunny Folger (Jayne Houdyshell), resident curmudgeon and former Arconia tenant president. After finally solving Tim's murder, the trio are right back into the proverbial frying pan when Bunny is discovered stabbed multiple times, and frighteningly, Mabel begins to have memory issues, begging the question of how Bunny got there, and what part did Mabel play.
Like the reveal that Charles' girlfriend Jan (Amy Ryan) killed Tim Kono in season 1, it turns out that Bunny's murderer was yet another individual the trio knew quite well, and the motive was once again good old-fashioned jealousy. Poppy White (Adina Verson), assistant to true crime podcaster Cinda Canning (Tina Fey), had her share of secrets – not the least of which is she was not actually Poppy White. In reality, she was Becky Butler, the very subject of Cinda's "Not OK in Oklahoma" podcast. Becky had faked her own death, come to New York, and given Cinda the perfect murder mystery – her own. Yet after years of taking Cinda's abuse and being ignored for her ideas, Becky/Poppy decided to take action. Partnering with her paramour, Detective Kreps (Michael Rappaport), the two murdered Bunny in order to create the next big podcast, and finally become free from Cinda's hackery.
Oliver and Charles Have Father Issues
During the second season, Oliver has his own entanglement with his rival and season 1 wrong murder suspect Teddy Dimas (Nathan Lane). While Teddy and his son Theo (James Caverly) are both under house arrest awaiting their trial for their illicit jewelry business, Oliver discovers that his son, Will (Ryan Broussard), is actually part Greek thanks to a DNA test. Oliver uncovers the truth, that his now ex-wife had an affair with Teddy, and that Teddy is Will's biological father.
Other fatherly issues arise when Charles and the gang begin investigating Bunny's murder. To Charles' surprise, one of Bunny's prize possessions, a painting, is suddenly found in his apartment, seemingly now linking him to the murder. Charles reveals that the risque subject of the painting hits close to home, as the male model in the painting was his father. In a series of flashbacks, Charles remembers that his father made him wait outside a building while he had an affair with famous reclusive artist Rose Cooper.
It is revealed that the painting Charles has is a fake, but somehow this painting could be possibly linked to Bunny's murder. Was someone trying to buy it? Did they kill Bunny for it? When Bunny's mother, Leona Folger (Shirley Maclaine) comes to claim it, Charles promises he will return it, once the real painting is found. When the painting is discovered in a hidden compartment under Bunny's beloved bird, Charles comes to the realization he has never met Leona Folger. The Leona he met was, in fact, Rose Cooper. He invites her over to finally get to the bottom of things, especially about Charles' father. Turns out the elder Savage was not as bad as Charles thought, and the painting had nothing to do with Bunny's murder. It was merely the real murderer trying to implicate Charles.
What Will Happen in Only Murders in the Building Season 3?
In the postscript to the season 2 finale, our trio decides to take some much needed time away from homicide. As you'd expect, however, much like on a show called Prison Break – the title of this show is going to keep dragging the main characters back towards the premise.
In the year since solving Bunny's murder, Oliver was given the reins to a large off-Broadway theatrical production. Not much is known about the show other than the identities of two key cast members. Thoughtfully, Oliver has decided to cast his friend and partner-in-true-crime, Charles, as a featured character. The starring role, however goes to Ben Glenroy (guest star Paul Rudd), and in only mere moments, it is clear that Ben is a difficult individual to work with. Not only does he seem angry when Oliver asks him if he's ready to go on stage, Ben is downright frenzied.
The actor and his director share a short exchange about how it's not Ben that Oliver has to worry about, it's Charles. As Ben takes his place before the curtain opens, Charles confronts the difficult leading man and it is more than evident they have not been getting along during this production. Charles utters an ominous warning to Ben, telling him to "Be smart. Stay away from her" before the former Brazos star goes back to the wings.
As the curtain opens, Ben is only able to say his first couple of lines before seeming disoriented, and eventually collapsing on stage. As Charles rushes to his side, blood can be seen pouring from Ben's mouth, and the star appears to be dead. With Charles as seemingly the prime suspect in this particular murder (giving Mabel some time off from often being the suspect), the season 2 cliffhanger gives audiences so much to ponder already. How did Ben die? What was Charles confronting him about? Who is the murderer? And naturally … will Oliver ever get steady work again?
The two first episodes of Only Murders in the Building season 3 are available to stream on Hulu now. New episodes premiere Tuesdays through the finale on Oct. 3.