Features
Beau Is Afraid Forced Nathan Lane to Overcome Fear of Ari Aster Movies
Nathan Lane chats working with Ari Aster, playing a character even they disagree on, and why Beau Is Afraid is a mini-Only Murders in the Building reunion.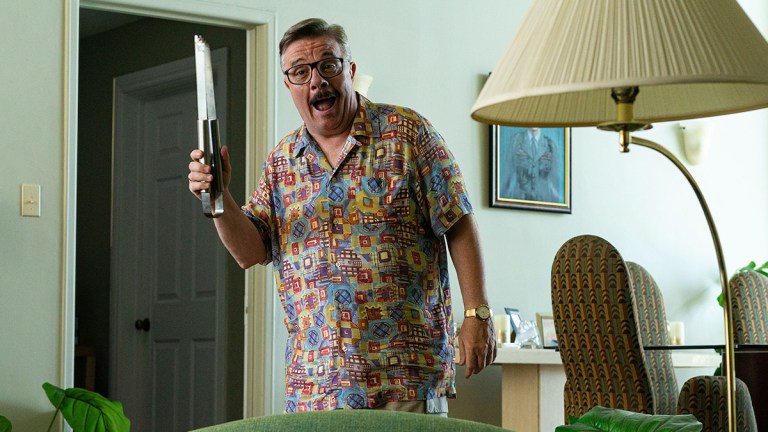 Beau is afraid, but at one time Nathan Lane was pretty scared too… of Ari Aster movies. Then again, as he admits when we catch up to him on a sunny Monday morning, he couldn't even bring himself to watch them until meeting Aster about what would become their first collaboration together: Beau.
"I had only heard, heard, how extraordinary Hereditary was, and then Midsommar," Lane says in the tone of a sheepish confessional. "It was one of those things where I would see Hereditary on my pay-per-view or whatever it was, and I'm like 'I have to watch that but I'm a little scared.' And then the other came on, and I'm like, 'I should really watch this Midsommar but that scares me too.'"
So it went for years until Aster—the filmmaking wunderkind whom Martin Scorsese calls "one of the most extraordinary new voices in the world of cinema"—got in touch with Lane to discuss a new film. And this one wouldn't (ostensibly) be a horror movie. Lane ultimately watched both films in quick succession before going to work on Beau Is Afraid—however, he stresses, not on the same night—and was struck by a young voice he also considers extraordinary.
"He is so masterful and so confident," Lane says, "and yet takes this genre and adds this psychological twist to it that's really unique and extremely well thought out, and terrifying." When the Tony-winning actor finally sat down with the then 34-year-old filmmaker, he also discovered a sweet, adorable guy who never once betrayed the twisted thoughts drifting in his head. At least not until he confided to Lane that he doesn't view Midsommar as a horror movie at all; he sees it as a "comedy/break-up film."
"Go figure," Lane shrugs with a wry smile.
Aster has distinct ideas about Beau Is Afraid, too, his new three-hour epic that stars Joaquin Phoenix as a character whom the writer-director has previously called "the biggest loser in the world." For his part, Lane dryly contends that "only Ari and his therapist could tell you exactly what it's about," however Lane ultimately sees it as an epic tale of guilt and codependency.
That codependency is felt distinctly between Beau (Phoenix as the balding, middle-aged, and extremely anxious loser) and his manipulative mother (Patti LuPone), who is determined to get her neurotic son to come visit her. Not that he doesn't have reasons to want to leave town since (at least from his and the movie's perspective) he lives on a New York City block that appears closer to a post-apocalyptic hellscape with dead bodies being left on the street to rot. "One could argue that perhaps you want to move out of that neighborhood you're living in?" Lane offers.
In any event, Beau eventually attempts to visit his mother for a week, yet that goal turns into a herculean odyssey as one challenge after another thwarts him. This includes Lane as a doctor named Roger and Amy Ryan as Grace, the doctor's wife who insists Beau stay in their suburban home after he's suffered an accident. In this way, Lane and Ryan dominate the second act of the movie, with friendly smiles and affected concern for Beau's well-being. They're veritable upper-middle class Lotus Eaters.
"Roger seems very upbeat. A little too upbeat for my tastes," Lane laughs. "He's got kind of corny dad humor, and he thinks he's hip by saying, 'My dude! My brother!' But I think it's maybe a bit of an act, although Ari thinks that's all genuine."
This gets to the peculiar and aloof quality of Beau, even within Aster's filmography. The director and his Midsommar star Florence Pugh famously disagreed about the ending of that movie, and yet even when it comes to the details of who Roger is and what he represents to Beau, it remains elusive and open to interpretation. Lane and Aster even have slightly diverging takes.
Says Lane, "I don't think Roger's good as a doctor. Did you see the stitches he did on Beau's stomach? That's not good! That's what led me to ask Ari if he's really a doctor or is he just pretending? … I would say, 'He can't really be a doctor,' and [Aster] would say, 'Yes, he's really a doctor, that is real.' And I said, 'Okay, but then he's not a very good doctor! There's been a lot of malpractice suits.'"
Ultimately, Lane hints that Roger, like many people in Beau's life, might be playing a role. How much of this is real and how much of it is skewed by Beau's arguably unreliable perspective is up for debate, but like the audience, the experience of making it gives a lot of room for discussion, even among cast members like Ryan and Lane, who trenchantly explored their characters. It was also a joy for Lane to work with a fellow Broadway legend in Ryan, especially after they both featured in prominent roles during the first two seasons of Hulu's Only Murders in the Building.
"We didn't have any scenes together [on Only Murders in the Building], and I've known Amy since 1987 and have just watched her become this superb actress and I've just always loved her," Lane says. "So it was fun that we got to be on Only Murders in the Building at the same time, but it was really fun to finally get to work together and play this strange husband and wife couple with ulterior motives."
What are those motives? It might be a spoiler to say (and it may be inscrutable in any event given the nature of the film). The way Lane sees it though is that they're players—perhaps prominent ones at the front of their row—in Aster's sprawling company.
"We're just members of the orchestra," says Lane, "and we're providing our notes in this symphony of madness, and hopefully that all adds up by the end."
Beau Is Afraid opens in wide release on Friday, April 21.