Reviews
Killing Eve Season 3 Episode 1 Review: Slowly Slowly Catchy Monkey
Killing Eve returns with a stellar season 3 premiere that brings back the season 1 magic and reminds Eve how deadly her world is.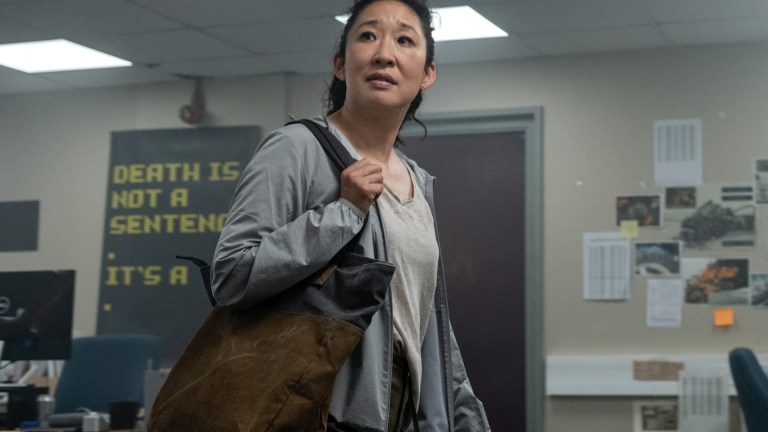 This Killing Eve review contains spoilers.
Killing Eve Season 3 Episode 1
Killing Eve is back, and in grand dramatic fashion. The bops are chicer and more French. The clothes are hotter and gayer. The one-liners are more darkly devastating in their withering quirkiness. And somehow, this episode manages to take the mammoth albatross it was saddled with (Eve being alive just because) and turn it on its head so that we leave the episode reeling. With Kenny's death, the stakes are higher than ever before and it suddenly felt like anybody could die at any time. Well, everyone except Eve. That's no small feat. 
First: Yes, Eve is alive. We don't really get a good answer on how, other than Kenny's comment in passing about tourists and good timing, and Dasha making a crack at Villanelle about sloppy work. I'm currently choosing to trust the show that there's a better story behind this, since so many players were still in Rome at the time. Carolyn? Konstantin? A weirdly interested third party who wants to call in a favor later? We'll see. But if this is left purely at "random passing tourists," I won't be mad, just disappointed. 
Kenny truly was too good and pure for this world. It says a lot about his character that he's the only man who these characters and this show allowed to work with Eve and Carolyn for this long. Conversely, it says a lot about the world that Killing Eve has built that my first reaction to a man working at MI6, particularly in a leadership role, is "gross."
Losing Kenny is devastating. He's one of the few remaining original characters and brought a sort of sweet, goofy humor to everything. I will miss him so. That said, this is a brilliant move. One episode in, and season 3 already feels like it's crackling more than season 2. Still, it breaks my heart, which is probably why they did it. Truly, Kenny is the only person who could not only bring Eve back to the #SpyLyfe, but who could bring Eve back to work with Carolyn again.
But before we say goodbye, let's talk about dear, sweet Kenny. First, is he being spied on at work or is it just old habits? He has curiously published no articles at his Vice/Buzzfeed analogue yet. He also deleted all of his research and told his coworker he was going to meet someone. He ended up seeing Eve, but only because she drunk texted him. Did he have other plans, or was he lying to his coworker? (Is it just me or is tracking Eve's phone Kenny's love language?) Here's hoping that Bitter Pill will be our setting and we'll get plenty of jokes about online media/opportunities to give them a hard time for how inaccurate it is.
It seems like we're cutting dead weight with Niko's reduced role here, and I can't say I'm too broken up about it. I honestly had trouble remembering exactly what happened to him at the end of last season. I tried holding onto this character, perhaps longer than he was worth the story minutes, because he was the last semblance of Eve's normal life. But at this point, Niko feels like Killing Eve's version of Brody's family from Homeland – they may have once held promise, but the story has moved to a much more interesting place, and they only ever seem to try to drag us back to a safer version of the story. 
Dasha is a welcome addition, the kind of character who feels so at home in this world that I had to check if we had met her before or not. It's almost a shame that we didn't get to see her and Villanelle be the same age, but I love the choice to bring in another woman over 40 and to show Villanelle what it can look like to last in this game. That feels like a deeply necessary addition for this season, when Villanelle is considering her future and pursuing a management role. What does assassin retirement look like? How many aside from Dasha live that long? What will happen to Villanelle and Konstantin's relationship if she's above him and doesn't "need" him anymore?
Villanelle's kill here is really unlike any other we've seen from here. She's wearing a bad wig, there are no precision tactics, she doesn't fully kill her, and what even is that accent? It's surprisingly sloppy, with little of her trademark sense of humor. But it did have Villanelle picking up a red herring ingredient, a head fake toward the saffron the woman recommended, that turned out to be a random powder for Villanelle to use to call out Dasha's kill that we saw at the beginning of the episode. After all, Dasha said they study her kills.
Given how high the caliber usually is (Jodie Comer is a vocal chameleon and Killing Eve is one of the few shows, along with Schitt's Creek, that never looks cheap and wig-y), it reads like a deliberate choice. Much like Eve, Villanelle truly wants out of the game, at least for now. When she can't play with her favorite toy, the game isn't so much fun anymore. So what's the point in doing anything more than phoning it in? She might as well give her old mentor the finger, assassin-style. 
The central performances are, as always, the strongest parts of an already strong show. It seems strange not to say it until this late in a review, but we're also so spoiled by Sandra Oh, Jodie Comer, and Fiona Shaw that it's just assumed they will be three of the best actors on television in a given year. In this episode, Oh looks almost entirely transformed, which comes purely from her physical performance. Her posture alone tells a better story than any dialogue ever could about just how tired and out of the game Eve is.
For the first time, Killing Eve – and Eve herself – is taking seriously the notion that Eve would want out of this line of work and this particular bond. It's all over the episode in little ways, like the glimpse of Eve's intense scar, the minor indignities of her trudge with the wine. But keep in mind the way Eve thought Kenny was asking about keeping in touch with Villanelle when he was really asking about Niko, and the desaturated color palette, which is reserved for Eve's drab "regular" life, while Villanelle is in bright, buoyant color. Eve may have wanted out, but the show itself is clear that she belongs in this twisted dynamic. Let's see how long she manages to resist.
Other notes:
Is it just me or is that gymnasium in Dasha's flashback the same as the one in The Spy who Dumped Me?
Even when she's a mess, Eve's hair looks great. Villanelle would be so proud.
Can we have a moment of silence for Villanelle's wedding tux? I also love the kids in pink poufy villanelle dresses.
Shout out to brides who make wedding speeches, like Midge Maisel, Villanelle, and this woman she left like two seconds after getting married. How many people do we think Villanelle has married over the years?
Keep up with Killing Eve season 3 news and reviews here.