Reviews
Schitt's Creek Series Finale Review
David and Patrick get hitched, and Johnny and Moira hit the road, in the quiet but no less emotionally resonant Schitt's Creek series finale.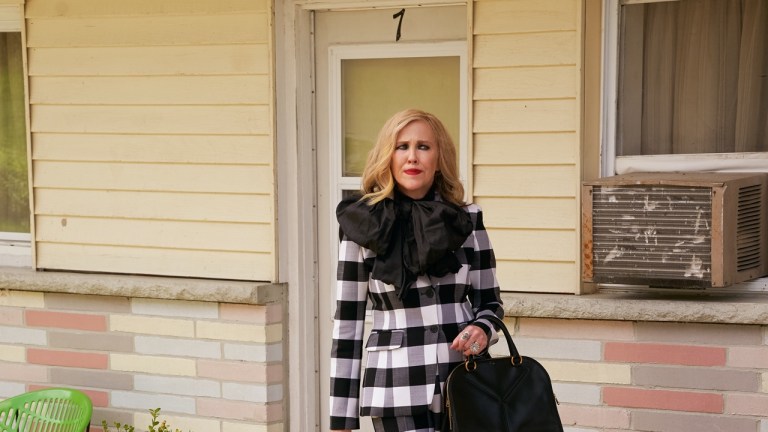 This Schitt's Creek review contains spoilers.
Schitt's Creek Season 6 Episode 14
The folks behind CBC and Pop TV's Schitt's Creek knew that we were going to cry regardless of how we said goodbye to the Roses, so why not do it at a wedding? David and Patrick's nuptials were, of course, the perfect sendoff for the Roses, both from the town of Schitt's Creek and from our televisions. Yet the fact that David's dream day opens with a downpour is what really encapsulates this tender show's ethos: making the best out of a shitty situation.
When a nasty storm scuttles David and Patrick's outdoor venue (they chose a wood-fire oven over a tent, which, same) and compels their officiant to cancel, it looks as if the wedding might have to be called off. But what was already a tight timeline to account for Alexis' prior move to the Galápagos is still unmovable, because Johnny and Moira need to get to California the next morning to get started on the Sunrise Bay reboot, and Alexis is preparing to fly to New York City. No one understands better than Moira, who takes on the role of officiant, that the show must go on.
And so the residents of Schitt's Creek—business partners, fellow Jazzagals, friends—all come together to cobble together David's dream wedding, or something like it: They have the frankly inspired idea to hold it in the Town Hall, with a delightfully emotional Ronnie compensating for her waterworks with an overabundance of flowers that even David would approve of, and perhaps the line of the episode: "When I say I know the florist, I know the florist." This in and of itself is a triumph, considering the prickly relationship the Roses have had with the town for the last four years, but the genuine warmth behind their soggy hustle is wonderful to behold.
What keeps it from being as twee as Gilmore Girls' own rainy bon voyage party for Rory Gilmore is that this ersatz wedding is tempered by David's persistent crankiness that nothing is going according to plan. Thankfully, Patrick had already anticipated that his fiancé might be a little histrionic on his their big day, and arranged for a thoughtful private massage at home. Just how thoughtful, he'll soon learn…
The wedding both feels like usual series finale fare yet also almost disappointingly understated; the episode clocks in at the usual tight 25 minutes, no super-sized finale here. There are no outrageous twists, nor last-minute chases to the airport. No one's secretly pregnant or getting paired off before the credits roll. In terms of typical series-finale action, it's almost, dare we say, anticlimactic—but that's because the characters all tied off their various loose ends in the preceding episode, "Start Spreading the News." The series finale delivers what it says on the tin: a heartfelt ceremony, and an even more heartstring-tugging goodbye.
Well, except for one wedding-day shocker: David's unexpected happy ending, thanks to a misunderstanding with Patrick, an envelope of cash, a vaguely-worded note, and an imaginative masseuse.
This was the one moment that dampened the finale for me. Maybe I'm still emotionally scarred from Six Feet Under's happy ending subplot. Alternately, I found myself squinting slightly at questions of complete consent, though David clearly enjoyed his "gift." Most of all, I was briefly gripped with the agonizing worry that after all this—after the kerfuffle with the cottage, which illustrated their different views of home—that this misconstrual would highlight the vast difference between them. How better to have Patrick's humble views on love and sex clash with David's cosmopolitan, pansexual, nonmonogamous past than with one groom scandalized and the other… well, definitely not regretting it?
But what soothed my worries and turned this beat around was how David incorporated it into his teary vows, grounding the emotion with a snarky inside joke: "You're my happy ending." Gotta love these people for making Roses out of Schitt. What's more, for a series that has consistently pushed the boundaries of conversations around sexuality, and in doing so proven that these don't need to be taboo, it's heartening to see them introduce a sexual dilemma into this wedding day that doesn't become a late-stage dealbreaker.
Even though the framework of the wedding is all Schitt's Creek, the content is so uniquely the Roses. If Ronnie has the line of the episode, then Moira takes the look: When she comes swanning down the aisle dressed like some queer fantasy bishop (Madonna could never), raising so many questions about whether she used a preexisting wig or had this one waiting in a special case, it truly feels like a blessing. Especially great is that Moira doesn't get the same shit for her all-white ensemble as poor Alexis does for her bridal-looking gown for walking David down the aisle. The siblings' sweet moment in the back, where she confesses to wanting to impress him and then boops him on the nose, is perfectly them. The Jazzagals singing "Simply the Best" for David's walk down the aisle, and Patrick crooning Mariah Carey as his vows, prove that you don't need a big blowout musical number to conclude your series.
Despite all the words devoted to it, David and Patrick's wedding is not the centerpiece of the finale. It shares almost equal space with the harried preparation, which reveals just how much the Roses have become part of Schitt's Creek; and with the morning-after goodbye, in which the still-drunk kids see off their biological/surrogate (in Stevie's case) parents to Hollywood.
That all could have been enough, but the series brings itself full-circle with Johnny's look back on Schitt's Creek—and Roland's going-away present. The redesign of Schitt's Creek's sign is a flawless callback to the Roses' apprehensive and skeptical first impression in the pilot: It reiterates Johnny's sales pitch for Rosebud Motel Group that if they can find a home there, anyone can; while still feeling like Roland got one over on Johnny one last time. Most of all, it reframes Schitt's Creek as somewhere they actually want to return.