News
House of the Dragon Season 2 Confirms a Big Velaryon Storyline
House of the Dragon isn't just a Targaryen story. New season 2 casting details reveal that House Velaryon will receive a major player.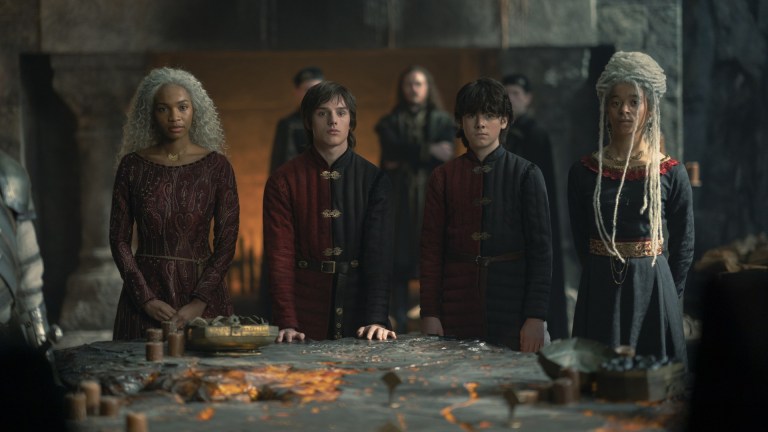 This article contains spoilers from George R.R. Martin's Fire & Blood and therefore may spoil portions of House of the Dragon season 2.
Close viewers of HBO's Game of Thrones spinoff House of the Dragon may have noticed a troubling trend with the House Velaryon of Driftmark. As season 1 of the prequel progressed, the ancient family with Valyrian roots (much like the Targaryens) seemed to be running low on potential heirs.
Lord Corlys Velaryon a.k.a. The Sea Snake (Steve Toussaint) is about as powerful as a Westerosi noble can be. Thanks to his fruitful voyages across The Narrow Sea, Corlys's house is blessed with untold riches and influence. Yet, as we saw with his close call near the end of the season, Corlys can't live forever. One day someone will have to succeed him as Lord of the Tides and sit atop the Driftwood Throne. Unfortunately, at the conclusion of House of the Dragon season 1, there aren't many viable candidates left.
Lord Corlys's son Ser Laenor Velaron (John Macmillan) is very much alive but presumed dead and living a life of peaceful anonymity in the east. His daughter Lady Laena (Nanna Blondell) is actually dead dead. His "grandson" Lucerys Velaryon (Elliot Grihault) is also dead dead, having been the first official casualty of the Dance of the Dragons civil war between Rhaenyra Targaryen (Emma D'Arcy) and Aegon II Targaryen (Tom Glynn-Carney). That leaves only Rhaenyra and Laenor's other son Jacaerys (Harry Collett), though he's supposed to be his mother's heir for the Iron Throne.
Simply put: it's all a successional mess! But perhaps not for long. Variety has reported the casting of four new major characters for House of the Dragon season 2 and among them is someone who will likely be very important to Lord Corlys and House Velaryon's longterm plans.
Technically the biggest name from this round of casting has nothing to do with House Velaryon and instead comes in the form of Gayle Rankin (GLOW, Perry Mason) being tapped to play Alys Rivers. A supposed witch from the Riverlands, Alys is a hugely important character for House of the Dragon and one that we went more in depth on here. The other two castings include Simon Russell Beale as Ser Simon Strong, the Castellan of Harrenhal and Freddie Fox as Ser Gwayne Hightower, son of Otto (Rhys Ifans) and brother of Alicent (Olivia Cooke).
The casting that we're most concerned with, however, is Abubakar Salim (Raised by Wolves) as Alyn of Hull. Variety describes the character as "a sailor in the Velaryon fleet who served in the Stepstones campaign" but those familiar with George R.R. Martin's Fire & Blood are aware that he's so much more than that.
Alyn of Hull is so named because he hails from Hull, a small peasant town on the island of Driftmark that House Velaryon rules. Though Alyn is low-born, he and his brother Addam possess physical characteristics that suggest Valyrian ancestry. Alyn and Addam's mother Marilda claims that, because of these characteristics, their father is none other than Laenor Velaryon. Obviously that's likely not true, since Laenor has a well-document sexual preference for men. The court fool Mushroom, who serves as a particularly gossipy "historical" source in Fire & Blood, posits that Corlys is really Alyn and Addam's father.
Alyn and Addam both enter the story when Prince Jacaerys declares that the blacks, Queen Rhaenyra's supporters in the Dance of the Dragons, require more dragonriders to utilize Dragonstone's surplus of dragons. Alys and Addam emerge as "dragonseed" candidates due to their probable Valyrian ancestry but only Addam is able to prove himself as a dragonrider. That doesn't mean that Alyn is useless to House Velaryon, however.
Recognizing his dearth of heirs, Corlys comes to recognize Alyn and Addam and his legitimate kin and petitions Queen Rhaenyra to remove their bastard status and make the brothers official Velaryons. Addam and Alyn both go on to play major roles in the Dance of the Dragons but Addam unfortunately meets an untimely end. In Martin's A Song of Ice and Fire timeline, Alyn does indeed one day succeed Corlys Velaryon as Lord of the Tides and he becomes a historical figure of immense importance almost on his predecessor's level.
Since HBO has not yet announced any casting for Addam Velaryon, it seems possible that House of the Dragon plans to combine the roles of Alyn and his brother into one. If true, this would make Alyn of Hull one of the most formidable players in the wars to come and potentially a major fan favorite.