News
House of the Dragon Could Bump a Major Battle to Season 3
House of the Dragon fans got some bad news about season 2 that could ultimately lead to good news about season 3.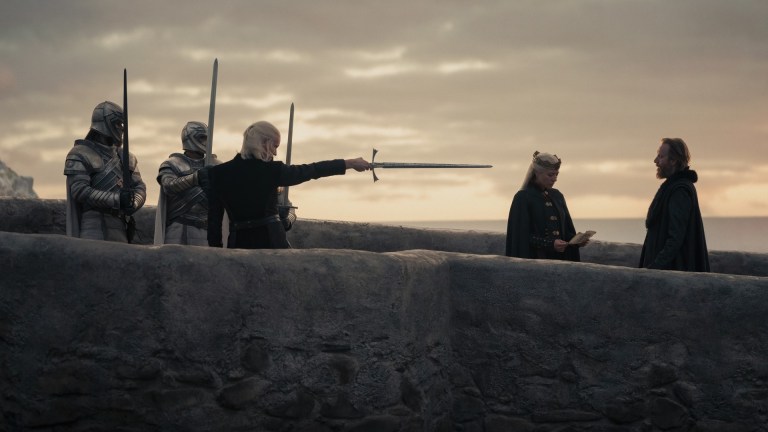 House of the Dragon fans received some bittersweet news recently. According to an exclusive report from Deadline, the already-confirmed House of the Dragon season 2 will likely feature 8 episodes rather than the Game of Thrones-standard 10.
An HBO spokesperson stressed to Deadline that the trimming of two episodes was "story-driven" and didn't have anything to do with budget cutting. Now, under normal circumstances, a network representative desperately clarifying to a publication that a decision had nothing to do with budget would naturally make one assume it had everything to do with budget – particularly with the current context at HBO parent company Warner Bros. Discovery where production woes and unfortunate cancellations appear to be the norm.
In the case of House of the Dragon, however, there's another bit of information tucked into the report that suggests that the eight-episode order comes with the blessing of showrunner Ryan Condal. (This is where the "sweet" part of this bittersweet news comes in.) Per Deadline, Condal took some time before production began on season 2 to ponder the full route that the series would take in adapting the Dance of the Dragons chapters of George R.R. Martin's Targaryen historical text Fire & Blood. While producers (and Martin himself) have alluded to a three or four season vision of the show, it seems that now the storytellers involved are ready to officially commit to at least three.
More importantly, it seems as though HBO is ready to commit to at least three seasons as well, with season 3 unofficially greenlit and the network seriously contemplating ordering scripts soon and getting the production process going before season 2 even concludes. As part of all that narrative jockeying between seasons 2 and 3 (with an unconfirmed season 4 still floating as a potential specter out there), Condal and the House of the Dragon writers have also apparently bumped a part of season 2's story, including a major battle, to season 3.
Now that's quite interesting. George R.R. Martin's A Song of Ice and Fire books, upon which Game of Thrones and now House of the Dragon are based, has a notable history in bumping climactic battles to future novels. A Dance With Dragons, the fifth installment in the ASOIAF series (that somewhat confusingly doesn't tell the prequel story of the Dance of Dragons that House of the Dragon focuses on) was originally supposed to conclude with at least two enormous battles. The story ultimately grew too big for one of Martin's books to contain so both battles were moved to the series' sixth novel, The Winds of Winter, which sadly still has not yet released.
With the benefit of foresight and planning though, Game of Thrones traditionally liked to save all of its biggest battles for the final few episodes of its seasons like "Blackwater" in season 2, "Hardhome" in season 5, and "Battle of the Bastards" in season 6. House of the Dragon even saved a notable fatal skirmish between Luke Velaryon and his cousin Aemond Targaryen for its final episode as well.
If House of the Dragon feels comfortable saving its biggest battles for the beginning of season 3, then it might have some truly epic moments from Martin's source material in mind for the end of season 2. Thankfully, that book is very much out there for us to peruse. So share some of your best guesses as to what events might ultimately end season 2 or begin season 3. The Gullet? The Red Fork? The Butcher's Ball? Non Fire & Blood readers, BEWARE OF POTENTIAL SPOILERS in the comment section below.
All 10 episodes of House of the Dragon season 1 are available to stream on HBO Max now.