Features
George R.R. Martin's Winds of Winter Should Just Be Two Books at This Point
After George R.R. Martin's latest Winds of Winter update, it's becoming clear that no one book can contain the story to come.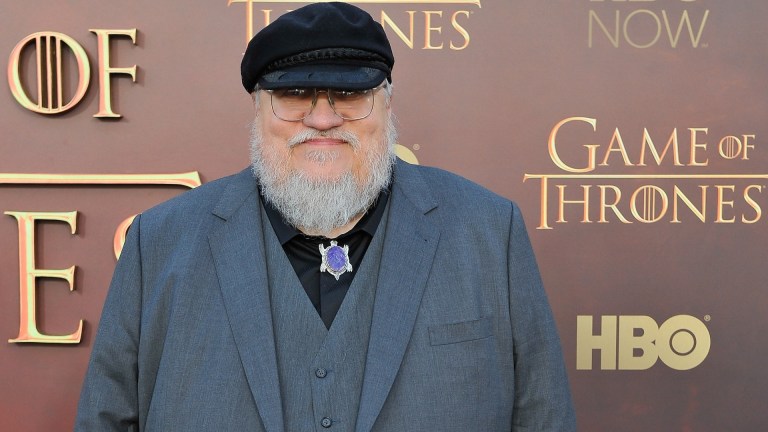 Now that HBO's House of the Dragon has wrapped its first season, a legion of Game of Thrones fans have some time on their hands. And with that time comes the resumption of an old question: "Hey, when is George gonna finish these books?"
Game of Thrones was based on a series of books called "A Song of Ice and Fire" by George R.R. Martin. After the first season of Thrones concluded in mid-2011, five books in that series had been written. By the time the entire series concluded in 2019…five books had been written. And now, three years after Thrones, say it with me: only five books have been written.
Poor George R.R. Martin has been wrestling with his fantasy series' sixth and penultimate installment, The Winds of Winter, for over a decade now. Naturally, this has led to some moments of fan frustration, particularly since Martin is not very good at judging his own writing progress. Martin has long described himself as a "gardener" style of writer, meaning he plants several ideas, cultivates them as best he can, and then discovers what blooms. Sometimes an apple will become an apple. Sometimes an apple will wither on the vine and become nothing. And sometimes what he thought was an apple seed will somehow transform into a pumpkin, changing his entire plan for the "garden."
Suffice it to say, Martin is surprisingly not a great authority on the status of The Winds of Winter. Who could forget the times he was confident the book was coming out in 2014 and then again in 2017? But hope still springs eternal and fans finally have some reason to be optimistic that The Winds of Winter is on the horizon.
During a livestream with A Song of Ice and Fire publisher Penguin Random House, Martin discussed his progress on The Winds of Winter in a surprisingly concrete way, asserting that he was roughly 3/4 of the way through the book. You can find the full clip below.
Providing a percentage update is unusual for Martin and it represents our strongest signal yet that The Winds of Winter could actually one day exist. That's undoubtedly the most thrilling part of his discussion but if you listen closely, there is also another bit of disconcerting information contained within it.
In addition to saying that The Winds of Winter is almost done, Martin reveals that he anticipates it to be the longest book in the series. Both A Storm of Swords and A Dance with Dragons came in at a spine-busting 1500 manuscript pages and The Winds of Winter is apparently on track to eclipse that. So what's the problem here, you ask? More A Song of Ice and Fire is great news! Make the book as long as it needs to be. The problem, unfortunately, is that some books are actually too long to be published.
George R.R. Martin described this phenomenon himself on his LiveJournal blog right before A Dance with Dragons was published, writing:
At one point late in the process DANCE was considerably longer. The page count had gone beyond 1600 and was creeping up toward 1700, to my alarm. (At 1700 pages the book could not have been published in a single volume). Several things happened to bring it back down. 
Did you catch the relevant portion there? "At 1700 pages the book could not have been published in a single volume." Even in our modern era, book-binding reminds an ancient technology. The spine of a hardcover book can't accommodate more than 1600 or so pages while still being mass produced and shipped across the world in bulk. In fact, in some areas the paperback version of A Dance with Dragons had to be published in two parts, titled Dreams and Dust and After the Feast.
If The Winds of Winter is going to comfortably blow past the 1500-page mark, then it's time for Martin to once again consider splitting the book in two. He could go about this in a couple of ways. The first option is to just split The Winds of Winter into two distinct books and release them within six months or so of each other. This would be an easy, elegant solution but it would also bump the number of A Song of Ice and Fire book total to eight, when seven is a far more appropriately fantasy number (particularly in the word of Westeros where they observe the Faith of the Seven).
The other option is a bit messier but it would be the one we would prefer. Split the book cleanly in two as The Winds of Winter Part 1 and The Winds of Winter Part 2 and release them simultaneously. Penguin Random House can even shrink wrap the copies together before shipping. Then, for the digital release of the book, nothing even needs changed at all. Since A Dance with Dragons was already published as two parts in some markets, there is precedent for this.
Splitting one book into two distinct parts released simultaneously may seem like a fairly extreme thing to do but A Song of Ice and Fire is an extreme series – extremely popular, extremely good, extremely long. If quibbling with editors to cut manuscript pages down to a workable 1500 is going to make the wait for Winter even longer, then we say forego that process altogether and get this book out ASAP in however many volumes it needs to be.
What say you, commenters? Should The Winds of Winter bite the bullet and become two books? Or are we being dramatic?