Features
Good Omens Season 2 Cast: Meet the New Characters Joining David Tennant & Michael Sheen
Good Omens Season Two is finally here! And there are some fresh faces joining the cast, from Liz Carr to Ty Tennant and more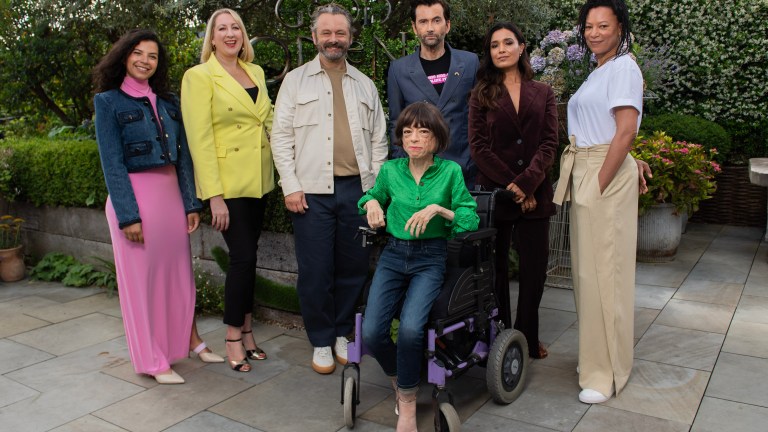 If you've been counting down the days for the second season of Good Omens so fervently that the mere thought of its arrival makes you exclaim "I am having a moment here!" then you might need to have a sit down: GOOD OMEN SEASON TWO IS FINALLY HERE.
If you're new to Good Omens, now's the time to catch up: this fantasy series is based on the 1990 book by Neil Gaiman and Terry Pratchett, and stars a demon, Crowley (David Tennant, Doctor Who) and an angel, Aziraphale (Michael Sheen, Best Interests) who are unlikely best buds/soulmates.
Season one saw them try to prevent the end of the world after the antichrist is born, and as for season two? Well, Crowley and Aziraphale are only just getting used to being exiled from their respective heavenly/hellish bosses when Aziraphale's former boss, Archangel Gabriel (Jon Hamm, Mad Men) turns up dazed, confused and totally nude. It's up to Crowley and Aziraphale to work out why.
What new faces will they be meeting along the way? Let's say hello to the new series two cast members:
BRAND NEW CHARACTERS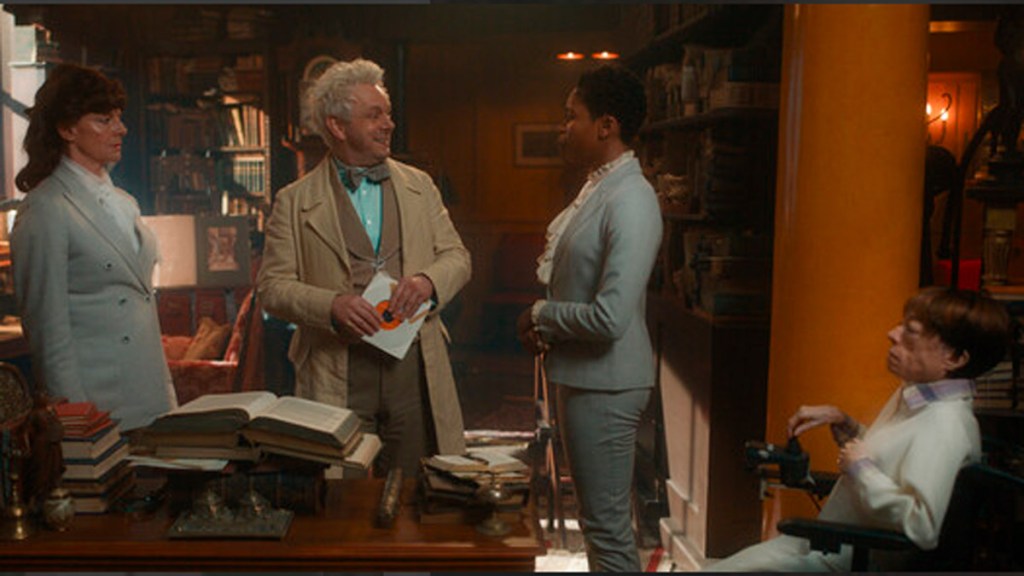 Gloria Obianyo as Uriel
Gabriel going AWOL creates a classic power void in heaven, with some of the more senior celestial staff battling it out for the top spot in a far from angelic way. An obvious choice for top dog is Michael (Doon Mackichan, Smack The Pony, pictured above, left) who returns to season two along with Derek Jacobi as The Metatron, but not if newcomer Uriel gets their way.
You'll recognise Obianyo (pictured above, third from left) if you're a fan of the National Theatre and Old Vic live recordings (most recently she starred as Neoptolemus in Greek legend adaptation Paradise) and she also played the young Oyin in ITV drama Riches earlier this year.
Liz Carr as Saraquael
Michael's second rival is Saraquael, heaven's head of security, and nothing gets past this no-nonsense, supremely sarcastic angel. She's smart enough to let Uriel and Michael scrap, waiting patiently in the wings to pounce at the opportune moment.
Liz Carr (pictured above, right) is best-known for playing the dry-humoured forensic examiner Clarissa in long-running BBC crime drama Silent Witness, as well as her role as Fenn in The Witcher.
Quelin Sepulveda as Muriel
Although Sepulveda is a relative newcomer to television (her only TV credit so far is Vicki in The Man Who Fell To Earth last year), you'll instantly fall in love with her as the adorable Muriel.
Compared to the other heavenly new faces, she's decidedly unimportant in the pecking order: a "37th order scrivener" (basically: she does the filing), she's naive, curious and very bored, and just wishing for an adventure. So she's thrilled to be sent on a mission that allows her to visit Earth for the first time, disguising herself (not very well) as a policeman to investigate some unusual happenings at Aziraphale's bookshop.
Donna Preston as Mrs Sandwich
Comedy actor Donna Preston plays one of Aziraphale's Whickber Street neighbours in season two, a vivacious purveyor of… well, that would be telling, but let's just say she's a seamstress for now. You may have seen Preston in Inside No. 9's series five episode "Hurry Up and Wait", as well as a brief appearance as Despair in 2022's The Sandman, plus comedies Hard Cell, Famalam and more.
Tim Downie as Mr Brown
Every organisation has a Mr Brown – an officious stickler for the rules who acts like he runs the place. This particular Mr Brown is part of the Whickber Street shopkeepers' group of which Aziraphale is a member. He's played by comedy actor Tim Downie, best known for playing Danny Bear in Toast of London and Kit Marlowe in Shakespeare comedy Upstart Crow. Outlander fans may also recognise him as Governor Tryon.
CHARACTERS WITH CHANGING ROLES
Nina Sosanya & Maggie Service as… Nina & Maggie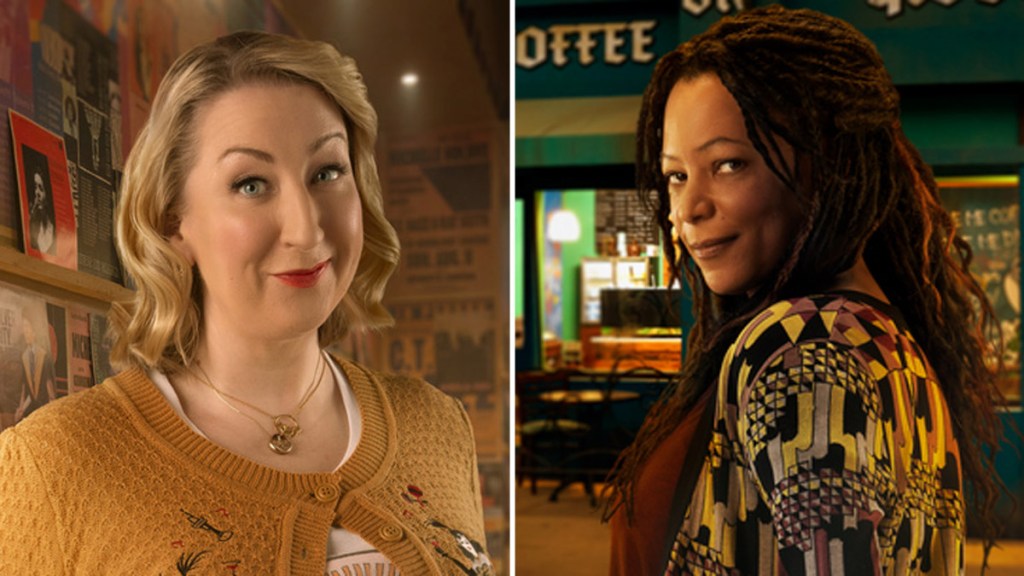 After putting in a memorable performance as the slightly daft satanic nuns Sister Loquacious and Sister Garrulous in season one, Good Omens didn't want a little thing like all the nuns being killed by the demon Hastur stop him from casting Nina Sosanya and Maggie Service in season two.
Nina, who runs the amusingly named "Give Me Coffee or Give Me Death" coffee shop opposite Aziraphale's bookshop – is grumpy, unlucky in love and sharp-tongued enough to best even Crowley in a war of words. Maggie is altogether more gentle and less sure of herself, rather unsuccessfully running the record shop next door to Aziraphale.
Outside of Good Omens, you'll know Maggie Service as the floor manager in Quiz, and Nina Sosanya from Last Tango in Halifax, Channel 4 prison drama Screw, and the Olympics-themed Doctor Who episode "Fear Her".
Miranda Richardson as Shax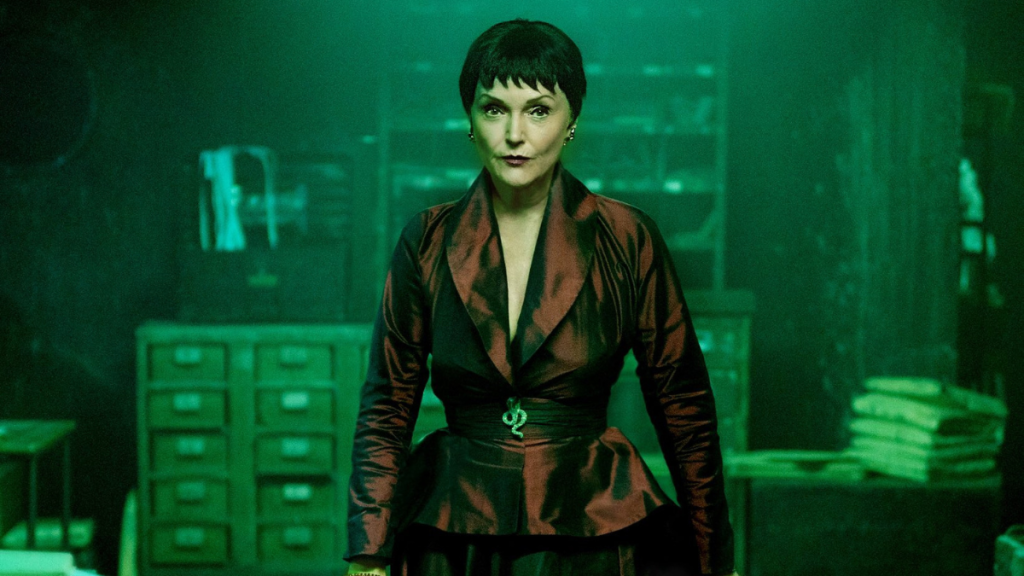 Richardson played Madame Tracy in season one, and even though her story was concluded, Neil Gaiman was so keen to bring her back, he wrote her a shiny new character. Shax is the demon who takes over Crowley's role as Hell's earthly representative after he gets the boot, but as a newcomer to Earth she's having trouble keeping up and blending in, with both her wardrobe, vocabulary and understanding on human behaviour stuck somewhere firmly in the mid-20th century.
You'll know Miranda Richardson as Queen Elizabeth I in Blackadder, and film roles in The Crying Game and Sleepy Hollow, among many other memorable performances.
Shelley Conn as Beelzebub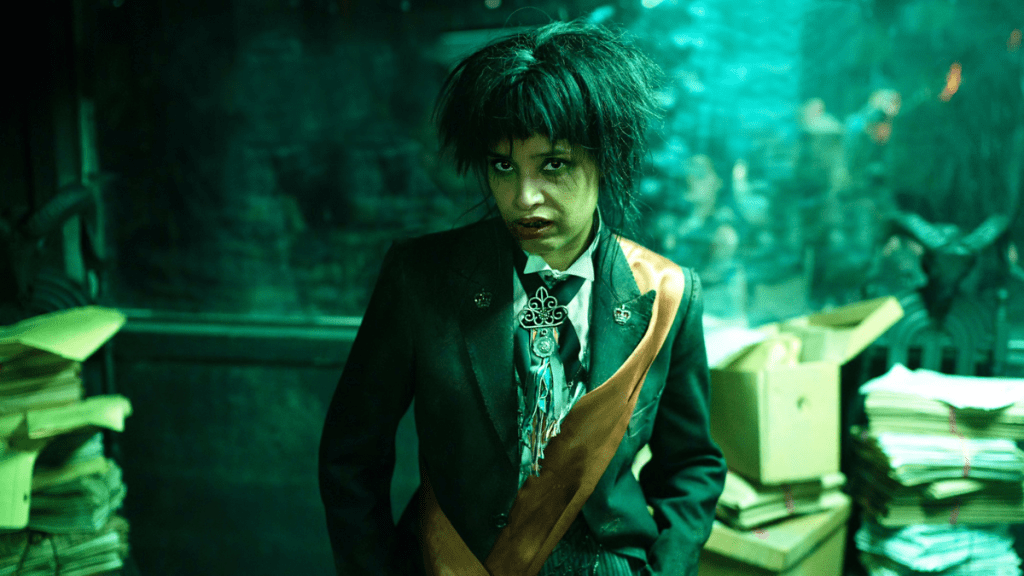 Anna Maxwell Martin (Motherland, Line of Duty) played Beelzebub – the scary but ineffective ruler of Hell – in season one, but due to filming commitment clashes she's replaced by Shelley Conn in the new series. Conn is best-known as Lady Mary Sharma in season two of Bridgerton as well as playing the detective, Vanessa Harmon, in ITV drama Liar.
Reece Shearsmith as Furfur
We saw a glimpse of Shearsmith in season one as William Shakespeare during one of Aziraphale and Crowley's historical flashbacks, but in series two he's Furfur, a conniving but haplessly unfortunate demon who is in charge of admissions to hell, and not particularly happy with his lot.
As well as dark comedy anthology Inside No. 9, Shearsmith is best known for being one of The League of Gentlemen alongside Mark Gatiss and Steve Pemberton, both of whom also return for season two as versions of their season one characters.
Other Cast
David isn't the only member of the Tennant family to appear in series two: his son Ty Tennant (War of The Worlds) will play Ennon, and father-in-law and fifth doctor Peter Davison will play Job. Andi Osho (Blue Lights) will take on the role of Job's wife Sitis, Alex Norton (Two Doors Down) will play Tulloch and Abigail Lawrie (Strike) will play Elspeth. Magician Pete Firman makes a brief appearance as Pat, as does Harry Potter star Sean Biggerstaff as Mr Dalrymple.
Good Omens Series Two is now available to stream on Amazon Prime Video