Features
Anansi Boys: Your Next Neil Gaiman TV Obsession After The Sandman
Here's what you need to know about the upcoming Amazon Prime mini-series adaptation of Anansi Boys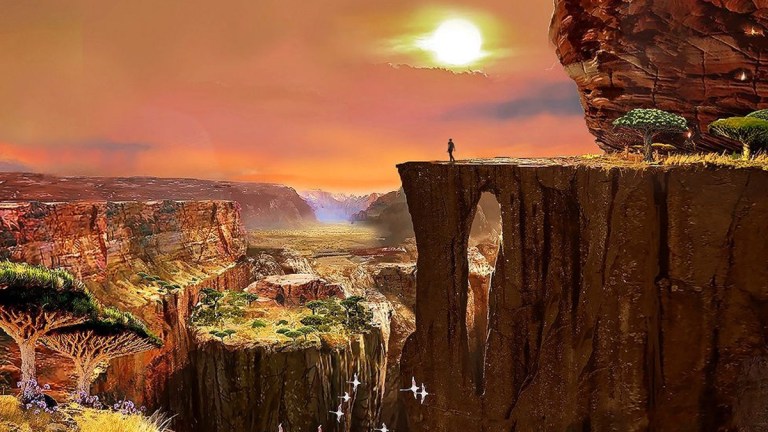 Fans have been waiting for the TV adaptation of Anansi Boys – Neil Gaiman's 2005 fantasy novel about the two sons of the spider-god Anansi – for a long, long time.
Anticipation for Anansi Boys predates The Sandman, Good Omens and even American Gods when it comes to Neil Gaiman TV series. It was first reported that an adaptation was in the works back in 2014, but this project never came to be (parts were eventually incorporated into American Gods), so fans were excited to discover an Amazon Prime Video miniseries was in production back in 2020.
Three years later, we can almost taste it, so in anticipation here's everything you need to know about the upcoming Anansi Boys:
It's a Standalone Story… Developed From a Conversation with Sir Lenny Henry
Gaiman explains: 'Anansi Boys began around 1996, from a conversation I had with Lenny Henry about writing a story that was diverse and part of the culture that we both loved.'
Sir Lenny himself tells the story like this: 'Years and years ago I used to hang out with Neil because we worked on Neverwhere together… we were at my house, and I said something like "Why aren't there ever any black people in horror stories? There's that one crazy guy in The Shining… maybe it's because we'd be too commonsensical, you know "Don't go in there — are you an idiot? There's a monster in there!"… We laughed about that, and then Neil went away and came up with Anansi Boys.'
Gaiman also said: 'I wrote an (I hope) joyous and funny book… based on Caribbean and African tales. It was my first number one New York Times bestseller and went on to become a beloved and award-winning book.'
Both Gaiman and Sir Lenny are Executive Producers of this new adaptation of Anansi Boys (more on that later).
It's 'About a Dead God and His Two Sons'
That's how Neil Gaiman describes it anyway, adding that it's also about 'birds and ghosts and beasts and cops'. Let's take a look at the official plot synopsis:
'Anansi Boys follows Charlie Nancy, a young man who is used to being embarrassed by his estranged father. But when his father dies, Charlie discovers that his father was Anansi: trickster god of stories. And he learns that he has a brother. Now his brother, Spider, is entering Charlie's life, determined to make it more interesting but making it a lot more dangerous.'
The boys were separated as young children, and the story follows them exploring their common heritage, with 'Fat Charlie' being a brave but easily embarrassed man lacking self-confidence, the complete antithesis to the cool, magical and troublesome Spider.
Anansi is a Folkloric Deity – and Also Features in Neil Gaiman's American Gods
Anansi (which translates to 'spider') is an important character in West African and West Indian folklore, originating in Ghana, who is known for being a clever trickster that can outsmart his opponents.
Although Anansi Boys isn't a sequel to Gaiman's earlier novel American Gods, Mr Nancy does appear as a central character in the book (a tale about Shadow Moon, an ex-convict who becomes embroiled in a war between the Old and New Gods), so many Gaiman fans will already be familiar with him.
The Cast Includes Whoopi Goldberg
The legend that is Whoopi Goldberg will play Anansi Boys' Bird Woman, a fearsome god-like character who is the embodiment of all birds.
BAFTA-winning Malachi Kirby (Small Axe) will play both leading roles – Charlie and Spider – with The Good Fight's Delroy Lindo as Anansi himself.
NCIS: New Orleans star CCH Pounder plays Mrs Higgler, who reveals Charlie's true past to him, Amarah-Jae St. Aubin (The Confessions of Frannie Langton) plays his fiancee Rosie, and Jason Watkins (Line of Duty) is his swindling boss Graham Coats. Killing Eve's Fiona Shaw plays one of the victims of Coats' crimes.
The story also includes several of Anansi's fellow gods: Hakeem Kae-Kazim (Dangerous Liaisons) plays his dangerous enemy Tiger, Emmanuel Ighodaro (Shameless) is the proud and noble Lion, and Cecilia Noble (The Walk-In) is the wise Snake.
The TV Series is Partly Redemption For a Controversial BBC Radio Adaptation
Back in 2005, the BBC World Service produced a radio adaptation of Anansi Boys (starring Sir Lenny Henry and Matt Lucas, among others) which, in the words of Neil Gaiman, 'went a bit wrong':
'The biggest thing that went wrong went wrong right at the beginning, when the World Service, coping as best they could with budget cutbacks and less broadcasting time for drama, decided it would have to be an hour-long adaptation. And bad things happen when novels get cut down to an hour. So despite a really terrific cast and production and as solid a script as could be in the circumstances, I was not happy. It felt like one of those Readers' Digest condensed books.'
His solution?
'I decided to do Anansi Boys as a TV series, and to write the script myself.'
But There Was an Excellent BBC Radio 4 Adaptation in 2017
The second of the BBC's attempts at adapting Anansi Boys for the radio went much better: the six-part series was the fifth of Gaiman's novels adapted by Dirk Maggs (so he'd had time to perfect his craft), and aired on Radio 4 over Christmas 2017.
Sir Lenny Henry once again starred – this time as Anansi – with Jacob Anderson (Game of Thrones) as Charlie, Nathan Stewart-Jarrett (Misfits) as Spider and Bridgerton's Adjoa Andoh as Bird Woman. Den of Geek spoke to Henry about the dramatisation, working with Neil Gaiman, Neverwhere and much more at the time.
Gaiman said it was his favourite of Maggs' adaptations.
Sir Lenny Henry is an Integral Part of the TV Adaptation
As you might expect given his rich history with Anansi Boys, from before the novel was written right through the various adaptations, Lenny Henry as Executive Producer is an integral part of the Amazon Prime adaptation.
'I've been a huge fan (and couch sleeping friend) of Neil Gaiman's for over 30 years and I have loved being a part of the Anansi Boys creative team' Henry said.
Gaiman added: 'I am thrilled that Sir Lenny Henry is one of our executive producers.' says Gaiman. 'He was there when it was conceived, he narrated the audiobook and he has kept the heart of the production true.'
Henry and Gaiman go on to explain why the diversity of the production is so important:
'I love that we're going to have a suitably diverse cast and crew to tell this joyous story!' says Henry. 'What's great is that the whole production is listening and ensuring that inclusion is happening and is being seen to be done.'
Gaiman said: 'We are trying to make a new kind of show with Anansi Boys, and to break ground with it to make something that celebrates and rejoices in diversity both in front of and behind the camera. I'm so thrilled it's happening'.
There's No Official Anansi Boys Release Date – But We Expect it in 2023
Filming wrapped in Scotland back in May 2022, but this story's folkloric fantasy elements and twin-leads-played-by-the-same-character conceit mean post-production is intense – Gaiman himself predicted it would take around a year:
So we can keep our fingers crossed for a late-2023 release.