Features
Gen V Season 1 Ending Explained and the Connection to The Boys Season 4
The first season of The Boys spinoff ends with an epic battle and some even more epic cameos. Here's how the Gen V finale went down.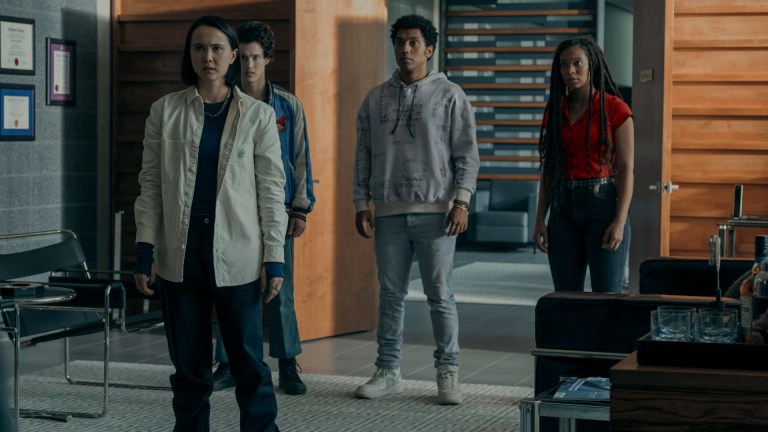 This article contains spoilers for Gen V season 1 episode 8.
It's been quite a wild ride for the supes-in-training at Goldolkin University in season 1 of The Boys spinoff, Gen V. Things started with a murder-suicide featuring Golden Boy (Patrick Schwarzenegger) and his beloved teacher Professor Richard "Brink" Brinkerhoff (Clancy Brown) and then only got weirder from there.
We've followed along as our sort-of heroes Marie (Jaz Sinclair), Andre (Chance Perdomo), Emma (Lizze Broadway), Cate (Maddie Phillips), Jordan (London Thor and Derek Luh), and Sam (Asa Germann) uncovered the mystery of God U's secret "Woods" containment facility and with it a sinister plot to eliminate all superheroes. The penultimate episode of this first season concluded with the murder of Dean Indira Shetty (Shelley Conn) and the gang splitting between ideological lines regarding how to deal with the threat to Compound V-enhanced individuals a la Professor X and Magneto.
With all that madness on the table, the final episode of the season promised to be a chaotic affair. And that's exactly what episode 8 "The Guardians of Godolkin" ended up being. Let's break down the conclusion to Gen V season 1 now and speculate as to what it might mean for Gen V season 2 and even The Boys season 4.
The Crisis at Goldolkin University
As teased by the conclusion of episode 7, Cate and Sam were fully prepared to go their own way when it came to violently eliminating the threat to their super-powered kind. Dean Shetty's development of a lethal virus effective only in Compound V-tinged blood was nothing less than a declaration of war in their minds. So to war Cate and Sam go.
Golden Boy's brother and girlfriend make a visit to The Woods where they release all of the supes deemed too dangerous to exist in the general population of God U. How long have those supes been down there? "Is Gangnam Style still a thing?" one tragically asks. Sam, Cate, and the rest of the freshly-released prisoners wreak havoc on the God U campus, sending Ashley Barrett (Colby Minifie) and the rest of the gathered Vought executives into lockdown.
Ashley and company were actually at God U to brainstorm ideas for the next member of The Seven. Translucent's son Maverick (the invisible R.A.) was an early contender but after all the violence breaks out, Ashley promises a spot to whoever kills these rogue supes. What's left of our central team of heroes – Marie, Andre, Jordan, and Emma – resolve to stop Cate and Sam. Marie is ultimately successful in stopping the rampaging Cate by blowing up her arm.
A Homelander Cameo? A Homelander Cameo!
You know when you're watching some serious shit unfold in a Marvel movie and you wonder "why don't they just call The Avengers?" Well, that same thought is bound to occur when watching the violence at God U. Why doesn't Ashley just call Homelander – a.k.a. the strongest, most terrifying, and most invulnerable man in the world – to help out? Well, because The Boys is a logical, well-run franchise, Ashley does exactly that.
Yes, after a season of thrilling cameo appearances including Ashley, Soldier Boy (Jensen Ackles), Grace Mallory (Laila Robins), Victoria Neuman (Claudia Doumit), and more, Gen V finally saves the best for last. None other than The Homelander (Antony Starr) flies in at the tail end of the fight to clean things up.
In true Homelander fashion, however, instead of being impressed with Marie's heroism, he is disgusted with her disloyalty in blowing up Cate's arm, saying "What kind of animal are you? Do you like attacking your own kind?" Lest you forget, our star-spangled boy really is a morally inconsistent fascist. Homelander then unleashes his laser vision directly into Marie's chest and the episode cuts to black.
Where Do Marie, Andre, Jordan, and Emma End Up?
So Marie is dead right? Honestly I really thought she was for a moment. Despite having the knowledge that Gen V had already been confirmed for a second season, The Boys is such a bleak, cynical affair that it really seemed possible that Marie's arc would ignominiously end at the laser eyes of Homelander – after all, she wouldn't be the first superpowered Homelander victim by a long shot.
Thankfully though, Marie does survive the encounter, with her strength impressing Andre. Here is where things get weird though. Marie, Andre, Jordan, and Emma all find themselves wearing gowns in a sterile, brightly lit room filled with medical equipment. It has all the appearances of a hospital suite with one notable exception: there are no doors in or out.
"Where are we?" Marie urgently asks before the season ends.
That's a great question and not one we immediately know the answer to. Given the absence of a way out, it's clear that the Guardians of Goldolkin are imprisoned in a medical environment. And when there's an experimental virus in existence that has the potential to eliminate supes en masse, that's not a particularly comforting place to be. Their only saving grace for now, is that if Vought, Homelander, or another antagonist wanted them dead, surely they would already be dead by now. We'll have to wait until season 2 to see why they're not.
Are Cate and Sam Baddies Now?
Are far as we're concerned, yes Cate and Sam are baddies now. According to the rest of the world, however, they're heroes. Vought's propaganda apparatus has once again gone into overdrive, with Cameron Coleman blaming the massacre at Godolkin on the "old" Guardians of Godolkin (Marie, Andre, Jordan, Emma) and celebrating the "new" Guardians (Cate, Sam) for saving everyone.
Billy Butcher's Post-Credit Scene Explained
Now what would a Boys spinoff be without at least one Boy? Thankfully we get exactly that thanks to a brief mid-credits scene that features none other than supe hunter Billy Butcher (Karl Urban). Unlike Marie and company's ending, it's actually quite easy to discern where Butcher's scene takes place.
Butcher has somehow gained access to the now-abandoned Woods under Goldolkin University. As his flashlight and gaze fixes upon something, he smiles and delivers one of trademark c-word-tinged one-liners: "What a buncha cunts." What, exactly, could Butcher be looking for in The Woods? There are quite a few possibilities, truth be told. Though we know Neuman has custody of the virus developed there, Butcher might not be privy to that information and is in search of the ultimate anti-supe weapon. Alternatively, he could be looking for more dirt to dig up on Vought.
What's Next for Gen V Season 2 and The Boys Season 4?
Whatever he's looking for, Butcher seems pretty confident that he's found it. And that's probably bad news for The Seven in The Boys season 4. That's right, before we get a Gen V season 2, The Boys fourth season is on the horizon, and likely to premiere in 2024 pending the resolution of the SAG-AFTRA strike.
As Boys showrunner Eric Kripke told EW: "I don't think it's a spoiler to say that, by the end of season 1 of Gen V, there's a handoff to season 4 of The Boys. Then whenever we break season 4 of The Boys, there will be a handoff to the hopeful season 2 of Gen V."
With Homelander proud of Sam and Cate's evil deeds and Butcher on the prowl, it's safe to say that the ball is now firmly in the hands of The Boys season 4.
All eight episodes of Gen V season 1 are available to stream on Prime Video now.