Features
Gen V: What That Big Victoria Neuman Power Reveal Means for The Boys
Marie Moreau and Victoria Neuman have a very important conversation in Gen V season 1's penultimate episode.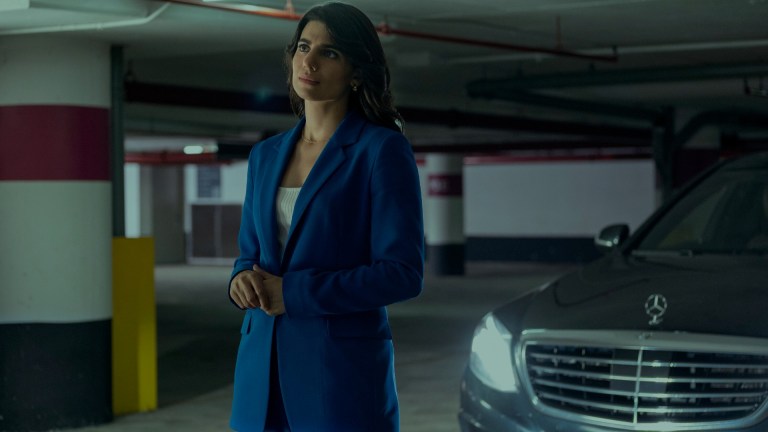 This article contains spoilers for Gen V episode 7.
Heads rolled (well popped) in the latest episode of Gen V, as Prime Videos's The Boys spinoff delivered an action-packed penultimate episode that tied neatly into its bigger brother. The Boys showrunner Eric Kripke has already confirmed (via EW) that the Gen V finale will include a "handoff" to The Boys season 4, and with some significant cameos during "Sick", things are starting to come together.
The Gen V trailer teased the return of Claudia Doumit's Victoria Neuman, with the head-popping politician stopping by Godolkin University to put one of her sinister schemes into play. Having thrown Stan Edgar (Giancarlo Esposito) under the bus in The Boys season 3, she's now on the way to the White House as a vice presidential candidate. Although we were on the money that Neuman was the mysterious benefactor of Marie Moreau (Jaz Sinclair), that was just the start of the pair's complicated relationship. 
Victoria Neuman is a revamp of Victor "Vic the Veep" from the comics, with this live-action counterpart being nothing like the former Vought CEO. First arriving in The Boys season 2, Neuman was shockingly revealed as the head-popping supe who took out Jonah Vogelbaum, Alastair Adana, and more. We assumed Victoria Neuman's powers were simply making people's heads explode, but Gen V just confirmed she shares the same haemokinetic skillset as Marie. 
When Marie and Neuman meet in "Sick", the latter takes a blade and shows how she has the same blood tricks as the wannabe member of The Seven. The signs were all there, as earlier in the season, we saw Gen V's most NSFW scene when Marie blew the penis off Rufus (Alexander Calvert). Marie's OP abilities mean she could soon be popping a very different kind of head – assuming she can learn Neuman's bloody party trick. We've also seen how Neuman is more than just a walking blood bag, boasting powers of superhuman strength and durability. 
Aside from Marie being Gen V's MVP, Dean Shetty (Shelley Conn) had already warned her that she was more special than the others. The Boys has seen Neuman threaten Starlight (Erin Moriarty) by causing a nosebleed without popping her head, but it's clear she's still scared of Homelander (Anthony Starr). This is likely leading to the crux of "Sick", as it ended with Neuman taking control of Dr. Cardosa's (Marco Pigossi) deadly supe virus. Neuman is presumably going to try and target Homelander with the virus, but she might not need to with Marie by her side.
A duo of head-popping supes could see Marie and Victoria take on Homelander in a rehash of The Boys season 3's iconic battle between the star-spangled villain against Soldier Boy (Jensen Ackles) and Billy Butcher (Karl Urban). As Shetty is seemingly out of the picture, Marie could do with another parental figure in her life. Who better than the woman who shares her rare powers? Neuman has the inside track thanks to a throwaway mention of Marie's sister, Annabeth, but whether she'll take Marie under her wing or watch from afar remains to be seen. Ultimately, Marie could be an even more dangerous adversary if she figures out she's just another pawn in someone else's chess game.
Fans have noticed that the secret connection between Marie and Neuman has been kept this way because the former's eyes don't go cloudy when she's using her powers. We're also yet to see Neuman use a blood lasso, restart someone's heart, or detect something in someone's blood, meaning the full extent of her powers is unknown. Neither Marie nor Victoria should be underestimated, and as Neuman ends the episode by blowing the brains out of Cordosa to the Yeah Yeah Yeah's "Heads Will Roll", her deadly powers and the fact she's got a super-killing virus in her arsenal mean she's a force to be reckoned with. Then again, neither is Bloody Marie. 
Gen V ends with a choice, as Neuman warns Marie that she can either go down the path of blowing the whistle on The Woods or sit quietly, graduate from Godolkin, and potentially be the first Black woman in The Seven who's BFF's with the future Vice President. Marie's moral compass will surely see her pick the first option, which could see the two bloody babes at odds with each other. With Gen V commissioned for season 2 and The Boys season 4 on the way, the orphaned girls of Red River could soon be drawing blood from each other. 
The Gen V season 1 finale premieres Friday, Nov. 3 on Prime Video.