Features
The Boys' Season 4 Plot is Hiding in Plain Sight on Gen V
Brief cameos and background details point to an interesting plot for The Boys season 4.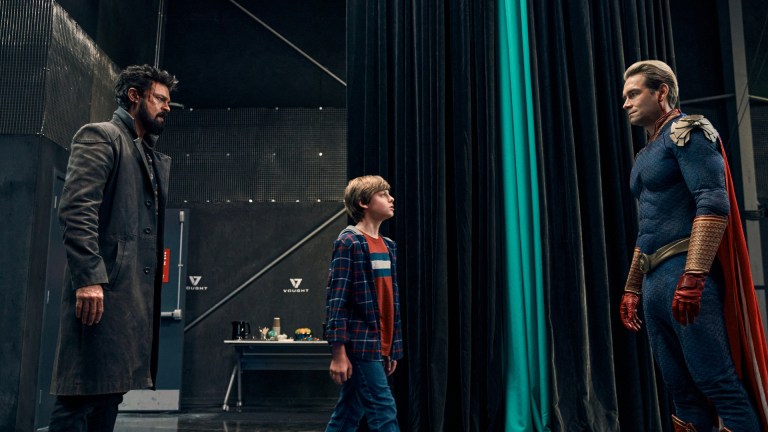 This article contains spoilers for Gen V and The Boys.
The Boys spinoff Gen V has done an incredible job thus far of expanding this supe-filled world while still maintaining a close connection to its predecessor. From character cameos to updates on current events, there are plenty of Easter eggs woven into Gen V's story that give us hints into where The Boys could go in season 4. 
Set between seasons 3 and 4 of The Boys, the youth of Gen V, as well as the entire world, have recently seen Homelander (Antony Starr) murder a civilian protester in cold blood. According to a brief news report, Homelander is actually on trial for this crime, though Vought appears to be fighting this with all they have. In a YouTube video on the Vought International channel, Vought CEO Ashley Barrett (Colby Minifie) tries to spin the attack as Homelander trying to defend his son Ryan (Cameron Covetti) from a violent Starlight supporter.
But if a newspaper seen in Episode 5 of Gen V is current, then Billy Butcher (Karl Urban) may also be on the wrong side of the law once again in season 4 of The Boys. In a blink-and-you'll-miss-it moment, Butcher's face can be seen on a newspaper taped to the glass door of the drive-in that Sam (Asa Germann) has been using to hide out. The headline reads "Manhunt Continues for William Butcher," and while this could easily be an old paper from season 2, it is also likely that Vought and Homelander have pinned Maeve's "death" on him and the boys after they failed to kill him in Vought tower.
However, things are different than they were in season 2. With Starlight (Erin Moriarty) gaining support after live streaming her true thoughts on Vought, Homelander, and the Seven near the end of The Boys's third season, it's clear that there are still people out there that care about the truth and won't just believe whatever Vought tells them to believe. People are likely more divided than ever about the role that supes and Vought play in their lives, which is something that Vought and Homelander likely won't stand for.
Butcher and the boys may officially be in hiding once again, especially with Neuman's (Claudia Doumit) powers and true agenda revealed. But, that doesn't mean that they'll be alone in their vendetta this time. The Vought propaganda machine will likely be working overtime to keep people on Homelander's side and against the boys, but there's a good chance that there will be people who will fight with them to make Homelander pay, for this crime at least.
There are still bound to be plenty of shocking twists in season 4 of The Boys, but Gen V has done a great job of showing us the state of this world and how current events are playing out in the background. Homelander's trial and its aftermath are sure to be a major plot point of the season as are Butcher and the boys' efforts to make sure the world sees Homelander and Vought for the evil that they are.