News
Cobra Kai's Emmy Nomination Redeems its Rough Beginnings
Netflix series Cobra Kai has landed a Comedy Series Emmy nomination, achieving once-unlikely mainstream recognition.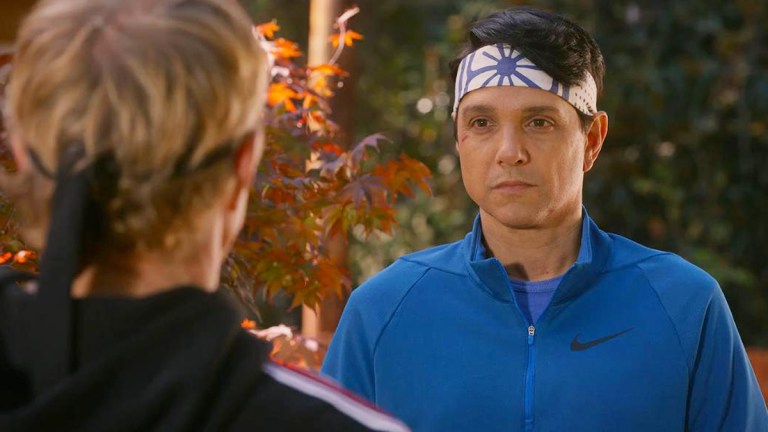 Cobra Kai finds itself among television's upper echelon with today's 2021 Emmy nominations announcement, which named Season 3 as a nominee for Outstanding Comedy Series. The series, a long-awaited sequel to The Karate Kid films, has seen its popularity increase exponentially after a migration from YouTube Premium to Netflix, on which the nominated season premiered. It's quite the achievement when remembering the show's less-than-auspicious 2018 launch.
The Emmy nominations highlight a second pandemic-altered year for the industry, further cementing the notion that the overwhelming majority of television's heavy hitters now reside in the realm of streaming rather than the airwaves. Notwithstanding a sole network sitcom straggler in Black-ish (ABC), the tonally-diverse comedy category proved no exception to that phenomenon, with Cobra Kai (Netflix) joining fellow streamers in Emily in Paris (Netflix), Hacks (HBO Max), The Flight Attendant (HBO Max), The Kominsky Method (Netflix), Pen15 (Hulu), and Ted Lasso (Apple TV+) for this year's announced nominees. However, among this group, Cobra Kai's path to this level was poetically serpentine, arguably making its nomination a sweeter achievement, win or lose.
Cobra Kai debuted on May 2, 2018, widely perceived as an indulgent oddball nostalgia session. The 30-minute-set series manifested as a surreal continuation of the esteemed-but-long-dormant 1980s film franchise of The Karate Kid, which, decades earlier, had delivered a Crane Kick-dealt jolt to popular culture that spawned merchandise, catchphrases, and surging memberships in dojos around the country off two entries in 1984 and 1986, respectively, only to lose momentum and marketability with the 1989 third film.
The original franchise's last big screen gasp, 1994 spinoff movie The Next Karate Kid, starred Hilary Swank as the new, angstier martial arts protégé to the returning sagely Mr. Miyagi, and performed abysmally, seemingly sealing the continuity's end. That notion was further cemented with the 2005 passing of Miyagi actor Pat Morita. Indeed, even a 2010 reboot movie of The Karate Kid, which reinterpreted the primary sensei/student dynamic through Jackie Chan and young Jaden Smith, failed to revive the property. Therefore, it became a once-popular franchise that was discarded to a proverbial pop culture bin of '80s relics like Porky's and the Police Academy septet.
The Karate Kid would be seen as a nostalgic punchline only referenced on occasion, notably in the 2007 music video by band No More Kings, titled "Sweep the Leg," in which actor William Zabka fielded a tongue-in-cheek appearance as original movie bully Johnny. Likewise, the announcement years later of Cobra Kai as a revival television series—having corralled "where are they now?" level original stars Ralph Macchio and William Zabka—didn't sound like anything that would generate more than some, "Look, it's Daniel and Johnny—and they're old!" kind of laughs amid repeated film catchphrases before relegating the movie mythos back to its dormancy. Yet, the pièce de resistance to the show's perceived kitsch was the very platform on which it would first reside, YouTube Premium, née YouTube Red, which was a lofty—some might say quixotic—attempt by the always-free Google video giant to put original scripted content behind a paywall. Indeed, Cobra Kai seemed destined as a one-off curiosity that very few audiences—especially its initial Gen-X-tickling target—would even hear about, much less watch.
Surprisingly enough, Cobra Kai managed to turn many heads upon its 2018 debut. While the series did indeed come out of the gate brandishing its own inherent brand of nostalgia, it also packs surprisingly substantial pathos—with Johnny's aimless arrested development, Daniel's family crises, and the teenage troubles of Miguel, Samantha, and Robby and the rest of the dojo gangs—that surpassed the poignancy of the films. While the series is categorized as a comedy, it surreptitiously carries itself as a widely-identifiable drama about unrealized dreams, the value of redemption, the unproductive absurdity of ancient rivalries, and the difficult transition between generations. Indeed, fueled by the clear passion and adoration for the franchise from showrunners Jon Hurwitz, Hayden Schlossberg, and Josh Heald, the series managed to resonate among the subset of consumers who actually paid for the mostly content-lacking YouTube service, which created a substantial amount of buzz, leading to even more visibility for the quickly-ordered second season upon its April 24, 2019 premiere.
However, even the mighty YouTube's bottom line for its floundering premium endeavor could not be supported by just one hit series, even after an attempted 2019 Hail Mary pass to lure subscribers by temporarily lowering the paywall, which gave the premium-averse general public access to the hyped Cobra Kai for free. Yet, the move did very little to help the platform's cause. Eventually, in a bizarre development, YouTube Premium made an unrealistically low offer to producing studio Sony Pictures Television for a third season, negotiating itself out of a renewal. The act was essentially the platform's de facto cancelation of its only show that people actually watched, leaving the service to languish as the series—by this time a buzz-hyped hit—entered an auspicious free agency.
Netflix, of course, would quickly come to the rescue of Cobra Kai with a winning bid, even as its spendthrift glory days of wanton rescues of network castoffs and instant green-lighting of obscure projects had already passed even by this pre-pandemic point. It was a sound investment on a series that was riding serious momentum; an investment that would first pay dividends when the first two seasons were ported over to the streaming giant in August 2020, which yielded chart-topping success, notably evidenced by the catalog episodes' topping of Nielsen's Streaming Top 10—over fresher content, no less—by that October. The eventual arrival of the unseen third season of Cobra Kai became a streaming event when—after two years tied up in the platform migration morass—it finally dropped on New Year's Day 2021. Netflix reported the third season was viewed by 41 million households in its first 28 days—grain of salt over the mystery metrics notwithstanding.
Now, it seems that Cobra Kai's navigation of odd obstacles has yielded a shot at the biggest prize that the industry can offer it: a Primetime Emmy for Outstanding Comedy Series. While the show has previously been within reach of Emmy statues in 2018 and 2019, in which it was nominated for the impressive stunt work on its fight sequences, today's nod is its first substantive industry validation. While it remains to be seen if Cobra Kai will be able defend itself against the momentum of its prestigious, more-star-studded peak television-level competition, it has nevertheless arrived among the medium's elite. Moreover, this acknowledgment from the ceremony, which will be held on Sept. 19, will only help to increase buzz for the already-teased Cobra Kai Season 4, which is expected to arrive on Netflix by the end of the year.