Features
More Than Miyagi Director On Honoring Pat Morita
Den of Geek chats with Kevin Derek about his revealing new documentary on the life of Pat "Noriyuki" Morita.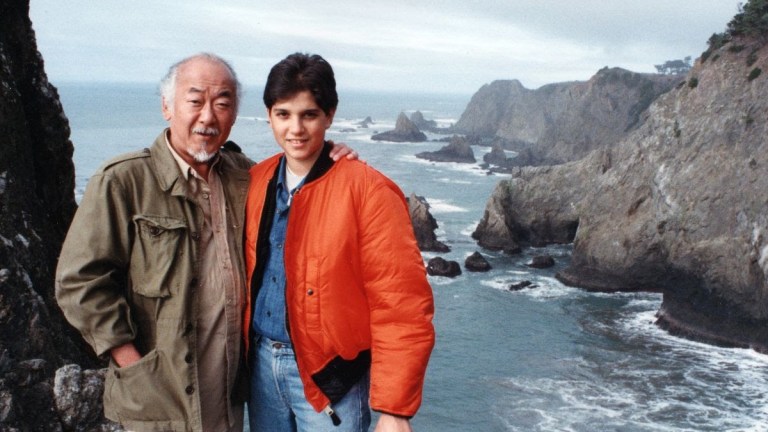 "I didn't really think there were that many people out there who were interested in Mr. Miyagi," Kevin Derek says. "But (it turns out) millions and millions of people are."
Derek is a martial artist, producer, and documentarian, whose latest documentary, More Than Miyagi: The Pat Morita Story, seeks to humanize the man behind some of pop culture's most mythical characters. The timing for such a doc couldn't have been better, but it turns out that was simply good fortune.
"We started shooting this back in 2016, so it was a year before Cobra Kai was even in production," says Derek. "They didn't even know that they were going to shoot Cobra Kai."
Everyone knows Pat Morita from his beloved Oscar-nominated role as Mr. Miyagi in The Karate Kid franchise, and many remember him as Arnold in the hit TV show Happy Days. However, Morita's TV and film career goes all the way back to 1964. IMDb credits him with 175 acting roles. Long before Morita taught Daniel-san (Ralph Macchio) how to crane kick, Morita played a Karate instructor for Bob Hope and Eva Marie Saint in Cancel My Reservation. He also played a wide variety of roles, from cameos as a token Asian in the early years, a stand-up comedian known as 'the Hip Nip,' to dramatic roles like the WWII-based I'll Remember April and Hiroshima: Out of the Ashes.
More Than Miyagi documents Morita's tumultuous life, from being bed-bound by tuberculosis as a child to growing up in a Japanese internment camp during World War II, and through his battles with racism, alcohol, and drugs. Featuring interviews with the casts of The Karate Kid, Happy Days, Morita's widow Evelyn Guerrero, and many other notable celebrities like Tommy Chong and James Hong, More Than Miyagi reveals the Pat Morita we never knew.
This isn't Derek's first venture into the Miyagi world. He's been involved with two previous documentaries. While not directly related, Empty Hand: The Real Karate Kids follows the personal journeys of four real life Karate competitors as they train in hopes of becoming the next national champion. Closer to home is Derek's The Real Miyagi, a documentary about the venerated Karate Sensei Fumio Demura who was the stunt double for Morita in the Karate Kid films. Derek has been practicing Karate since he was nine and was a student of Demura Sensei. Making The Real Miyagi became a stepping stone to More Than Miyagi.
During production Derek met Guerrero over sushi. The director recalls: "She started sharing all these stories about how Pat suffered this, did this, did that, and how his father died in front of his eyes. And that stuck with him, and he had all these demons." A year later when The Real Miyagi came out on Netflix, Guerrero was impressed and moved by it. "That was my chance to ask her if she wants to do a documentary on Pat Morita." Once Derek had her support, Morita's celebrity circle were eager to participate.
Happy Days Are Here Again
For those old enough to remember, Morita broke into American households as Arnold, the owner of the self-titled restaurant that everyone hung out in the popular sitcom Happy Days. Reflecting on that period in Morita's career for the doc are Happy Days cast members Henry Winkler (Fonzie), Anson Williams (Potsie), Don Most (Ralphie), and Marion Ross (Mrs. Cunningham).
"I grew up watching Happy Days," says Derek. "Now I'm sitting right next to the Don Most, and we're doing an interview. It's just weird to me. It's great, I loved it."
Derek says the cast was welcoming and nice, eager to contribute to the legacy of their castmate Morita despite a harrowing story of how his alcoholism spoiled their 30th reunion show. That episode is unflinchingly described in the documentary.
"I knew that he had a drinking issue but I didn't really know how severe the drinking problem was," Derek says.
The cast shares stories of different instances from multiple people about when Morita was intoxicated on the set, but Derek didn't want to dimmish him, saying "I love his character. I love who Pat represents." Derek was selective and picked just that one example to illustrate a significant and grim chapter of Morita's life.
"Alcoholism is just like any other disease. It was more important to me to show all the suffering that he (endured), all the internment camps and the tuberculosis and what he went through, to rise from it and to become this iconic character."
Despite those sad times, Derek says that his interviews with the Happy Days cast were … well, happy. As a longtime fan of the show, interviewing the cast filled him with anticipation, especially for Ross. "I was telling my producer, Oscar Alvarez, 'I hope when we go to her house, she's just like Marion Cunningham. She's going to offer us cookies and lemonade.'"
Sure enough, upon arrival Ross offered the documentarians lemonade and cookies – and with Happy Days-branded napkins, no less.
"It was like basically stepping inside Happy Days and just living this for a couple hours. It was awesome."
Meeting Morita
In contrast to the Marion Cunningham experience, meeting Morita was nothing like stepping into The Karate Kid for Derek. It was more like a transition between Happy Days and The Karate Kid, only the filmmaker didn't realize it at the time.
Derek met Morita in 1983, who he knew from Happy Days, when he was just a teenager. Morita attended his sensei's annual tournament just prior to when The Karate Kid came out. In retrospect, he believes Morita was there researching Miyagi.
"I think he was trying to perfect his accent. Because if you watch him talk, it's very close to how my sensei talks."
Derek has fond memories of Morita taking the time to speak to a teenage fan. "He loved to donate his time to children, to causes that have anything to do with the kids, because he had tuberculosis from ages two to 11, he spent most of his time in a hospital, so he could relate to kids."
The Karate Kid was a huge blockbuster for its time. "That was the only film that I actually waited in line for an hour-and-a-half," recalls Derek. "The line was wrapped around the whole fricking mall for people to watch The Karate Kid."
The film was a particularly big deal for anyone who had a dojo back then. Derek also remembers lines of people trying to sign up for Karate lessons. That chance meeting with Morita nearly forty years ago and the subsequent success of The Karate Kid still amazes Derek.
"I never would have thought that I would be making a documentary on Morita's life."
Cobra Kai Connections
As part of More Than Miyagi, Derek also interviews Morita's castmates from the Karate Kid franchise including Ralph Macchio (Daniel), William Zabka (Johnny), Martin Kove (Kreese), Ron Thomas (Bobby), Pat E. Johnson (the referee and choreographer), Robert Mark Kamen (writer and creator), and Sean Kanen (Mike Barnes).
"They're all such nice people. Zabka is such a nice person, Ralph is so nice. Everyone was so welcoming to this project, and they really wanted to help us out, and I'm thankful for all of them."
Derek believes Morita would've loved Cobra Kai as the show honors Miyagi in so many ways. Throughout his life, Miyagi embraced the role and hoped the character would live on.
"Ralph (Macchio) is doing a great job. He's trying to keep the Miyagi legacy in his Cobra Kai."
During Derek's research, he discovered that Morita completed a script about Miyagi with George Johnson of Rafu Shimpu magazine. "It's about Miyagi's earlier life, where he came from, WWII and all that stuff. So if anyone's interested and wants to hit him up, it's ready to be made."
Some actors feel trapped when an iconic role pigeon-holes their career in a way that they can never escape. Morita managed to succeed in other meaningful roles too, but he will always be remembered as Miyagi. There was something genuine in Miyagi that still resonates in the hearts of fans.
"He was basically Mr. Miyagi," claims Derek. "Whoever I spoke to, they said that. That was him. Everyone says he was such a nice person. If you were down, he would bring you up. The first thing he would say is a joke. Even when he signed an autograph, he would put a little funny message in there. He was basically Mr. Miyagi, I think."
More Than Miyagi: The Pat Morita Story comes to iTunes, Amazon, Vudu, Google Play, DVD and Blu-ray on Feb. 5 2021.