News
Cobra Kai Heads to Netflix, Season 3 Set
Netflix is now the official home of Karate Kid spinoff series Cobra Kai, which recently left YouTube Premium.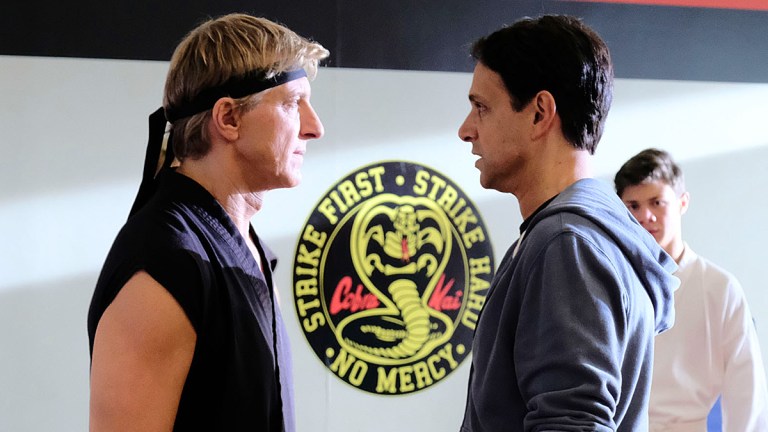 Cobra Kai is heading for a new proving ground tournament of a streaming platform: Netflix!
The streaming giant has officially announced the addition of Cobra Kai to its vast streaming lineup, bringing the buzz-heavy hit series to a platform that's exponentially larger than the show has ever known, prospectively providing the kind of mainstream exposure of which it had been deprived on its previous home of YouTube Premium. Promisingly, the deal, made with production company Sony Pictures Television, sets the premiere of Cobra Kai Season 3 on Netflix for an undisclosed date after the arrival of the show's first two seasons, which will occur sometime this year.
As executive producers Josh Heald, Jon Hurwitz, and Hayden Schlossberg laud of the Netflix migration:
"Making Cobra Kai has been a dream come true for us since day one. We are thankful for the tireless dedication of Jeff Frost, Chris Parnell, Jason Clodfelter, Karen Tatevosian, and all our partners at Sony for finding us a new home where we can not only continue the series, but also explore opportunities to further expand The Karate Kid universe. We are beyond excited to join our new partners at Netflix and look forward to the show reaching the massive global audience who loves this franchise as much as we do."
Cobra Kai's concept as a television sequel to The Karate Kid film franchise of the 1980s is an idea that, at least on paper, seemed destined to become a superficially self-indulgent haven for fan-servicing nostalgia. However, the 2018 debut season took viewers and critics by surprise, achieving a compellingly heartfelt story with the 1984 original film's bully, Johnny Lawrence (William Zabka). His depiction as a troubled man well past his glory days was intrinsically identifiable, especially as he reinvents himself by karate-mentoring bullied teen Miguel (Xolo Maridueña), who ironically bears many similarities to the one he once bullied. Thus, the show's shared focus with movie protagonist Daniel LaRusso (Ralph Macchio)—now the boastful owner of a successful car dealership—somewhat overturns the dynamic of the movie, especially when Daniel begins to mentor Johnny's estranged son, Robby (Tanner Buchanan) in what escalates to a battle of competing karate dojos, all against drama with their respective families. Additionally, the drama was further complicated in Season 2 by the return of the Svengali sensei of the movies, John Kreese (Martin Kove).
The widespread acclaim achieved by Cobra Kai immediately made the series—by default—the undisputed scripted centerpiece for the small lineup of YouTube's paywall-protected platform. However, while the series came into its 2019 second season riding a wave of buzz, the inherent limitations of its hits-deprived streaming platform were abundantly clear, proving that word-of-mouth praise for a single show just wasn't enough to generate subscribers. Indeed, even a 2019 attempt to lure subscribers by briefly offering Cobra Kai outside the YouTube paywall proved insufficient in raising profitability. Thus, the series—after languishing over a year since Season 2's April 24, 2019 premiere—made an abrupt exit this past May from YouTube, which intended to carry the reportedly-completed Season 3, but, in a crucial caveat, opted not to order a fourth season. Thus, bringing all the buzz it had generated on an unwatched platform, Cobra Kai fielded competing offers from high-end platforms, ultimately landing on Netflix.
As Brian Wright, Vice President, Original Series, Netflix chimes:
"The appeal of The Karate Kid saga is timeless, and Cobra Kai picks up right where it left off without missing a beat. The rivalry between Daniel and Johnny is one for the ages, and the show has a ton of heart and is a lot of fun. We can't wait to introduce a new generation of fans to Cobra Kai and are thrilled to be its new home around the world."
Sony has certainly set a bright future for Cobra Kai with this deal, finally allowing the series to break out from its status as a critically-acclaimed underdog series that most people have only heard about. While details about the long-awaited third season remain unconfirmed, the cliffhanger ending for Season 2 teased the return of Oscar nominee Elisabeth Shue as her original film character (and fulcrum to the first film's karate-inciting love triangle), Ali Mills. Additionally, last year's Comic-Con season yielded the reveal that Daniel would return to The Karate Kid: Part II's setting of Okinawa, potentially setting up more role reprisals from that film. Indeed, Netflix has inherited amazing potential with this series acquisition.