Features
Bad Sisters, The A Word… UK TV Shows You May Not Know Were International Remakes
Fans of these popular UK TV shows may be surprised to know they come from Israeli, Swedish, Norwegian, Belgian, Dutch and French originals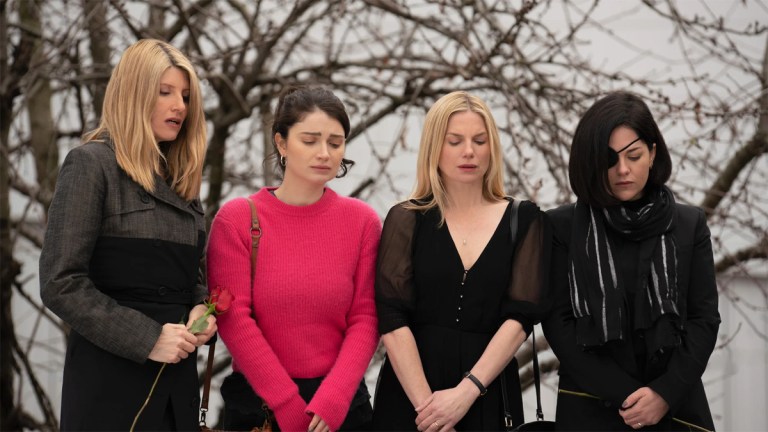 The UK owes many of its proudest creations to other countries. Our national dish is chicken tikka masala, the Romans gave us everything from plumbing to underfloor heating, and let's not even get started on the Royal family.
So it should come as no surprise that some top UK TV shows are based on original series from around the world. Some of these are obvious, like Drag Race UK and Law & Order being imported from the US, or The Masked Singer originating in South Korea, but some UK remakes are less up front about their international origins.
Hullraisers
Lucy Beaumont (one half of the duo behind comedy Meet The Richardsons, alongside her husband Jon Richardson) developed this Hull-based sitcom about the lives of three hilarious, bawdy and chaotic women, which debuted on Channel 4 in spring 2022 and has already been commissioned for a second series. But despite being a gorgeous and all-too-rare depiction of working-class British wit, Hullraisers is actually based on an Israeli sitcom called Little Mom, an award-winning comedy which is now into its fifth series, and has also been adapted for French and Polish audiences.
Bad Sisters
The critically-acclaimed Irish black comedy Bad Sisters – which tells the story of five sisters who find themselves at the centre of an insurance fraud investigation when one of their abusive spouses dies unexpectedly – became one of the most talked about series of 2022. What some people don't know is that Sharon Horgan's Apple TV series is actually an adaptation of Clan, a Flemish series from 2012. The good news is that while Clan only ran for one series, there's a second series of Bad Sisters on the way, so it'll be interesting to see how this Irish comedy evolves beyond its original.
Before We Die
Scott and Bailey's Lesley Sharp starred in Before We Die, the unpredictable crime thriller which aired on Channel 4 in 2021, about a detective whose son becomes an undercover informant in a perilous murder investigation. It's based on a 2017 Swedish drama of the same name, which ran for two series, and despite some lacklustre reviews there's a Series 2 of Before We Die on the way.
The Rising
This chilling supernatural crime drama aired on Sky Max in 2022, and follows a young girl called Neve Kelly who discovers she's dead, and determines to track down her killer and get justice for her murder. The Rising is an adaptation of a 2017 Belgian series called Hotel Beau Séjour, and fans of the UK adaptation will be interested to learn there's potential for the show to return, as the Belgian original also had a second series about a naval officer who has to convince the world his death was not the suicide it appeared.
Temple
There's a great cast including Line of Duty's Daniel Mays behind Temple, Sky's medical crime drama about an underground medical clinic for desperate criminals, which is actually an adaptation of Danish drama Valkyrien (both dramas are named after tube stations, as their illicit medical operations are based in abandoned subway stations). While the original only ran for one series, Temple's premiere in 2019 earned it a second series, which was broadcast back in 2021.
Loaded
Even top comedy talent like Ghosts' stars Jim Howick and Lolly Adefope couldn't save Loaded – a dramedy about four students who become millionaires after developing a hit gaming app – from being cancelled after its first series. The show it's adapted from, Israeli sitcom Mesudarim (which is Israeli slang for 'set for life'), didn't fare much better, running for just two series.
The Traitors
Earning immediate cult status when it debuted on the BBC in 2022, The Traitors is a nail-biting reality TV show where 22 strangers (and one excellent presenter in the form of Claudia Winkelman) converge on a Scottish castle and have to sniff out three designated 'traitors' among them, otherwise any remaining traitors get to run off with up to £125K prize money. It's based on the Dutch series De Verraders. In the original, the contestants were all celebrities, (and the US version had a mix of celebs and regular contestants) but we think the joy of the British series is the authentic magic of members of the public ruthlessly backstabbing each other.
Humans
Channel 4's award-winning sci-fi drama about the effects of introducing life-like robots to society ran for three series from 2015 and had an impressive cast, including Crazy Rich Asians star Gemma Chan, The IT Crowd's Katherine Parkinson, Merlin's Colin Morgan and Rebecca Front (The Thick of It). The Swedish drama it's based on, Real Humans, was similarly well-received, and has a more recent Chinese adaptation as well, also called Humans.
The A Word
BBC's hit drama about the dysfunctional family of a young boy with autism had among its impressive cast ninth Doctor Christopher Eccleston, Inspector George Gently's Lee Ingleby, and Vinette Robinson, who played Rosa Parks in Doctor Who episode 'Rosa'. The A Word ran for three series from 2015, which is one more than the Israeli show it was adapted from, called Yellow Peppers.
Suspect
Channel 4's 2022 crime drama Suspect saw a detective retrace his daughter's final days to solve her murder, and starred The Missing's James Nesbitt alongside Richard E Grant, Ben Miller (Death in Paradise) and Doctor Who's most recent iteration of The Master, Sacha Dhawan. It's based on the Danish series Forhøret, aka Face To Face, which has so far run for three series, with its most recent instalment airing in February 2023.
Suspicion
Apple TV's 2022 thriller Suspicion followed five people who find themselves named as suspects in the kidnapping of a prominent US media mogul's son. While False Flag – the Israeli show it's based on – was well-reviewed, Suspicion got a mixed reception, despite a strong cast including The Big Bang Theory's Kunal Nayyar, It's a Sin's Lydia West and Kill Bill star Uma Thurman.
Countdown
Some of Countdown's most loyal fans might actually spontaneously combust when they discover their beloved 40-year-old Channel 4 quiz show is actually based on a French original, Des chiffres et des lettres. While Countdown – with its popular original presenters Richard Whiteley and Carol Vorderman – first aired in 1982, Des chiffres et des lettres has been on French television since 1965, making it one of the longest-running game shows in the world. Sacré bleu!
University Challenge
It's been a British institution since 1962 – with current presenter Jeremy Paxman becoming so iconic for his ruthless treatment of the student contestants that his replacement from 2023 has huge shoes to fill – but University Challenge was originally a remake of American student quiz show College Bowl. When Granada TV was founded in Manchester, one of its founders, Sidney Bernstein, had seen College Bowl in the States and decided to remake it for British universities. The original US show died out in 1970 (although it was revived in 2021), but University Challenge will surely outlive us all.