Features
Happy Valley's Turkish Remake Never Got the Chance To End
Fans won't ever find out what happened to the Turkish version of Catherine Cawood.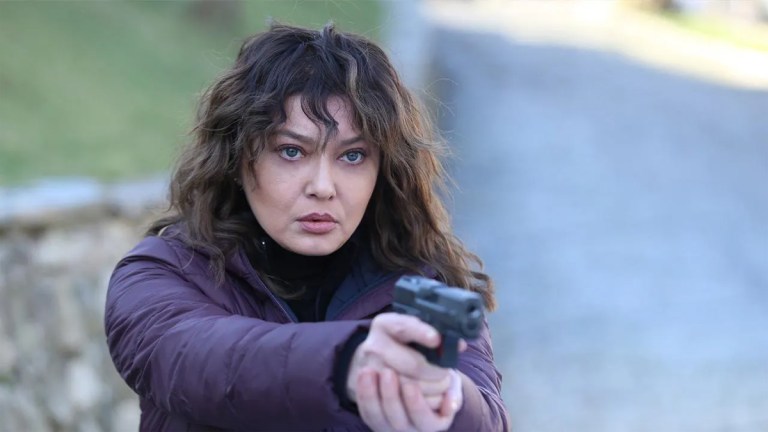 Warning: contains plot details for Happy Valley and Son Nefisme Kadar.
Thank heavens for the BBC. UK fans may be chewing their sofa cushions in anxious anticipation of the Happy Valley finale airing this Sunday at 9 p.m., but at least we're getting a finale. The Turkish remake of Sally Wainwright's excellent drama left viewers hanging when it was unexpectedly cancelled mid-season following poor ratings.
After airing five two-hour instalments between February and March 2022, Turkish channel Fox cut off Son Nefesime Kadar (Until My Last Breath) on a cliff-hanger that left the Turkish Catherine Cawood knocked unconscious, with fans not knowing whether she lives or dies.
The Turkish version of Sgt Cawood in this officially licensed Happy Valley remake is Başkomiser (or superintendent) Mihri Özbayden, played by Nurgül Yesilçay. Like Catherine, she's a police officer who lives with her ex-addict sister, and is raising her grandson after his teenage mother – her daughter – took her own life after being traumatised by her abusive partner. Mihri's marriage didn't survive their daughter's death, and eight years later, her ex-husband Ferzan and son are only just back in her life.
In her final scene, Mihri was investigating a warehouse being used for illegal activity when she was knocked out. She'd gone there on a tip-off from Ferzan, a journalist who owns the local newspaper and who'd been investigating a businessman (and potential love interest for Mihri) for his links with shady Russian gangsters.
The last Turkish viewers saw of Mihri, she was sprawled unconscious on the ground while the businessman removed the magazine from her gun (the Turkish Catherine is armed) and sinisterly fondled a lock of her hair.
Happy Valley viewers will have one question about that scenario: where is the Turkish Tommy Lee Royce, the biological father of Mihri's grandson? Named Edjer, at this point in the remake, he's in prison after kidnapping his estranged eight-year-old son Ryan/Umut. (In this version, he actually pilots the boat and takes Umut to a hotel before Mihri and co. track him down.)
Despite starting with an identical scene to the UK original in which Mihri, like Catherine, attempts to talk down a man threatening to light himself on fire, the series soon departs from the source material. In general, the changes make Son Nefesime Kadar a more generic drama than Happy Valley. Allowing for language differences, it doesn't appear to share the BBC show's sense of humour and generally strikes a much more melodramatic tone. There's a lot of slow-motion staring and intrusive music, as well as multiple flashbacks to Mihri's dead daughter Melisa while she was still alive, and to Edjer's troubled childhood at the hands of his violent stepfather.
The Turkish show seems more emotionally manipulative and less subtle than the original. Instead of hearing about Umut's behavioural problems, we watch his terrified classmates quiver under their desks when he kicks off at school. Just before Edjer brutally runs over Mihri's young police colleague with a van, Mihri takes her for a wedding dress fitting in which she has flashbacks to Melisa – really hammering home connections and feelings that the original series leaves us to draw for ourselves. When Mihri watches a video of Melisa at work she reaches out in slow-motion in tears, and touches the screen. Catherine Cawood would never allow herself to be that vulnerable in front of her colleagues.
As well as the glamour of its Istanbul setting – the Turkish Ann Gallagher (named Hazan) is held hostage in a stunning coastal holiday home with panoramic views rather than a dingy caravan – the Turkish cast are a glossier bunch all-round. Mihri's sister Emel shares Clare's taste for rock-chick hair and bohemian knitwear, but is more FHM than M&S (here's the actor's IMDb profile for an idea), and there's more than one surgically enhanced pout in the ensemble. It's not bad, just different. Instead of big mugs of tea, it's tiny cups of coffee. Instead of stews and tasers, it's olives and guns. The intensity being dialled up at all times feels as though it detracts from the desired effect – it's less tense because it's never relaxed.
Though it was pulled from the schedules before it could reach its end, are there any clues to draw from the Turkish remake as to how the UK series could end? Perhaps, at a stretch, one.
Speaking to Variety ahead of Series 3, creator Sally Wainwright said that initially she "couldn't decide whether to be optimistic or pessimistic about life," in the finale but after wrestling with it, she "made a clear decision on which way to go." Might her decision have had a bearing on the name that the licensed Turkish version of Happy Valley chose for its Ryan? The English translation of 'Umut'? Hope.
See all five episodes of Son Nefesime Kadar on YouTube here.
Happy Valley concludes on Sunday the 5th of February at 9pm on BBC One. Series 3 will air on AMC+ in May 2023 in the US.