Reviews
1923 Episode 6 Review: One Ocean Closer to Destiny
Spencer and Alexandra hang on for dear life, as the sharks begin to circle both literally and metaphorically for the Dutton family.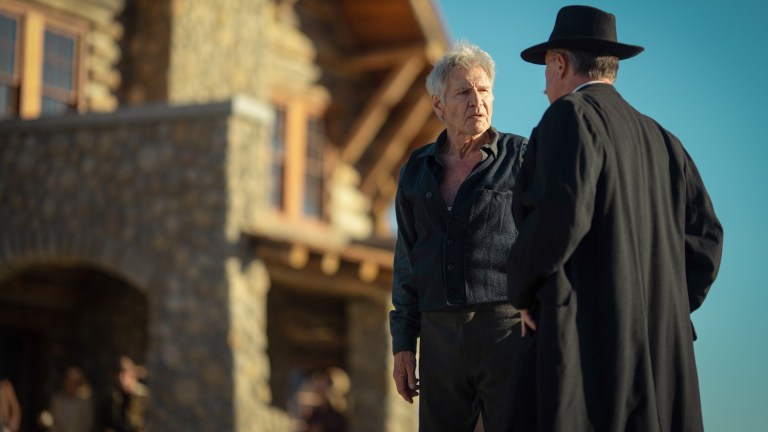 This review contains spoilers for 1923.
1923 Episode 6
Even the most steadfast, diehard Taylor Sheridan fan must admit, that as much of a creative force he has been in the past five years, at times, it can feel as if he is spreading himself too thin.
That was the feeling last episode of 1923 mustered. It was by no means a poor episode, rarely does he write those, but it certainly felt like a long episode. Much like season 5 of Yellowstone felt in the first half of the season, there are so many moments that feel as if the audience is just… oh… say… sitting on top of a lifeboat in the middle of an endless ocean awaiting for the rapture of rescue or some sort of sweet release. 
You'll have to forgive the rather ham-fisted segue to this week's episode "One Ocean Closer to Destiny" because recently, this has been a major issue with Sheridan's writing. Yet, as soon as one can sense any moment of boredom, he almost always reminds you why you tune in week in and week out.
While last week's episode felt akin to the Lord of the Rings trilogy if you cut out all the fight scenes, fantasy elements and interpersonal relationships between beloved characters. Basically all journey, no destination. Sheridan in "One Ocean Closer to Destiny" returns to what has made him that creative force – human connection. 
At this late point in the premiere season of 1923, we're essentially following three stories of struggle and survival. There's Teonna Rainwater (Aminah Nieves) escaping the brutality of the Residential School where she was imprisoned. Meanwhile the Duttons, still trying to build the Yellowstone ranch in Montana, are dropping like flies due to the inescapable violence that follows the family, while halfway around the world chosen son, Spencer (Brandon Sklenar) and his bride Alexandra (Julia Schlaepfer) are on a harrowing journey back to the States to be the young savior and new leader the family needs.
"One Ocean Closer to Destiny" is one of the best balanced episodes Sheridan has ever written, because for the first time, perhaps all season, he delves into each of these storylines with such a deft yet critical touch. Teonna's story opens the episode, where we rejoin Teonna and the gentle Samaritan, Hank (Michael Greyeyes) who are ready to take on perhaps the last chapter of their journey. We know this last part of the trip is undoubtedly going to be the most challenging, as we're introduced to a new character, Marshall Kent (Jamie McShane fresh off his success off another television megahit, Wednesday). Kent yet another rage-filled white man who's contempt for Teonna's crimes boils to the surface, accidentally kills Teonna's grandmother when he shoves her aside. 
That sense of balance comes into play as Kent is a fairly melodramatic villain, something fans of Sheridan's writing have come to accept. These antagonists are never small, and Kent's introduction, while perhaps a little too "mustache twirling" in terms of villainy, raises the stakes. Teonna's subplot has always been the most powerful of this premiere season, and with this rogue Marshall on her tail, it seems it's going to have a powerful conclusion as well.
Last week's cliffhanger was answered fairly quickly, as the audience finds out they no longer have to fear if Spencer and Alexandra survived a shipwreck. Spencer immediately jumps into action, swimming under the capsized tugboat and leads his panicked bride up to the surface, but not before swimming back under to get supplies needed for their survival.
Once again within this subplot, Sheridan proves why he is a master of balancing. Alex has often been an almost noose-like tether around Spencer's neck. While the danger that has befallen the passionate lovebirds is not her fault, she has shown time and time again she is not truly ready for this kind of adventure. It is easy to worry about Alex, easy to worry she may not make it nor does she possess the strength to live in the Dutton's world.
Before Spencer swims back under the ship to get those supplies, he tells Alex to stick to the middle of the hull, and ensure she doesn't get close to the edge. She doesn't listen, naturally, so when Spencer surfaces, Alex is quickly being swept away by the current into shark-infested waters. Spencer saves her, (also naturally), but the moment was so infuriating as it is not the first time Alexandra's character has caused more panic than necessary. Granted, it proves Spencer is the beefy hero we all want him to be, filling the Indiana Jones-like costume he wears with overflowing heroism, but Alex at times can seem like a nuisance.
Yet, no sooner does her character make an eye-rolling decision, than Sheridan presents us with one of the most tender moments ever injected into one of his shows. Balance.
Kelsey Asbille, who plays Monica on Yellowstone once called Sheridan "a romantic" and in this week's episode, it is not difficult to see why. Spencer and Alex are miraculously saved, and when aboard the English steamer that saved them, they are invited into the Captain's quarters where they share a drink with him. While there, as they recap their traumatic near-death experience, Spencer takes a quiet moment (as most Dutton men do) to reflect upon the important things in life, and asks Captain Shipley (guest star Joseph Mawl) to marry the two young lovers as soon as possible. Shipley finds a box of rings – rings that once belonged to now fallen sailors so that Alex and Spencer may make it as official as possible. 
In a beautiful bit of Sheridan poetry, Spencer reassures his beloved that it isn't morbid, because the sea tried to claim their lives, and now the sea gives to their love. This small sequence was one of the most genuine and well-acted scenes in the show so far. It is touching, it is real, and the performances of all three actors is a soft spoken masterclass. Mawl's calming English lilt also draws you in tacitly like the tide, and you can't help but get caught up in the romance, especially when he offers Alex his wife's ring so that she may have one that fits.
The subplot regarding Cara's recruitment of a small army of live-stock agents is perhaps the only superfluous part of the episode, but much like Teonna's story, it is so well-balanced that it was simply a taste of things to come before moving on to more memorable moments. One of the men Cara recruited seemed oddly suspicious, and will cause perhaps another moment of tragedy to strike, but that is for the future.
When Cara returns to the ranch, Mirren and Ford put on an absolute clinic when it comes to the often unspoken partnership that comes with marriage. For the first time, it feels as if these two icons finally got a chance to work together, and it was absolutely magical. It is very much believable that these two have been married for decades, and that their love is true, and that is yet another strength of the Yellowstone universe. So many couples within the Dutton legacy are couples you can easily cheer for, and it is because their love, respect, and oftentimes, passion is palpable.
With that, cue the balance once more, this time within Jacob's character. That Dutton passion runs deep, and often that means their temper boils over as well. In order to protect Jacob, Cara informs Sheriff McDowell (Robert Patrick) of the shoot-out between the Duttons and Creighton (Jerome Flynn). McDowell promises Jake that he will bring Creighton in for the crime, but as we all know by now, that isn't the kind of justice Dutton men want.
Ford's range is really exhibited in this episode. The tenderness he shows one moment, or vulnerability in the next, his surly anger the next after that – it was almost as if he knew how thoroughly Mirren had been running this show, and felt he had to start evening the playing field.
And Sheridan proved that he is still capable of the ardent and fervent moments of character building that has made him one of the biggest names in television today.  It can be argued that perhaps the great sense of balance that he displayed in this week's episode is needed a little more often, but with his insanely busy schedule and growing portfolio of television titles to his name, perhaps the lesser episodes prove, he may be balancing too many shows. At least this week, he clearly found the time to invest in 1923, and hopefully that trend continues through the last two episodes. 
New episodes of 1923 premiere Sundays on Paramount+ in the U.S. and the day after in the U.K.