Reviews
1923 Episode 5 Review: Ghost of Zebrina
1923 returns with a major Yellowstone reveal and plenty of tragedy.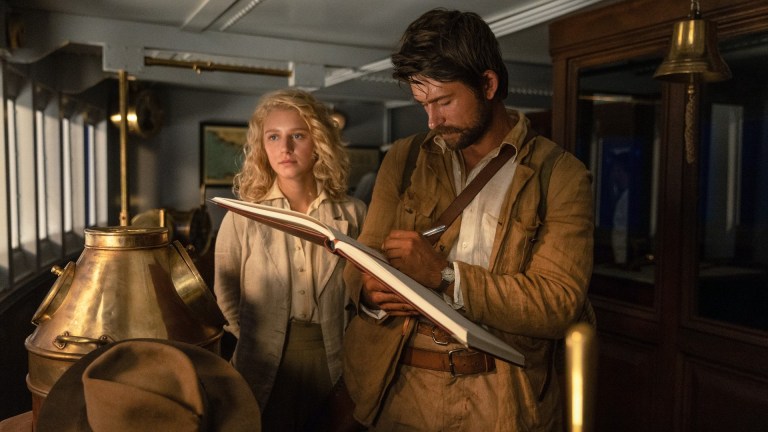 This 1923 review contains spoilers for the episode and the Yellowstone universe at large.
1923 Episode 5
To become one of the more prolific television writers in the modern age, one must have your proverbial finger on the pulse of your audience.
Taylor Sheridan, Paramount's country-fed celebutante, has been able to tap into something with his rabid audience that transcends political affiliation, gender, and age, and he's been able to do it consistently for the better part of half a decade. The longevity of his empire is certainly one of the more impressive aspects, as he expands not only the Yellowstone universe, but his impressive catalog of shows, and he's able to do so, because he seemingly knows how his audience is feeling.
Perhaps, however, he's mirroring that a little too much. After a short hiatus, the second prequel in the aforementioned Dutton-saga, 1923 returned with "Ghost of Zebrina." The show's return was certainly heavily anticipated within the fan community, as fans of Yellowstone still have to wait until this summer to conclude the contemporary placeholder's fifth season, and perhaps Sheridan could sense the restlessness. Granted, he probably wrote the episode months ago, but he could still predict this long, drawn out, overwhelming energy of anticipation.
So he made audiences anticipate… just a little more.
The episode opens with a little bit of a recap from the spirit of Elsa Dutton (Isabel May), spelling out how broken the family in Montana has been since Creighton (Jerome Flynn) gunned down John (James Badge Dale) and Jacob (Harrison Ford), there was one word that rang a little too true. Elsa describes the purgatory-like melancholy the Duttons feel as a "tedium of healing." Tedium being the key word. 
There was a sense, or perhaps a naive hope that "Ghost of Zebrina" would be an episode that forever changed the face of the Dutton history almost immediately. Emma (Mary Shelton), having lost her husband John in the attack, is feeling that emotional purgatory more than anyone else. The emptiness of her existence, despite still having her son Jack (Darren Mann), is too much to bear and she tragically ends her life. Knowing how Sheridan has often heaped tragedy upon tragedy in some of his other shows, it felt that this shocking death, in the first five minutes of the episode, was merely a prelude to the darkness that was just around the corner.

Nothing could be further from the truth.
The real tragedy is Emma's death was swept aside so quickly, it almost didn't matter. It seemed downright insensitive, in fact. When Sheridan had dealt with a similar situation in 1883, when Claire Dutton (Dawn Olivieri) also took her own life, it held a little more gravitas. Sheridan even had another character speak of the fortitude it took for Claire to commit suicide, that no one should call her a coward for doing what she did, but with Emma's death, not even her son shed a tear. Instead of dealing with yet another tragedy, 1923 simply proceeded to that aforementioned tedium.
It is also not lost on this writer that with "Ghost of Zebrina" being the longest episode so far, should provide more content to write about, but ironically, that's not the case. The episode was the model of a story where a lot occurs, but nothing really happens.
Most of the story is the globetrotting journey of Spencer (Brandon Sklenar) and his new bride Alexandra (Julia Schlaepfer) as Spencer tries to fulfill his role as golden-boy. If Spencer can make it home in time, he could easily be the savior the Duttons need. Coincidentally, when Sklenar spoke to Den of Geek, he hinted that once the show returned after hiatus, things "definitely don't slow down", but again, that simply wasn't the case.

Spencer and Alex's storyline has been one of fiery and often melodramatic passion, but "Ghost of Zebrina" broke that streak. For the majority of the episode the couple simply make travel arrangements to get back to the States as soon as possible. They try several options. They speak to several different one-off characters. They weigh those options. They speak to other characters. One might be able to respect the historical accuracy of global travel in the 1920's, but it certainly does not make for the most interesting viewing.  
As harsh as that criticism may seem, the subplot is not completely bereft of intrigue. Peter Stormare makes an amazing cameo as the grizzled Captain of the tugboat that will eventually get Spencer and Alex to a port where their options will open up. While the small fellowship is journeying across the pitch black waters, he even spins a sea-soaked yarn of the ghost ships that inhabit the ocean. These ships roam the waters like blind behemoths, often coming out of nowhere and claiming the lives of smaller vessels if those boats aren't paying. It is enough of a salt-crusted anecdote performed by an iconic character actor to break up the otherwise flavorless expedition so far.
Arguably, the most intriguing story thread is that of Teonna (Aminah Nieves) escaping the horrors of the Residential school that kidnapped her and other indigenous children. The bloody aftermath of her rage is quite a sight to see. When audiences last saw her, she was asphyxiating the brutal Sister Alice (Kerry O'Malley), returning only a small portion of the brutality she suffered. 
As the school discovers the bodies Teonna left behind, the barbarous Father Renaud (Sebastian Roché) sends a party after her to catch her and bring her back to the school. Since he cannot unleash his anger on Teonna himself, the bloody priest beats Teonna's cousin, Baapucti (Leenah Robinson) showing no end to his savagery. Roché's performance, as brief as it may be, is one of the highlights of the early episodes of 1923, alongside O'Malley's reign of brutal discipline. The two actors, as well as Sheridan's writing have created two antagonists of the most vile manner, and they can certainly elicit red-eyed fury out of any audience member. 
Teonna's story of survival gives the audience some hope, as after a sleepless night fending off wolves, Teonna wakes to a friendly face. An indigenous shepherd, Hank (Michael Greyeyes) sees the poor girl, lost and afraid and listens to her story. Teonna even shares that she is a Rain-Water, undoubtedly an ancestor to Yellowstone's Thomas Rainwater (Gil Birmingham). Funnily enough, this was yet another moment that could have had some gravitas to it, as the reveal of her name should have had an impact. If it were, in fact, a surprise.
The irony being that Paramount was trying to keep this reveal a secret (even at one point kindly asking Den of Geek to not reveal the character's full name). What Paramount seemingly forgot, is that they themselves had this information in one of the trailers they released before the show even aired. As humorous as that situation was, it does not lessen the impact of Teonna's storyline, or the history Sheridan is trying to teach his viewers. In fact, the inclusion of Hank sternly warning Teonna that escaping to Canada is not an option, as Canada is "even worse" hit home hard (literally) for this Canadian writer. These are definitely moments in the dark history of this continent that should never be forgotten.
Sadly, many moments of "Ghost of Zebrina" will be forgotten. Timothy Dalton gets a little more screen time as the snake-like Whitfield, but so far, he's more of a caricature, spouting venomous charm more than genuine danger. The character will undoubtedly be the major antagonist of this season, but so far, he's been a waste. The episode contains moments of tension, moments of sweetness, moments of loss, but they are just mere moments.
There are seeds planted for the final three episodes this season, including the cliffhanger of Spencer and Alex's fate, but if "Ghost of Zebrina" is in fact a watery grave for the young couple, that too would merely be a waste. Jack and Elizabeth (Michelle Randolph) are pregnant which gives the family, and the audience a little hope, but the majority of the episode is written in a series of riddles and parables.
Much like the occasionally floundering fifth season of Yellowstone, hopes were high for this anticipated return, but instead, it listlessly drifts like the title ghost ship. Anticipation is at an all time high. The audience wants Spencer to return. They want the family to thrive. But after weeks waiting for the return of the show, and the promise of not slowing down, "Ghost of Zebrina" was much like Spencer and Alex's travel plans – a disappointing slap of reality that simply reminds us, we do not control the narrative.
New episodes of 1923 premiere Sundays on Paramount+ in the U.S. and the day after in the U.K.