Features
Where to Watch Chadwick Boseman Movies
Chadwick Boseman's short but impressive filmography is almost all at your fingertips.
The late Chadwick Boseman made just 15 films before his shocking, devastating death last week from colon cancer. But many of those 15 movies (one, Ma Rainey's Black Bottom, is coming soon from Netflix) had already left an undeniable and in some cases massive impact on cinema, even before becoming the permanent legacy of an incredible actor taken from us far too soon.
Not only did his portrayal of King T'Challa in Marvel's Black Panther and three other Marvel Cinematic Universe entries change film history itself, but he brought some of the most important figures in both Black and American culture to the screen. Jackie Robinson and Thurgood Marshall were American heroes of gigantic stature, and Boseman managed to introduce them to new generations of viewers through his sensitive, complex portrayals.
By all accounts, Chadwick Boseman wanted each of his roles to mean something. He wanted to tell the story of Black history and push that story forward every time he stepped in front of a camera. While so much of his filmography achieved that, there was clearly much more than this gifted artist was going to give us had he lived. You can see his power, his decency, his dignity and his charisma in every frame of the work we have, and fortunately it's almost all available to us. Sadly, it will have to be enough.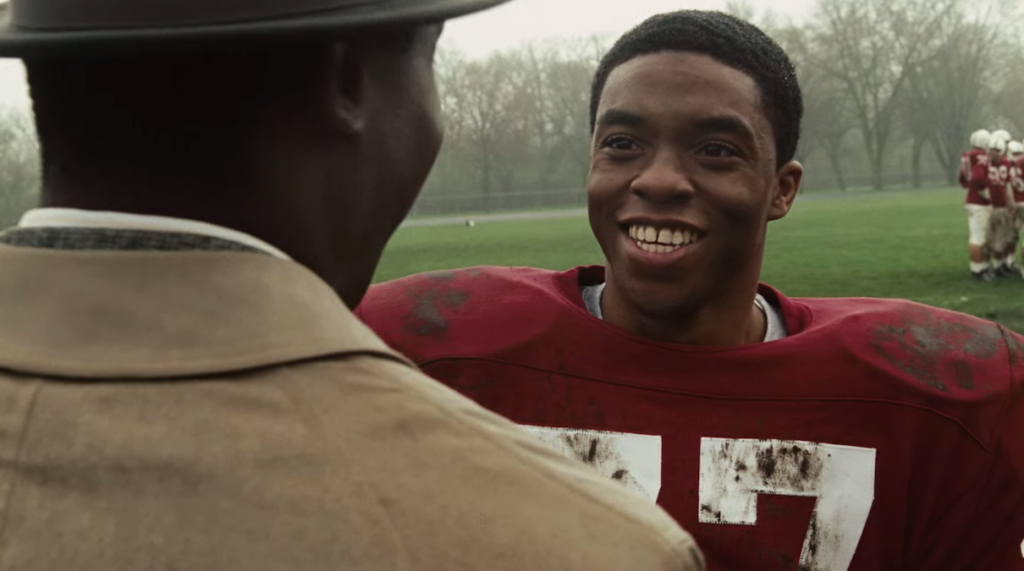 The Express: The Ernie Davis Story (2008)
Chadwick Boseman had appeared on a handful of TV programs before landing his first role in a theatrical feature. While his role as a young version of real life Pro Football Hall of Famer Floyd Little was relatively minor, it did presage Boseman's star turns in later sports movies like 42 and the fictional Draft Day. As for The Express itself, the story of Ernie Davis — the first African-American to win the Heisman Trophy — was sadly a box office disappointment despite good reviews, but might be rediscovered now.
Available on Amazon
The Kill Hole (2012)
It was four years before Boseman showed up on the big screen again, in a military thriller with Peter Greene and Billy Zane. It's significant because it's Boseman's first lead role in a film: he plays Lt. Samuel Drake, an ex-Marine suffering from PTSD who is tasked by intelligence operatives to track down and kill another Iraq vet who's gone off the deep end. The low-budget entry only holds a 25% score on Rotten Tomatoes, but completists may want to see what Boseman was doing before he landed his breakout gig.
Available on Amazon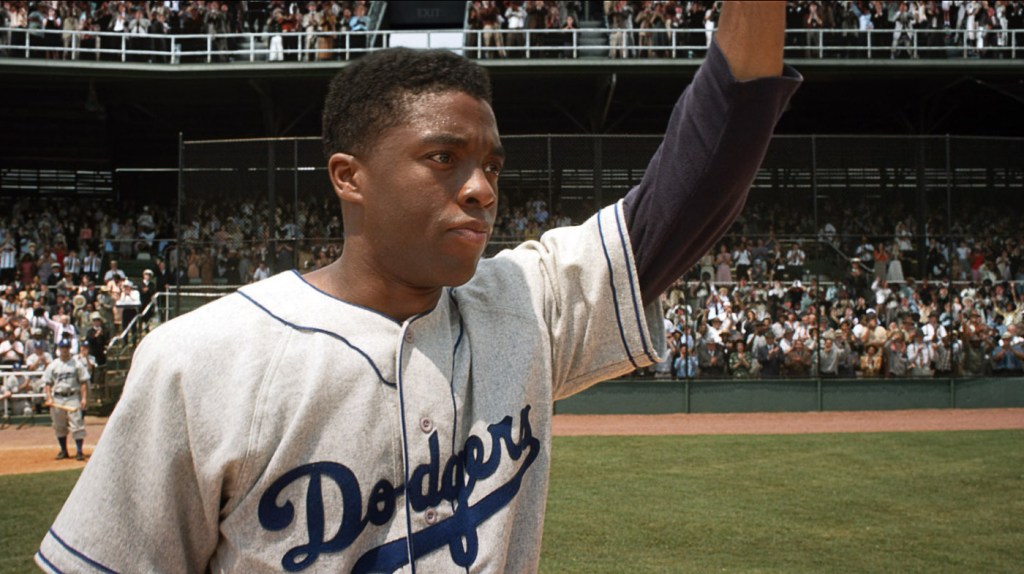 42 (2013)
The film that first got Boseman the attention he deserved as a major upcoming talent is only the second theatrical feature (after 1950's The Jackie Robinson Story, which starred Robinson himself) to tell the historic story of the first African-American baseball player to make it to the major leagues.
Boseman is full of strength, presence and grace, and he plays beautifully off Harrison Ford as Brooklyn Dodgers owner Branch Rickey in one of that actor's best latter-day performances. An inspirational, moving film.
Available on Amazon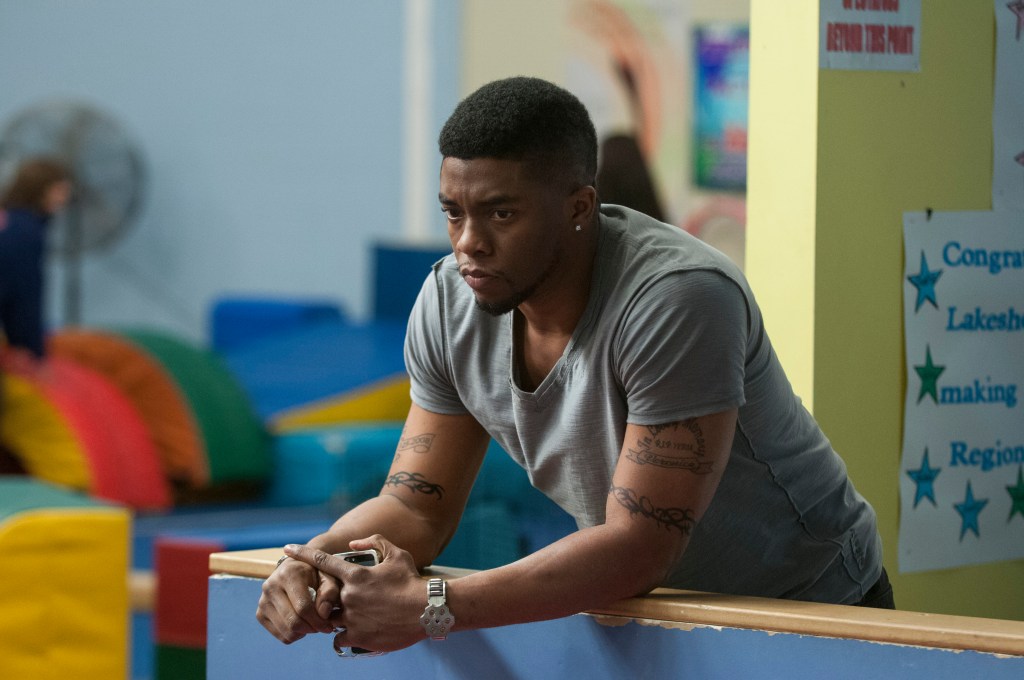 Draft Day (2014)
Boseman followed up 42 with another sports drama, this time a fictional tale of how Cleveland Browns general manager Sonny Weaver (Kevin Costner) makes an unexpected first draft pick in linebacker Vontae Mack (Boseman) and must deal with the aftermath of that. Boseman's role is a supporting one here and he's fine in it, while the film itself may be enjoyable for NFL fans but a bit confusing for general viewers. There was better to come in 2014 from the actor.
Available on Amazon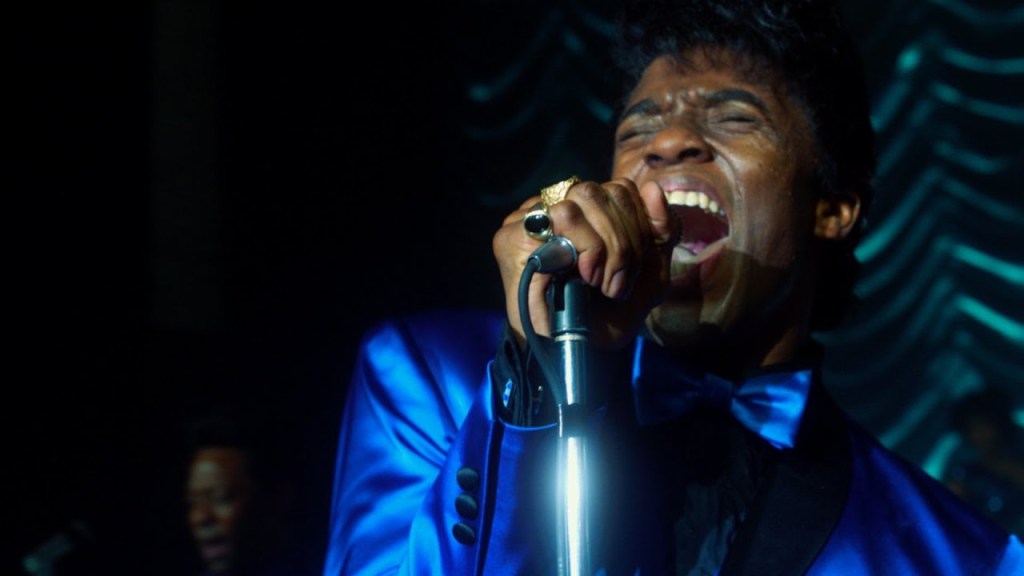 Get on Up (2014)
Boseman lights up the screen in this biopic of the legendary James Brown, doing all his own dancing and even some singing as the Godfather of Soul. The movie itself, directed by Tate Taylor (The Help) is not perfect, playing with different narrative structures and omitting a number of incidents from Brown's life. But the main attraction is once again Boseman, who doesn't so much imitate Brown as inhabit his wild, untamed, often troubled spirit.
Available on HBO Max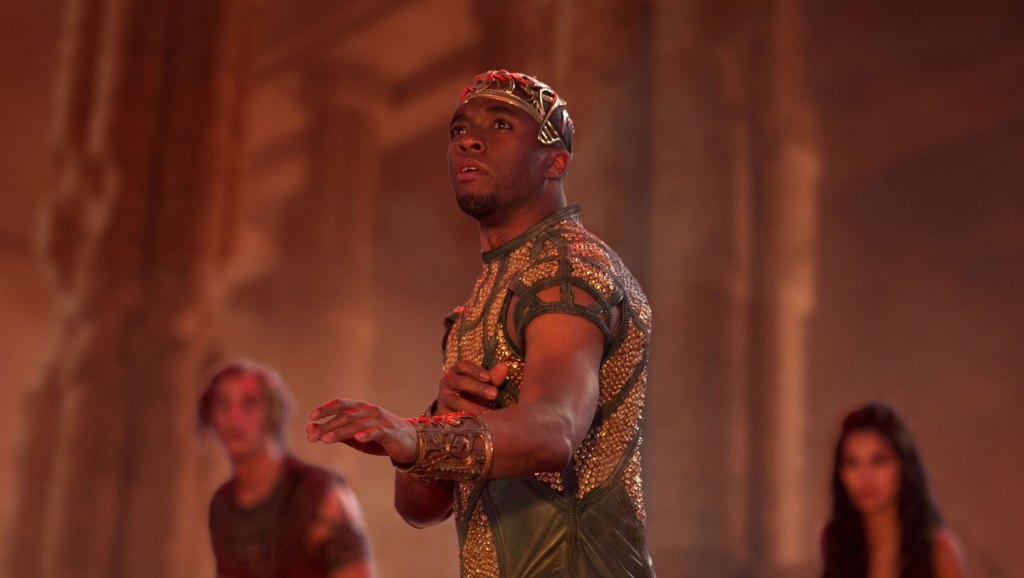 Gods of Egypt (2016)
This half-baked fantasy saga set in ancient Egypt is probably among the low points of Boseman's career, not the least because of the whitewashing controversy surrounding some of the casting. Boseman himself took the role of Thoth, the Egyptian god of wisdom, to make sure there was a person of African descent in the mix, but even his usual dignity can't save this CG-addled mess.
Available on Amazon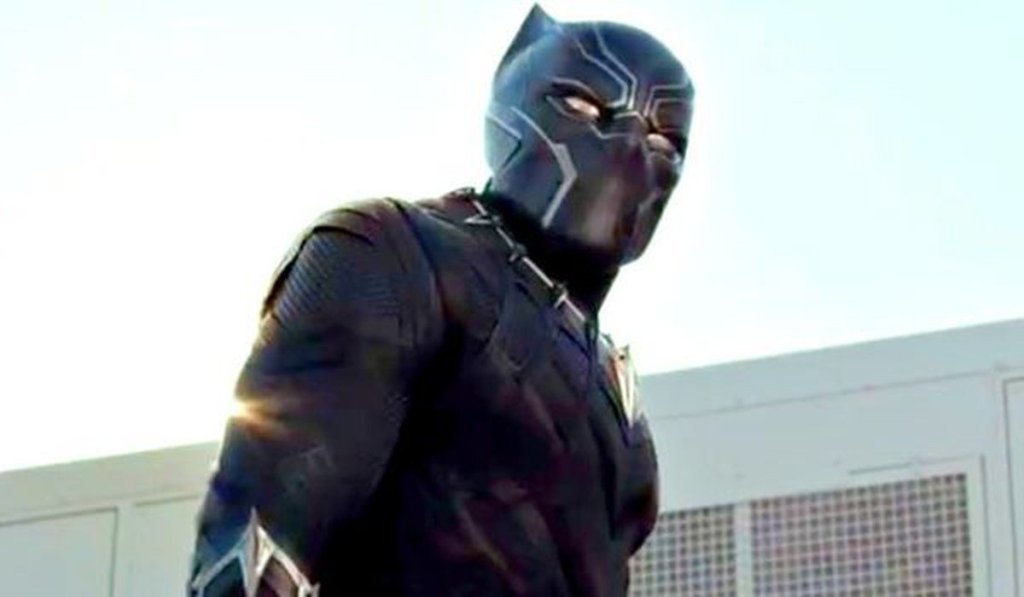 Captain America: Civil War (2016)
When Marvel revealed Boseman as the man who would play T'Challa/Black Panther at a 2014 fan event, it seemed like the most natural pick in the world. And it proved to be right off the bat: Boseman's introduction in the role in Civil War was electrifying, with the actor showing off not only his action chops but the regality and force of personality necessary to play the young king of the Afro-futuristic nation of Wakanda. His turn in Civil War only whetted the fans' appetites for what was to come.
Available on Disney+
Message from the King (2016)
Jacob King (Boseman) travels from Cape Town, South Africa to Los Angeles to find out what happened to his sister, ultimately embarking on a mission to avenge her death against a seedy backdrop of gangs, politics and depraved Hollywood producers. Boseman was also an executive producer on the project, which was directed by Belgian filmmaker Fabrice Du Welz, who made the brutal Calvaire in 2004.
Available on Netflix
Marshall (2017)
Boseman's last portrayal of a major Black figure in American history was underseen at the time of its release and will hopefully get some revived attention now (albeit under terrible circumstances). Director Reginald Hudlin and writers Jacob and Michael Koskoff focus on the early years of the first African-American to sit on the Supreme Court, and while that unfortunately leaves out some of his titanic later accomplishments, the movie is still a gripping courtroom drama that shows a giant in the making.
Available on: Amazon
Black Panther (2018)
What can be said about Black Panther that hasn't already been said? Thrilling, game-changing, and historic, the first superhero film not just led by a person of color but steeped wholly in African culture was a magnificent achievement in nearly every way. You can feel the passion from director Ryan Coogler in every frame, and a dazzling cast is led powerfully by its King, who embodies T'Challa in such a wholly formed way that he will always be associated with the character.
Available on Disney+
Avengers: Infinity War (2018)
With so many characters to juggle in Marvel's all-in clash against Thanos, it was inevitable that some got less to do than others. T'Challa plays a key role in corralling Wakanda's armies to stand against the Mad Titan in the latter half of the film, and Boseman again brings a formidable presence even with less to do. Yet it's no accident that some of the loudest gasps in the audience came when T'Challa was dusted at the end of the film — only hammering home just what an impact he had already made on the MCU.
Available on Disney+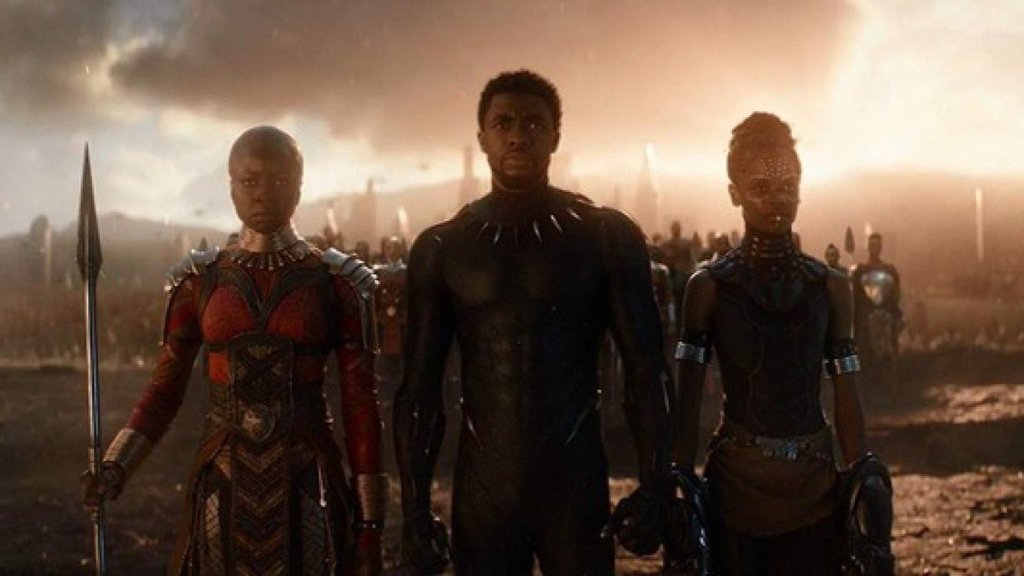 Avengers: Endgame (2019)
With most of the Avengers and their allies dematerialized until the closing sequences of the movie, T'Challa is not much of a factor in the events of Endgame. But as with the audience reaction to his dusting in Infinity War, the response when he, Shuri (Letitia Wright) and Okoye (Danai Gurira) are the first to emerge from a portal to join the final fight remains a high point of seeing Endgame with an audience. It is beyond sad that we'll never get to see Boseman in the role again.
Available on Disney+
21 Bridges (2019)
A good cast and interesting premise — Boseman plays a detective who shuts down all 21 bridges on and off the island of Manhattan to catch two cop-killers — can't save this film from being just average. Boseman is unfortunately given little to work with in terms of his character. The movie boasts a handful of striking action and chase sequences, but ultimately ends up as a rather generic thriller.
Available on Amazon (coming to Showtime Sept. 5)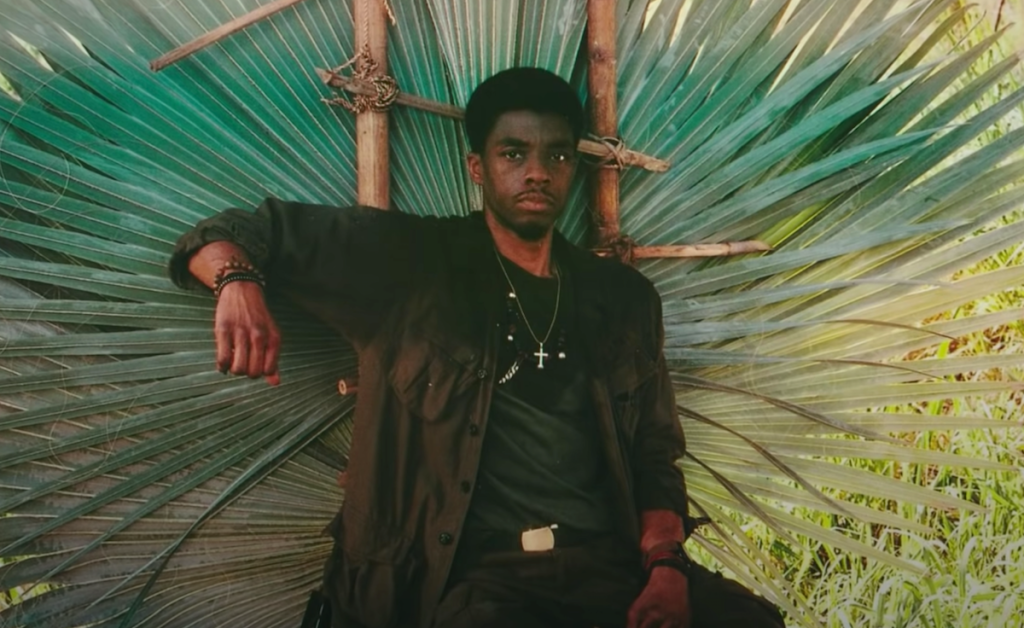 Da 5 Bloods (2020)
Boseman's Norman Earl "Stormin' Norm" Holloway is only seen leading his squadron in Viet Nam during flashbacks in Spike Lee's messy but often brilliant war drama. But his presence is the linchpin on which this powerful, poignant story rests, as the surviving members of that squad head back to the country decades later to find Holloway's remains (and a buried stash of gold). This searing commentary on war through the filter of the Black experience is likely to be a major Oscar contender.
Available on Netflix