Features
Black Panther: Complete Marvel Universe Easter Eggs and Comic Reference Guide
We're tracking down every Marvel reference and easter egg we can find in the Black Panther movie.
Marvel's historic big screen adaptation of Black Panther is true to the spirit of the Stan Lee and Jack Kirby's creation, but draws heavy inspiration from creators like Christopher Priest, Reginald Hudlin, Mark Texiera, Ta-Nehisi Coates, John Romita, Brian Stelfreeze, Trevor Hairsine, and others. Black Panther's Marvel Universe history stretches back over 50 years, and the movie does his legacy justice in ways big and small. Oh, and it earned itself a place in history as the first superhero movie to ever land a Best Picture nomination at the Oscars.
So here's how this works. We've compiled everything we could find on our first viewing. There's bound to be stuff we missed. So if you spot something, drop it in the comments, or hit us up on Twitter, and if it checks out, we'll add it to the guide with some additional context!
When Does Black Panther Take Place in the Marvel Timeline?
One quick note about when Black Panther takes place. For quite some time it felt like the Marvel movies were basically operating on a timeline along when they were actually released. That's no longer the case. The events of Black Panther seem to take place about a week after the events of Captain America: Civil War, which would put it before the events of Spider-Man: Homecoming (which was released in 2017) and Doctor Strange (which was released in 2016). Don't think about it too hard, as you'll get a headache.
– Black Panther first appeared in Fantastic Four #52 by Stan Lee and Jack Kirby. Panther's debut came right in the sweet spot of what is absolutely the pinnacle of the Lee/Kirby collaboration on that book, and he was by far the most high profile black comic book character ever created at the time. T'Challa has since become an essential piece of greater Marvel mythology, and we wrote more about some of the amazing work Jack Kirby did with the character right here.
– The "heart-shaped herb" is right out of the comics, too. What's interesting to me is how heavily they lean on the "Black Panther communing with the dead" element in the process of this transformation. During Jonathan Hickman's time as Fantastic Four (and later Avengers) writer, they really went hard on the idea that Black Panther isn't just king of the living in Wakanda, he's also the king of the realm of the dead. So all those trips to the ancestral plane (and how Killmonger seemingly rejected that entire element of the responsibility of that role) seem to fit in with this. They make reference to Bast throughout the movie, generally known as an Egyptian god, but one who has a place in the Panther legacy, and who decreed that Black Panthers also rule the dead of Wakanda.
read more: The Black Panther Movie That Never Was
– The title of Black Panther is one that is passed down, and we met T'Challa's father, T'Chaka in Captain America: Civil War. Interestingly enough, while T'Challa did indeed don the mantle of Black Panther in that movie, he wasn't officially THE Black Panther until what we see in this movie.
– T'Challa makes the choice between the gold or white necklace, but throughout his comics career, he has worn both.
What is Vibranium?
Black Panther's suit is made of woven vibranium, an incredibly strong, valuable metal found only in a meteor that crashed in Wakanda a long time ago. Wakanda is the only source of vibranium on Earth, and it's the source of their tremendous technological advancements.
That whole Wakandan creation myth we get at the beginning of the movie touches on the extraterrestrial element of vibranium's origin, which is a nice touch.
Interestingly enough, in the comics, Captain America's shield is made of an adamantium/vibranium alloy, which helps make it so durable. The fact that Cap got some new gear from T'Challa in Avengers: Infinity War feels like a nod to that.
What About Wakanda?
Please let us know if we have any of this wrong. The five tribes of Wakanda they talk about in the intro sequence seem to be more in line with how the comics laid out the five religions of the region (there are 18 total tribes out there). Anyway, I say this because one of the nations they mention is the Jabari, who are, of course, M'Baku's White Gorilla army.
– The visuals seem to draw strong influence from Ta-Nehisi Coates' time as writer on Black Panther (which have set the status quo for Wakanda in the rest of the Marvel Universe).
– Coates has spent a lot of time delving into Wakandan geography and society. It's a hyper-advanced, with diverse cultures and a deep connection to the geography. It's also generally hidden from the rest of the world, something we saw in the post-credits scene in Civil War.
– Let's not forget that the Panther and his world have the great Jack Kirby's fingerprints all over them. You can see hints of Kirby's love of insanely hi-tech designs in everything from the engines of the Wakandan aircraft to the tech on display in the hospitals. There's a pretty cool looking "black light poster" in the infirmary that faintly reminds me of work Kirby did in the '70s, as well.
– According to Vulture (and with a hat tip to Marshall Hopkins for pointing it out), the Wakandan language in the movie is Xhosa, "a Bantu language spoken in South Africa." Expect interest in Xhosa courses to skyrocket.
They nailed so much of the look of Wakanda and Black Panther's world here, it's incredible, particularly with Angela Bassett as Ramonda, T'Challa's stepmother and Queen Mother of Wakanda. She looks like Brian Stelfreeze drew her. Ramonda married T'Chaka (T'Challa's father) after N'Yami passed away in childbirth. Her relationship with T'Challa as he grew into the Black Panther role is being examined in the excellent Rise of the Black Panther.
Who is Shuri?
T'Challa's sister (and eventual Black Panther herself) was created by Reggie Hudlin and John Romita, Jr. in 2005, became Panther in 2009, and has had quite a ride all in all. In the comics, she died at the hands of Proxima Midnight and the Cabal in the lead up to Secret Wars. Her spirit then migrated to the Djalia, the collective plane of memory for all of Wakanda, and T'Challa went in after her in the pages of the current Black Pantherongoing.
– Also…was Shuri making a Back to the Future II self-lacing sneakers joke when she talked about the old American movies their father watched in relation to T'Challa's "sneakers?"
– Of course, her crack about "another broken white boy for us to fix" was absolutely about Bucky Barnes, who ended up in Wakanda after the events of Captain America: Civil War. We see him again during the post-credits scenes, with the Wakandan children referring to him as "White Wolf" rather than "Winter Soldier."
We interviewed Letitia Wright about the character, and you can read that right here if you want.
W'Kabi
Daniel Kaluuya's W'Kabi, the head of the Wakandan military, is, along with T'Challa and Klaw, one of the oldest characters in the movie, having first appeared back in Avengers #62 in 1969.
Who is Everrett Ross?
– Martin Freeman's Everett Ross made his MCU debut in Captain America: Civil War. But he was first created by Christopher Priest and Kenny Martinez in Ka-Zar, and brought back in the pages of Priest's legendary run as writer on Black Panther in 1999.
In the comics, Ross is a medium level State Department employee given the responsibility of guiding T'Challa around New York, where he then gets roped into fights with Mephisto, Atlantis, Man Ape, and Iron Man, and sits in on a diplomatic meeting between Black Panther, Dr. Doom, Namor, and Magneto. Needless to say, Priest's run, which seems to have heavily influenced this movie, was awesome.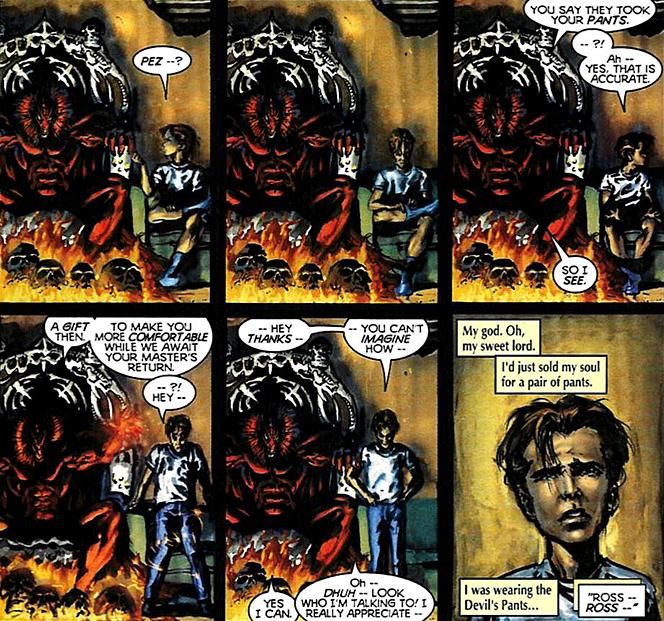 Ross' nonplussed reactions in the movie to increasingly weird situations feels like it came right out of the comics.
Hey you know how badass Michonne is on The Walking Dead? Multiply that by a million and you have Danai Gurira as Okoye in this movie. 
Okoye is a member of the Dora Milaje, the King's all-woman royal guard. 
Okoye and the rest of the Dora Milaje were created by Priest and Mark Texiera in 1998, and have been focal characters in Coates' current run, where two of them go rogue early in the series. 
Who is Nakia?
Lupita Nyong'o is brilliant as Nakia in this movie, isn't she? Nakia has been around since 1998, and she was created during Christopher Priest's time as Black Panther comics writer, a creative period which, as we keep saying, heavily informs this movie.
Here's what she looks like in the comics…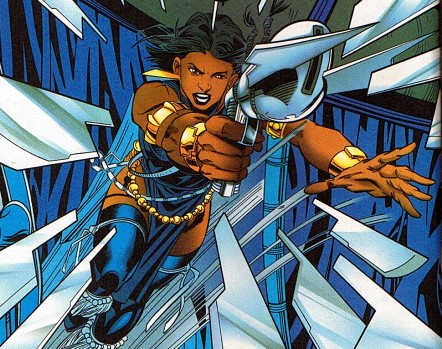 Things aren't always easy for T'Challa and Nakia, so things might get interesting when we finally get Black Panther 2.
Forest Whitaker is Zuri, who in the comics was a warrior ally of T'Chaka (T'Challa's father and predecessor as Black Panther). They took a slightly different take on him here, but it was effective. Here's how he looks in the comics…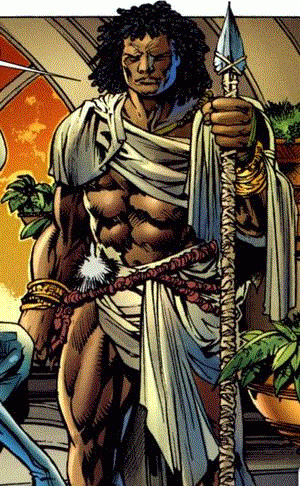 The Villains
– Andy Serkis is here as all-around skeev, Ulysses Klaue. In the comics, his nom-du-douchebag is the more on-the-nose, "Klaw."
read more: The Villains We Want to See in Black Panther 2
Why do they call him Klaw? Well…why do you think he got his arm conveniently removed by Ultron? It's so that he can have a vibranium-powered soundwave cannon attached to it to give Black Panther a migraine!
It's cool that they found a way to incorporate his sound cannon/hand here. What's more, turning Klaue into a villain who primarily menaced the previous Black Panther, T'Chaka, rather than T'Challa, is something that's right in line with how the Marvel Cinematic Universe has occasionally tweaked the timeline in order to give everything a little bit more history. So just as we learned in the first Ant-Man movie how Hank Pym was operating during the 1980s, we now know that T'Chaka and Klaw were fighting at least as far back as 1992…probably earlier.
Serkis previously played Klaw in Avengers: Age of Ultron. The character was created by Stan Lee and Jack Kirby in Fantastic Four #53, where he stole vibranium from Wakanda, murdered T'Challa's father, and got his hand chopped off. 
Klaw's obsession with Vibranium is right out of his early comic book appearances, though, and yes, you can spot the Jack Kirby influence there, too. Honestly, I felt like the tattoos on the back of his neck are kind of a nod to his comic book design, too.
We have lots more info about Klaw right here.
Killmonger
Erik Killmonger first showed up in Don McGregor and Rich Buckler's Jungle Action in 1973, where it was revealed that his father was forced to help Klaw in his initial raid on Wakanda, and he and his family were exiled for it. You can see echoes of that in the movie, too. He developed a hatred of the Black Panther, and turned himself into evil Batman – peak physical condition, genius strategist, science-ey guy – to fight him.
The fact that Killmonger is breaking Klaw out of jail when we first meet him in the movie feels like a nod to that old Jungle Action story.
Also, Erik is occasionally fond of masks in the comics, so when he swipes that one from the British Museum, that seems pretty on-brand, too. I feel like I'm doing Killmonger a disservice in this guide, but this is one of those very rare occasions where Marvel actually improved on one of their comics villains in the process of bringing him to the screen.
The fight between Killmonger and T'Challa on top of the waterfall (and Panther's defeat and subsequent toss down that waterfall) comes from one of the very best Black Panther stories, "Panther's Rage" by Don McGregor, Rich Buckler, and Klaus Janson.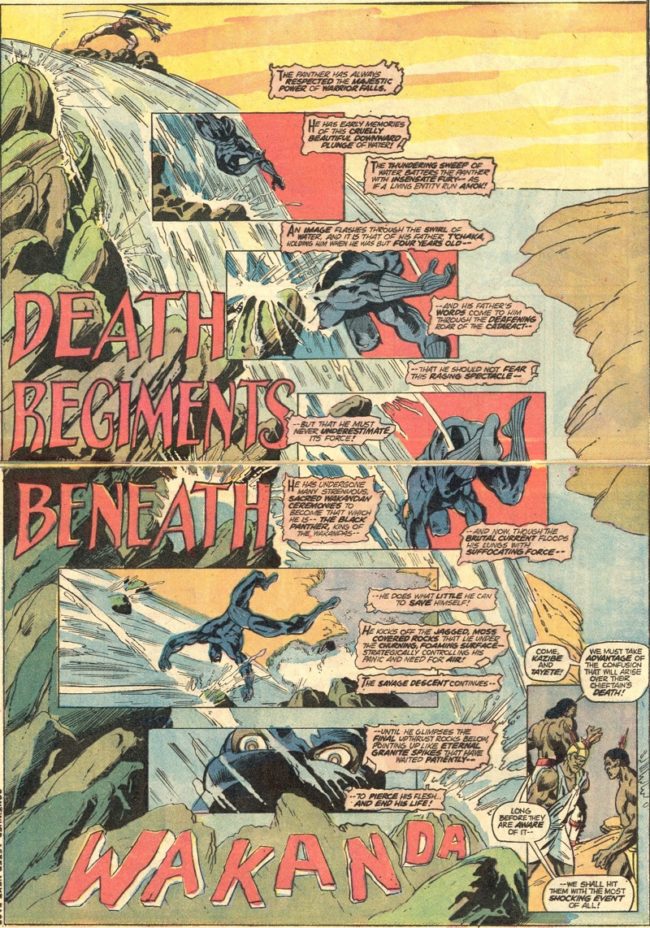 Note that the Killmonger of the comics does have a similar origin, although he grew up in Harlem not Oakland, and he isn't T'Challa's cousin.
M'Baku
In the comics, M'Baku was originally an Avengers villain known as Man-Ape, created by Roy Thomas and John Buscema. He's super fast and super strong, and has tried to lead many a coup against the throne.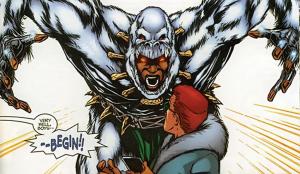 It's pretty cool how they managed to include elements of that comic design, notably with the masks and the white body paint, without going the full "Man-Ape" route.
We spoke with Winston Duke about bringing M'Baku to life, and you can read all about it right here.
The Post-Credits Scenes
Remarkably, these aren't that heavy on Marvel mythology. Instead, we see Wakanda offering a pointed message to the United Nations as they get ready to take a more active and visible role in the world. Of course, the world is going to need Wakandan technology to fight what's coming in Avengers: Infinity War. And speaking of which…
read more: Black Panther Post-Credits Scenes Explained
…we do get to see the other "broken white boy" that Shuri was referring to, with the return of Bucky Barnes. The "white wolf" nickname the kids give him does have a little comics history, as a minor character associated primarily with King T'Chaka, but that doesn't seem to be really be of particular significance here. If we assume the events of Black Panther started a week or so after Captain America: Civil War, and that the movie itself takes place over the span of a few weeks, there might be another brief time jump before Bucky wakes up.