Features
What Does the Future of DC Movies Look Like?
Even with new captains at the helm, the DC film universe remains in turmoil with the future unclear for Wonder Woman 3, Jason Momoa's Aquaman, Henry Cavill's Superman, and more. What happens next?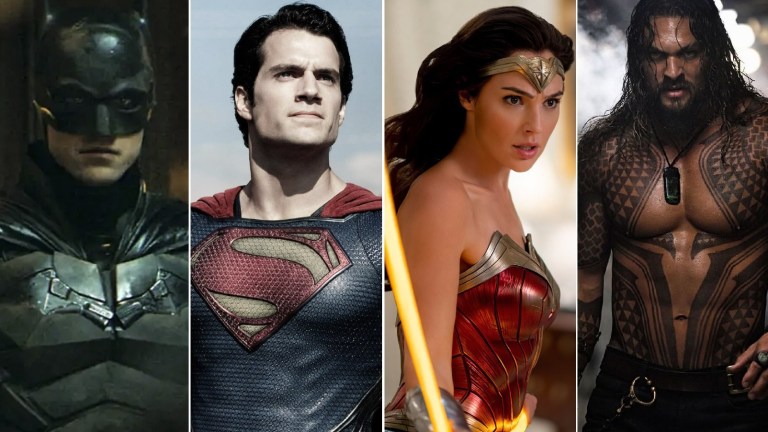 It's been barely two months since James Gunn and Peter Safran took over as co-captains of the newly reconfigured DC Studios and, even though the announcement of the pair's ascendance was widely acclaimed, the ongoing turmoil associated with the DC cinematic universe is rearing its head again.
Following the initial, shocking report that one of the lingering projects left over from the old regime, Wonder Woman 3, had been canceled ("in its current incarnation" according to THR) and director/co-writer Patty Jenkins had departed the franchise, more details have come to light about the situation.
According to The Wrap and confirmed by Den of Geek's own sources, Jenkins quit Wonder Woman 3 after refusing to accept notes from Warner Bros. Pictures heads Michael De Luca and Pamela Abdy. De Luca and Abdy apparently did not think that the treatment Jenkins co-wrote with Geoff Johns and submitted "worked," and asked the director to submit a different idea.
Per The Wrap's sources, Jenkins walked away after that, reportedly telling the studio heads that they "didn't understand her [and] the character." Gunn and Safran allegedly had nothing to do with the decision to reject Jenkins' treatment, although they apparently agreed with De Luca and Abdy's assessment.
What's most interesting about all this is that none of it indicates for certain that Wonder Woman 3 is dead as a film project, or that Gal Gadot's era as Diana of Themyscira is over.
But even if Gadot sticks around and a new iteration of the Wonder Woman franchise rises out of the ashes of Jenkins' tenure at the wheel, DC Studios and Warner Bros. Pictures still face some thorny questions that would bedevil even the brilliant minds of Bruce Wayne and Lex Luthor.
First Things First
"Peter and I chose to helm DC Studios knowing we were coming into a fractious environment, both in the stories being told and in the audience itself," James Gunn wrote on Twitter amidst all the latest news. "And there would be an unavoidable transitional period as we moved into telling a cohesive story across film, TV, animation, and gaming."
The first thing that anyone has to realize is that whatever plans Gunn and Peter Safran are cooking up for the new DC Studios, they're not likely to start bearing fruit until 2025 or even 2026 at the earliest.
That's because, in addition to the four movies already in the can (more or less) and slated to arrive in 2023 – Shazam: Fury of the Gods, The Flash, Blue Beetle, and Aquaman and the Lost Kingdom – there are three more (not including Wonder Woman 3) in development that "nobody is going to mess with," according to The Wrap's sources.
Those are Matt Reeves' The Batman 2, Todd Phillips' Joker: Folie à Deux, and the "Black Superman" film written by Ta-Nehisi Coates under the supervision of J.J. Abrams.
Reeves is already writing The Batman 2 and that's going to go forward, as is Phillips' Joker sequel. The latter has an October 2024 release date, and the earliest we expect to see The Batman 2 is 2025. If anything, without a star or director attached yet, the Superman movie could end up in development hell for a while, especially if DC plans to move ahead with a new iteration of the traditional Superman (more on that in a moment).
The bottom line is that there are six DC-based movies that are going to come out between now and 2025, with the four due out next year all part of the current DC Extended Universe as it exists now. So before Gunn and Safran can start fresh, with whatever that entails, those four films at least have to get out the door. Since Joker and The Batman exist in their own standalone universes (for now, anyway), they can theoretically do their own thing while the new DC universe takes shape.
A Soft Reboot?
Here's an idea (and full marks to Den of Geek editor-in-chief Mike Cecchini for gaming this out): what if Warner Bros./DC flipped the release of The Flash (due out June 16, 2023) and Aquaman and the Lost Kingdom (set for December 25, 2023)?
And then what if the studio used the extra time afforded The Flash for more reshoots that could lead to some sort of reset/reboot for the universe?
We already know that The Flash will delve into the mysteries of the multiverse, with multiple Flashes and Batmen, along with other DC superheroes and villains (alive and dead), making encore appearances. While we don't know how the film in its current version (which is still not locked) shakes out in the end, having some more time would perhaps allow Gunn, Safran, director Andy Muschietti, and Warner Bros. execs the chance to make the movie more of a solid endpoint for the DCEU as it stands now.
From what little we can glean, any impact by making the date switch on the second Aquaman movie should be minimal. But a rejiggering of the multiverse in The Flash would open the door for whatever comes next, meaning whatever Gunn and Safran map out for the next decade of DC movies.
A multiverse shift would also allow Gunn and Safran to retain the actors they want to keep – in other words, a soft reboot. That would mean popular DC stars like Gal Gadot and Aquaman's Jason Momoa would almost certainly stay if they wanted. The problematic Ezra Miller is almost certainly gone as the Flash no matter what. Although Margot Robbie was well-liked as Harley Quinn, the financial debacle of Gunn's own The Suicide Squad probably means that there won't be a follow-up anytime soon.
We doubt you'll see Ben Affleck again as Batman beyond his cameo in Aquaman 2, and there's a case to be made that the Caped Crusader who shows up in the DC Studios canon will either a) look suspiciously like Robert Pattinson or b) make his debut after the Reeves/Pattinson cycle plays out.
As for the Big Blue Boy Scout, well, Gunn and Safran could save Henry Cavill from complete humiliation and keep him in the role since he's already (and perhaps prematurely) announced his comeback. But according to some late-breaking intel from the Heat Vision weekly newsletter, Man of Steel 2 – which was in development — has been impaled on a Kryptonite spear.
Although a MoS 2 script was penned by Steven Knight (Peaky Blinders) earlier this fall, it was rejected. Also according to Heat Vision, a proposed movie based on the legendary DC story arc Crisis on Infinite Earths, which would also feature Cavill as Superman, was similarly sent down a wormhole. It was the brainchild of former DC head Walter Hamada, who was replaced by Safran and Gunn.
As for seeing Supes battle Black Adam … no matter what Dwayne Johnson says, no matter how hard Warner Bros. and The Rock try to massage the box office numbers for the first movie, there is almost no chance that a Black Adam 2 shows up at your local multiplex. A $400 million worldwide gross for a movie of this size does not indicate any appetite for a sequel.
A Hard Reset?
A soft reboot featuring a mix of old and new actors/characters could end up confusing audiences – after all, Gunn's The Suicide Squad tried pretty much the same thing and left general audiences perplexed. Was it a sequel? A remake? It wasn't clear and the film arguably suffered as a result.
If Gunn and Safran and Warner Bros. want to establish that this is going to be a new DC universe, they could take the more radical step of a hard reset – wiping out all the previous canon, characters, and actors, and starting from absolute zero.
This comes with enormous risks, of course. For one, as we noted earlier, actors like Gal Gadot, Jason Momoa, and Henry Cavill have proven quite popular in their roles, even if some of the films have let them down. Showing them the door might anger some longtime, dedicated fans.
There's also the question of just how fresh a start they can make. Surely seeing the origin of Superman, Wonder Woman, or The Flash yet again would not be inspiring to audiences either, who might feel like they're seeing the same old stories one more time, with different faces.
On the other hand, keeping some of the actors around from years past would keep the links to the "Snyderverse" alive, and if there's one thing that Warner Bros. probably wants to do, it's get past that whole debacle and the toxicity of a certain subsection of its fan base.
The "Snyderverse" ultimately sunk under the weight of its own ponderousness and grimdark sensibilities, with high points like Wonder Woman or Shazam! going directly against the grain in order to succeed. All the fallout from Zack Snyder's misinterpretation of much of the DC universe is something that the studio, as well as Gunn and Safran, might not want to deal with anymore.
If we know James Gunn, he'd like to at the very least introduce a Superman who enjoys being a superhero, as well as some of the crazy weirdness of characters like Lobo, and make DC fun on its own terms (without necessarily going the more comedic route of Marvel).
"We know we are not going to make every single person happy every step of the way, but we can promise everything we do is done in the service of the STORY and in the service of the DC CHARACTERS we know you cherish and we have cherished our whole lives," tweeted Gunn.
Avoiding a DC-Style Crisis
In the end, we think that Gunn and Safran might take the less radical approach. Wall off Batman for now, and perhaps gradually introduce Pattinson's Dark Knight into the new pantheon. Keep Gadot and perhaps Momoa around as legacy players, although perhaps using the aftermath of The Flash to establish them as the Diana and Arthur Curry of a different universe – sort of what J.J. Abrams and company did with the Kelvin timeline in his Star Trek reboot.
That also allows the actors to give different interpretations of the heroes as well, while providing just enough of a familiar anchor to launch the rest of the new DC Studios universe with brand new faces and characters – and hopefully elevate them to the cinematic status that the DC Comics mythology so richly deserves and which has long eluded its grasp.
In the words of the Flash, "There comes a time when you've got to stop running away from things… and you've got to start running towards something, you've got to forge ahead. Keep moving. Even if your path isn't lit… trust that you'll find your way."