News
Blue Beetle Costume Revealed in DC Movie Set Photos
The first look at new DC movie Blue Beetle doesn't disappoint, with Xolo Maridueña looking like a perfect choice for Jaime Reyes in one of the best superhero movie costumes we've ever seen!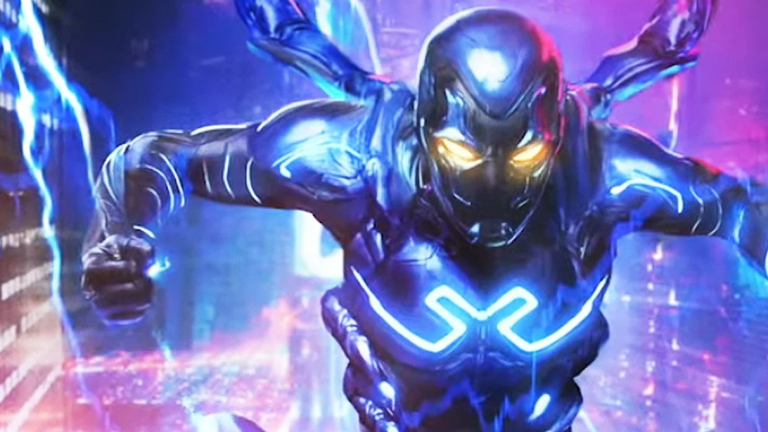 Jaime Reyes is coming to the DCEU, and the character's striking Blue Beetle costume has never looked better! Warner Bros. has been putting a lot behind their upcoming Blue Beetle movie, and it's definitely showing in the first look at the elaborate costume in live action.
Xolo Maridueña (Cobra Kai) plays Jaime Reyes, a teenager from El Paso, TX who finds an alien "scarab" that bonds with him, manifests a suit of high tech armor, and grants him super powers. Created by Keith Giffen, John Rogers, and Cully Hamner during DC's Infinite Crisis event back in 2006, Blue Beetle's sleek, almost Tokusatsu-influenced design seems like it was destined for the screen almost from its inception. But despite appearing in numerous DC animated projects (notably Batman: The Brave and the Bold and Young Justice), Beetle's only live action appearance so far came in Smallville season 10, episode 18, "Booster" where he was unfortunately saddled with a weirdly bulky look that didn't manage to capture the coolness of the comics look.
That doesn't look like it's going to be a problem with the Blue Beetle movie, though. Thanks to the folks at JustJared, we have our first look at Maridueña in full Blue Beetle regalia on the set of the film in Atlanta, GA, and we're pleased to report that he looks absolutely awesome. This isn't just a comics accurate look, it's a beautifully realized costume. It would have been far too easy to just do this suit digitally using motion capture (we're looking at you Marvel Studios!) so seeing this version of Blue Beetle brought to life in an awesome practical suit, which looks like it's screaming to be turned into an action figure, is a wonderful relief.
Some of these images appear to show some kind of stunt sequence involving a fall on to a taxi. It's not totally clear if it's also Maridueña in the suit there, but it seems like it might be.
And most importantly? Blue Beetle co-creator Cully Hamner seems appropriately pleased by the look!
You can see lots more photos via JustJared here.
Blue Beetle also stars Raoul Max Trujillo as the villainous Conrad Carapax, George Lopez as Jaime's uncle Rudy, Harvey Guillén (our beloved Guillermo from What We Do In the Shadows), and Susan Sarandon as Victoria Kord, who is rumored to be an antagonist in the film, as well. DC fans will recognize that she shares a last name with Ted Kord, the man who held the non-superpowered mantle of Blue Beetle before Jaime, but it's unclear at this time if Ted makes an appearance in this film. Angel Manuel Soto (Charm City Kings) directs, from a script by Gareth Dunnet-Alcocer.
Despite originally being developed as an HBO Max release, Blue Beetle will be released in theaters on Aug. 18, 2023. The full schedule of upcoming DC movies can be found here.