Features
Upcoming Movies in February 2021: Streaming, VOD, and Theaters
We look at the new movies releasing this month, from Netflix films to HBO Max/WB's next big "hybrid" debut.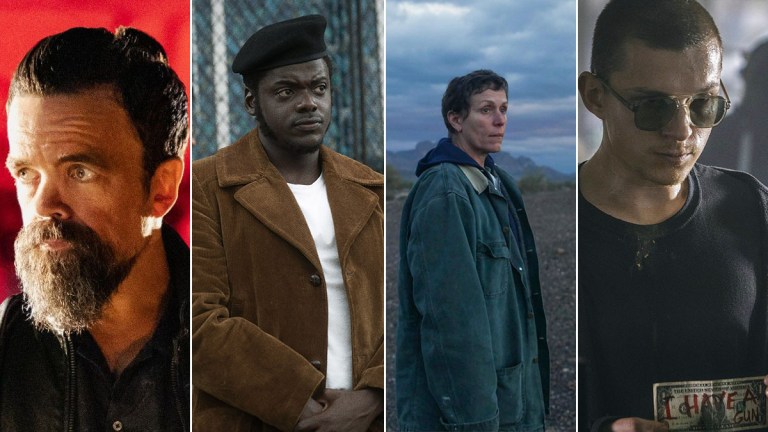 2021 is now in full swing, and film distributors are beginning to feel out what the new normal actually is. Given the latest news about COVID variants, movie theaters remain a tenuous bet—although some films are still releasing there—while streaming at home becomes evermore enticing with one of Warner Bros.' Oscar contenders set to premiere simultaneously in theaters and on HBO Max. This month also marks the theatrical and/or streaming release of some of last year's best films.
So for film lovers, the choice of what to watch (and how to view it) remains more varied than ever. Here's a guide to what's coming up in February:
A Glitch in the Matrix
February 5
After chronicling the oddest of oddball theories regarding Stanley Kubrick's The Shining in the documentary Room 237, filmmaker Rodney Ascher is back to take on sci-fi classic The Matrix. In truth, the idea of there being a "glitch in the Matrix" predates the Wachowskis' 1999 movie, but the duo mainstreamed the idea that we all live in a simulation. So with his new film, Ascher explores that philosophical idea (and fringe conspiracy theory) that nothing is real, and therefore everything is permitted.
With the rise of conspiracy theories and magical thinking in recent years, this could be timely stuff—or unnecessary based on some of the mixed reaction this film has thus far received out of Sundance.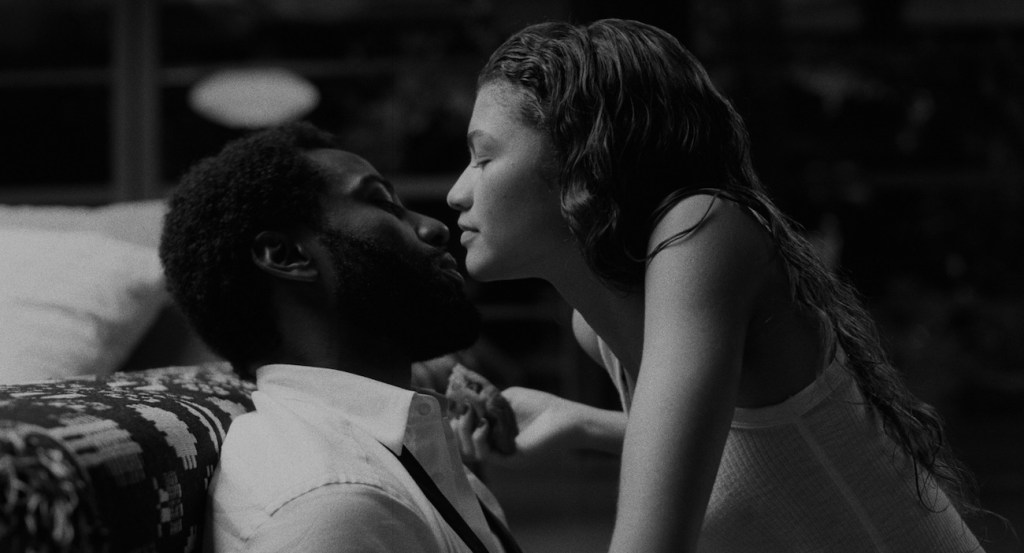 Malcolm & Marie
February 5
This Netflix release has awards buzz around it as well as eye-popping marquee value with its depiction of a love story between John David Washington (BlacKkKlansman, Tenet) and Zendaya (Euphoria, Spider-Man). The film is from the mind of Euphoria creator Sam Levinson and is his third feature, following Assassination Nation.
Shot in black and white, Malcolm & Marie is a visibly personal project, with its depiction of a romance on the edge of evolution or despair. Washington's Malcolm is a movie director in the story, and he's on the verge of superstardom after the premiere of his first feature. Clearly his life is about to change, but his girlfriend Marie suspects those changes don't include her. After his big night, all the things left unspoken are about to be uttered.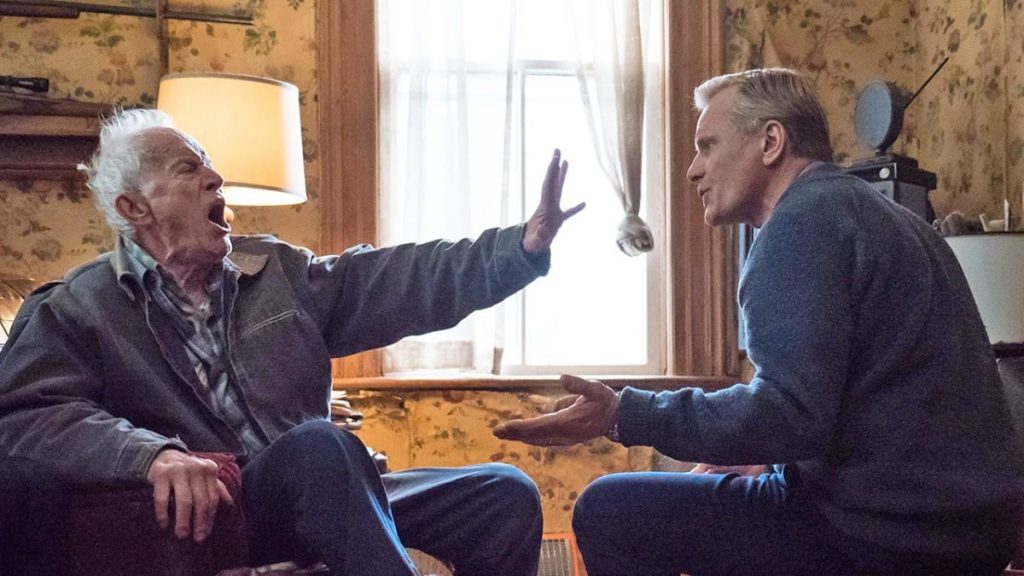 Falling
February 5 (U.S. Release, Playing Now in the UK)
Viggo Mortensen makes his directorial debut in what is reported to be a quiet and revelatory affair. Like several other filmmakers this year, Mortensen is tackling the subject of parents and adult children being placed under the strain of dementia. Yet there's long been a tension between Willis (Lance Henriksen) and his son John (Mortensen) in this movie, even before early stages of dementia.
Uncomfortable with the fact John is gay and living openly with his partner and a young daughter, Willis is reluctant to visit his son's family. But as the aging process sets in, both generations are going to have to make peace with a lot of things.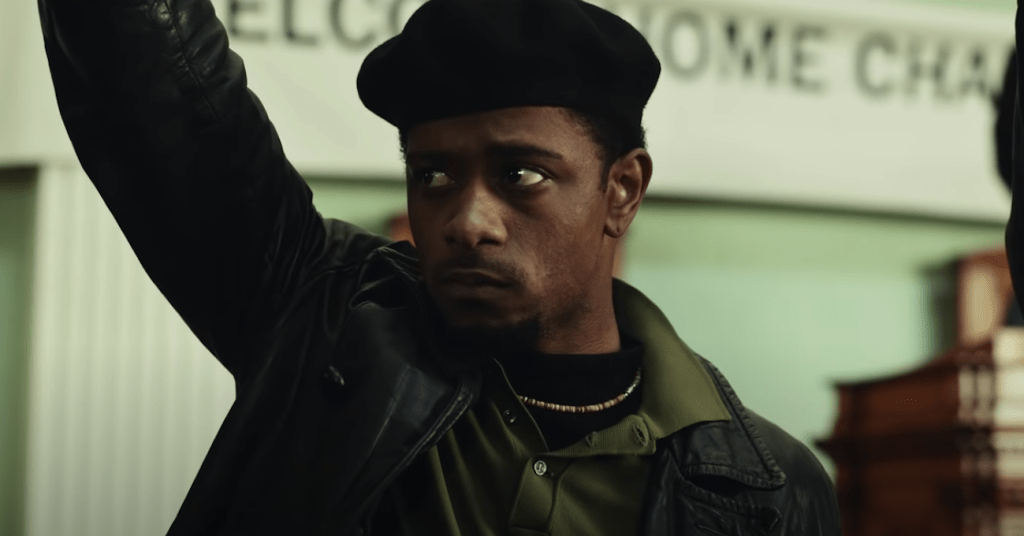 Judas and the Black Messiah
February 12 (U.S. Only, UK TBC)
As the next Warner Bros. film set to premiere on HBO Max the same day it opens in theaters, a lot of attention is gathered around Judas and the Black Messiah, not least of all because it is very good. As a film with Oscar aspirations—Daniel Kaluuya has already been nominated for Best Supporting Actor at the Golden Globes and SAG Awards—Judas gives a hard-edged study of the life and times of Fred Hampton, the Black Panther Party chairman who was executed by police in 1969.
Told from the perspective of William O'Neal (a jittery LaKeith Stanfield), the FBI informant who spied on Hampton and the Panthers for law enforcement, it's a unique approach to a biopic that finally shines mainstream Hollywood light on the struggles of the Panthers and the demand for Black Power. It's brutal and, ultimately, haunting.
Minari
February 12 (March 19 in the UK)
Another major awards contender, and easily one of the best films of the last year, is Lee Isaac Chang's intimate and visibly personal passion project, Minari. Loosely inspired by Chang's own childhood, the film chronicles a family of Korean-Americans who immigrated to the U.S. in the 1970s, and after a decade of scraping by in the dead end of industrial farming, they're making a go of it with their own small farm in rural 1980s Arkansas.
Presented as a multigenerational tapestry, the film is an achingly beautiful piece told from the vantage of a young boy, his put-upon and distancing parents (Steven Yeun and Yeri Han), and his grandmother (Youn Yuh-jung), who's visit from Seoul is intended to save the family. It really is something special and all-American, despite its occasional categorization as a "foreign language film" by awards bodies. See it in theaters on Feb. 12 or wait for its VOD release on Feb. 26.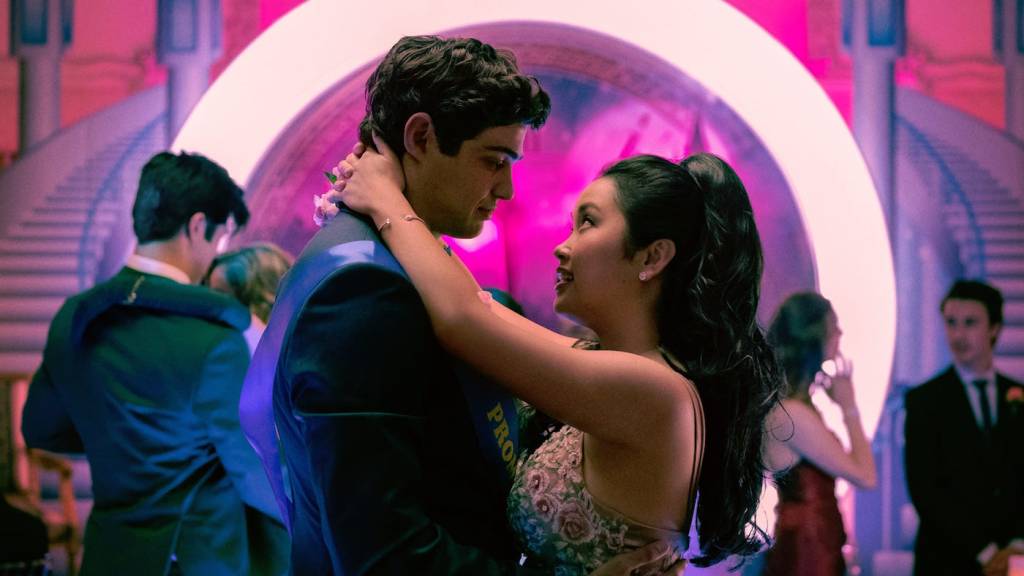 To All the Boys I Love: Always and Forever
February 12
If you're looking for something a little more romantic this Valentine's Day season, Netflix is completing its To All the Boys I Love trilogy—or at least finishing its film adaptations of the so-far published Jenny Han YA novels—with Too All the Boys I Love: Always and Forever. In the movie, Lana Condor returns as Lara Jean, the once gawkish high school girl with a series of crushes who is now coming into her own as she spends her spring break on a whirlwind vacation that sends her to South Korea, New York City, and around the world. (So clearly this is set before 2020.) It's a romance for all ages, and one that could be sweet in our current age.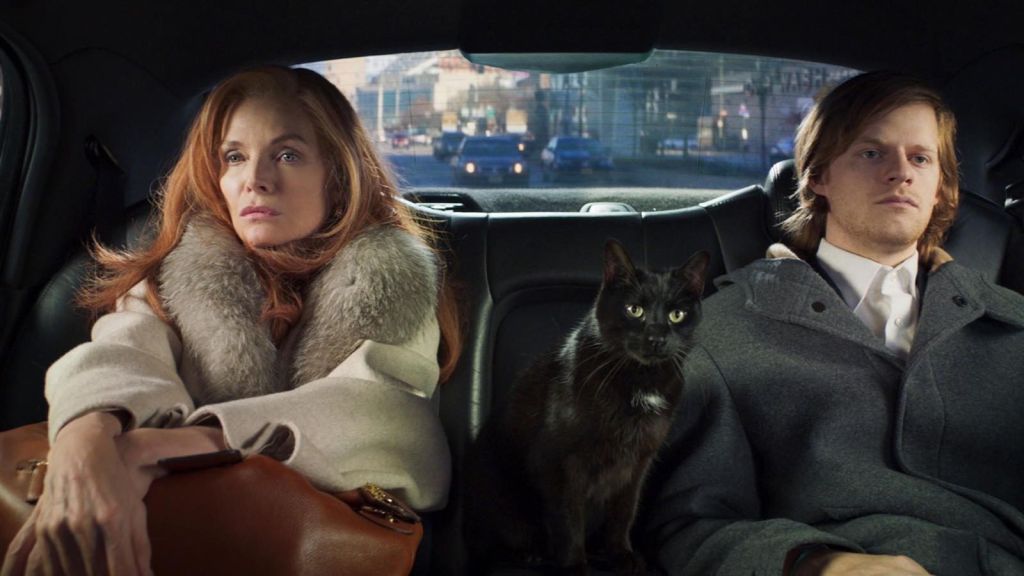 French Exit
February 12 (March 26 in the UK)
Michelle Pfeiffer is one of those rare performers who can make even the most venomous line readings sing with playful amusement—or turn the screws. She indulges both skills in French Exit, a dry comedy with exceeding detachment and apparently perfect casting. In the Azazel Jacobs film, Pfeiffer plays Frances Price, a Manhattan socialite of a certain age who's lived long enough to see the invitations to high society dry up. Worse, she's also run out of the inheritance she'd been living off for decades.
So Frances moves in with her peculiar son Malcolm (Lucas Hedges) in a tiny Parisian apartment. Slow boiling mayhem ensues. Well-regarded for Pfeiffer's performance on the festival circuit, this is one to keep an eye on.
Land
February 12 (April 9 in the UK)
Robin Wright has had a remarkable career in film and television, time and again showing us new dimensions onscreen. But with Land, she makes her directorial feature debut behind the camera after helming several episodes of House of Cards. In the film, Wright plays Edee, a bereaved woman who attempts to start over in the wilderness of Wyoming. Even with its wide open landscapes, it's admittedly a narrowly framed tale. Yet there be gold up in them hills.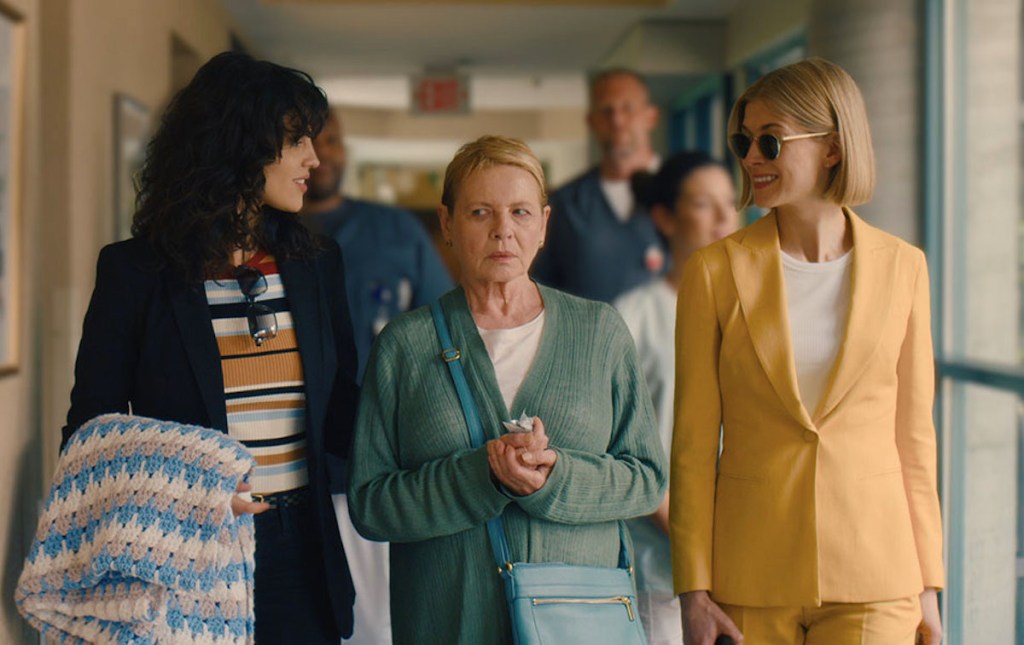 I Care a Lot
February 19
One of our personal favorites out of the Toronto International Film Festival last year, Netflix's I Care a Lot is a clever, knotty, and incredibly sardonic dark comedy. Framed around the bottomless ambition and avarice of Marla Grayson (Rosamund Pike), it's the story of a woman who makes her wealth by convincing the government to lock up senior citizens with large bank accounts, leaving her in charge of their finances.
It's a hell of a con until one nice little old lady (Dianne Wiest) whom Marla preys upon turns out to have connections to a crime boss (Peter Dinklage). This is wicked entertainment, with Pike at her most devilish since Gone Girl, and Dinklage also playing sharply against type. They and the rest of the ensemble, which includes Eiza González, are brutally funny in this grim satire of modern American capitalism run rotten. The J Blakeson who made The Disappearance of Alice Creed is back.
The Mauritanian
February 12 (February 26 in the UK)
Kevin Macdonald continues his career of hard hitting political dramas based on true events with The Mauritanian, a new awards contender which documents the real legal case of Mohamedou Ould Salahi, a Mauritanian detained without a charge by the U.S. government in 2002. For 14 years, he remained in custody at Guantanamo Bay until he had his day in court.
Macdonald's film documents that legal fight with a large ensemble which includes Jodie Foster and Shailene Woodley as the lawyers representing Salahi, and Benedict Cumberbatch as an American officer who suffers a crisis of conscience. Most of all though, the film has gotten attention for Tahar Rahim as Salahi in a performance that has already garnered him a Golden Globe nomination.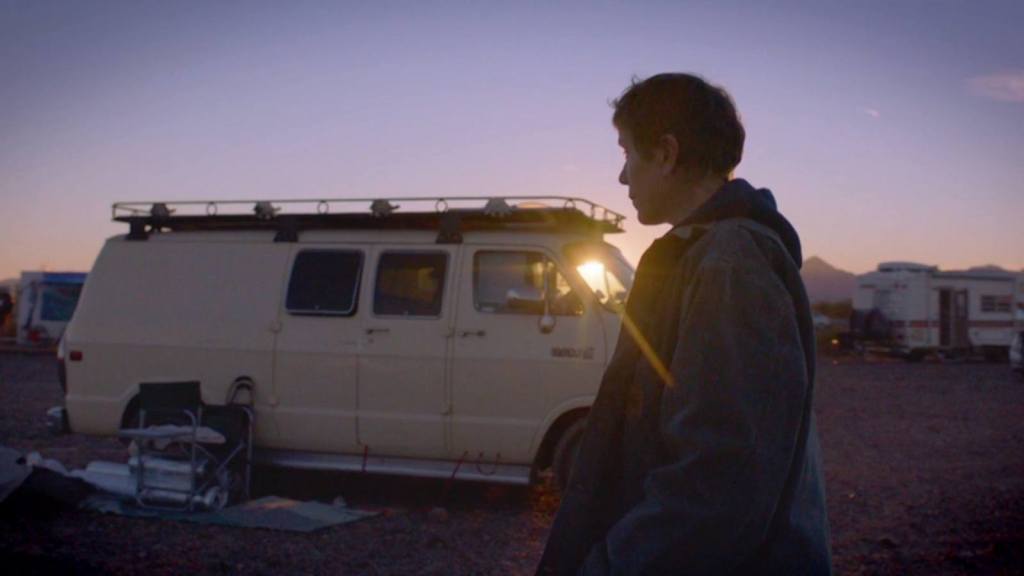 Nomadland
February 19 (March 19 in the UK)
Chloé Zhao's Best Picture contender is finally having a major streaming release, and on Hulu at that. Produced by Searchlight Pictures, Nomadland is a remarkable achievement that blends the acuity of narrative filmmaking with the sobering authenticity of documentaries. Focused on the real life culture of American Nomads in the modern American West, the film was made within the community while telling the story of how it came to be. Thus enters Frances McDormand as Fern, a woman who in 2010 has been left with nothing once the Great Recession literally erased her hometown from the map.
Now the middle-aged widow lives in a van on the open road, estranged from the idea of living at one address, and at peace with her new community of fellow travelers, who we see gather, commiserate, and grieve. It's a powerful piece of filmmaking that may be a frontrunner for the Best Picture Oscar, which is fairly odd to consider when one realizes Zhao's next movie is Marvel's Eternals.
Tom & Jerry
February 26 (March 19 in the UK)
It looks like someone remembered they have beloved (and relatively ancient) intellectual property just sitting in mothballs, because Tom & Jerry is back. Yay? Looking like a leftover from the mid-00s craze of inserting CGI Smurfs into a sitcom-y New York, Tom & Jerry follows a familiar formula, but at least does so with sophisticated computer cel-shaded animation. That's pretty nice.
The premise of this HBO Max-bound release is Jerry has set up shop as a mouse in a Manhattan hotel when junior management (Chloe Grace Moretz) introduces a cat to take him out. Unfortunately, for her, the cat is Tom. The two old foes immediately resort to their old ways, destroying the swanky establishment just before a high-profile wedding. Maybe she should have called the Ghostbusters?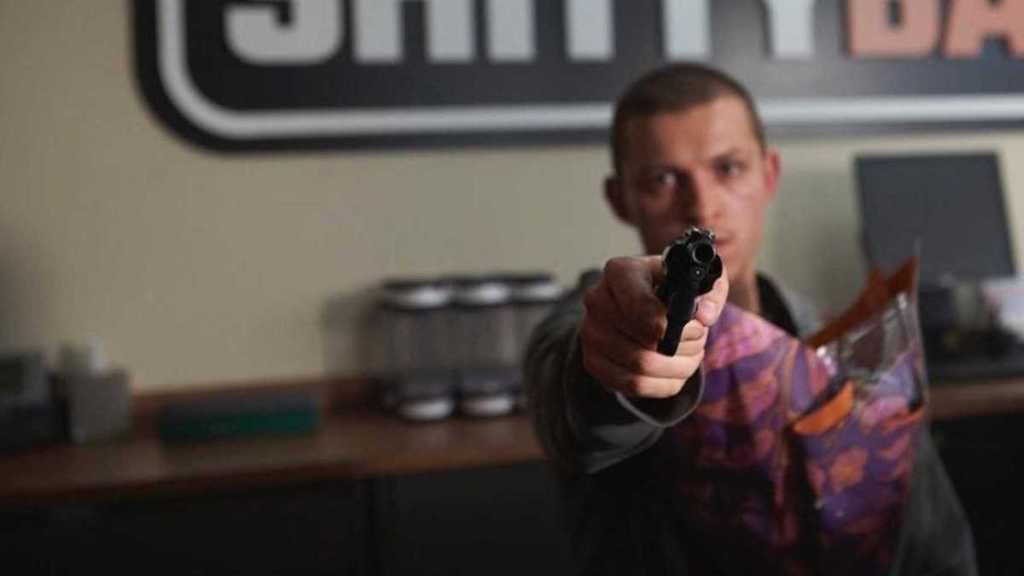 Cherry
February 26 (March 12 in the UK)
Tom Holland and the Russo Brothers are a long way from the Marvel Cinematic Universe now. Indeed, after helming the highest grossing movie in history, Joe and Anthony Russo are turning their attention to the opioid epidemic in the U.S. by offering a stylish depiction of an Army vet who falls into addiction and a career of fourth wall-breaking bank robberies. Holland is clearly trying to step away from his goofy Spider-Man image, and the picture is of high pedigree for Apple TV+. The movie also stars Ciara Bravo and Jack Reynor.
The United States vs. Billie Holiday
February 26
This upcoming Hulu release is a passion project for Lee Daniels (Precious, The Butler), and one that aims to provide new dramatic light on the life of Billie Holiday. One of the great jazz and swing singers of the 1940s and '50s, Holiday had a singular voice and talent that was commodified by the music industry at the time due to her Blackness, and then hindered further the more political she became. While Holiday did have a drug problem, it's interesting how the industry seemed to conspire to exacerbate it, as opposed to urging her to get clean.
A traditional biopic, The United States vs. Billie Holiday is now getting awards notice, with Andra Day's starring turn as Billie already netting her a Golden Globe nomination. Not bad for an actor in her first starring role.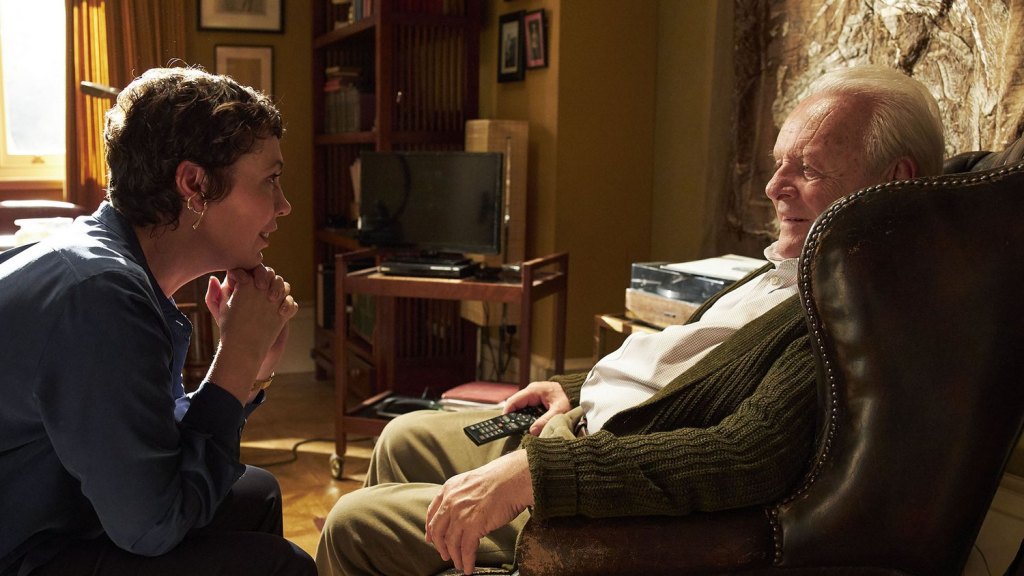 The Father
February 26 (March 12 in the UK)
It's one of the most powerful movies of 2020… and one of the most depressing. In a role that's already netted him Golden Globe and SAG nominations, Anthony Hopkins plays Anthony, an elderly man who's been living alone for years since his wife passed. But with dementia setting in and his daughter (Olivia Colman) wishing to move to Paris, some tough decisions are going to be made about Anthony's care.
Yet what makes Florian Zeller's The Father so effective is it's told entirely from the perspective of Anthony's deteriorating mind, and as it goes along, it becomes unclear how much of what you're seeing can be believed as happening—or if it might've happened years ago. Hallways in his London flat change, doors are replaced, and the countenance of his daughter's boyfriend shifts or vanishes depending on the day. It becomes debilitating, and ultimately heartbreaking, stuff.