Features
Top New Horror Books in April 2021
Looking for something scary to read? Try one of these new horror books, released in April 2021.
Where horror meets speculative fiction you'll find inventive fears and chilling uncertainty. Here are some of the horror books we're most excited about and/or are currently consuming…
Top New Horror Books in April 2021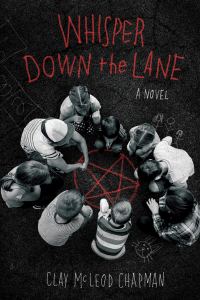 Whisper Down the Lane by Clay Chapman
Type: Novel
Publisher: Quirk Books
Release date: April 6
Den of Geek says: A quasi-historical novel dissects memory and moral panic. What could be a flat story about mistrust has set itself apart with positive reviews praising both the fun and the terror.
Publisher's summary: Inspired by the McMartin preschool trials and the Satanic Panic of the '80s, the critically acclaimed author of The Remaking delivers another pulse pounding, true-crime-based horror novel.
Richard doesn't have a past. For him, there is only the present: a new marriage to Tamara, a first chance at fatherhood to her son Elijah, and a quiet but pleasant life as an art teacher at Elijah's elementary school in Danvers, Virginia. Then the body of a rabbit, ritualistically murdered, appears on the school grounds with a birthday card for Richard tucked beneath it. Richard doesn't have a birthday—but Sean does . . .
Sean is a five-year-old boy who has just moved to Greenfield, Virginia, with his mother. Like most mothers of the 1980s, she's worried about bills, childcare, putting food on the table . . . and an encroaching threat to American life that can take the face of anyone: a politician, a friendly neighbor, or even a teacher. When Sean's school sends a letter to the parents revealing that Sean's favorite teacher is under investigation, a white lie from Sean lights a fire that engulfs the entire nation—and Sean and his mother are left holding the match.
Now, thirty years later, someone is here to remind Richard that they remember what Sean did. And though Sean doesn't exist anymore, someone needs to pay the price for his lies.
Buy Whisper Down the Lane by Clay Chapman.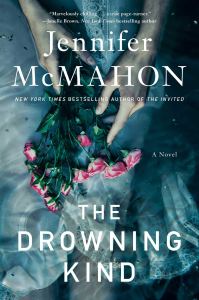 The Drowning Kind by Jennifer McMahon
Type: Novel
Publisher: Gallery/Scout Press
Release date: April 6
Den of Geek says: You won't want to go near a body of water for a while. Highly-praised author McMahon looks into the deep as an author one critic called a fitting heir to Shirley Jackson.
Publisher's summary: When social worker Jax receives nine missed calls from her older sister, Lexie, she assumes that it's just another one of her sister's episodes. Manic and increasingly out of touch with reality, Lexie has pushed Jax away for over a year. But the next day, Lexie is dead: drowned in the pool at their grandmother's estate. When Jax arrives at the house to go through her sister's things, she learns that Lexie was researching the history of their family and the property. And as she dives deeper into the research herself, she discovers that the land holds a far darker past than she could have ever imagined.
In 1929, thirty-seven-year-old newlywed Ethel Monroe hopes desperately for a baby. In an effort to distract her, her husband whisks her away on a trip to Vermont, where a natural spring is showcased by the newest and most modern hotel in the Northeast. Once there, Ethel learns that the water is rumored to grant wishes, never suspecting that the spring takes in equal measure to what it gives.
A haunting, twisty, and compulsively readable thrill ride from the author who Chris Bohjalian has dubbed the "literary descendant of Shirley Jackson," The Drowning Kind is a modern-day ghost story that illuminates how the past, though sometimes forgotten, is never really far behind us.
Buy The Drowning Kind by Jennifer McMahon.
Near the Bone by Christina Henry
Type: Novel
Publisher: Berkley
Release date: April 13
Den of Geek says: Isolation often makes for some good, character-focused horror (maybe this year in particular). A mix of human and monstrous violence haunts this mountain.
Publisher's summary: Mattie can't remember a time before she and William lived alone on a mountain together. She must never make him upset. But when Mattie discovers the mutilated body of a fox in the woods, she realizes that they're not alone after all.
There's something in the woods that wasn't there before, something that makes strange cries in the night, something with sharp teeth and claws.
When three strangers appear on the mountaintop looking for the creature in the woods, Mattie knows their presence will anger William. Terrible things happen when William is angry.
Buy Near the Bone by Christina Henry.
Top New Horror Books in March 2021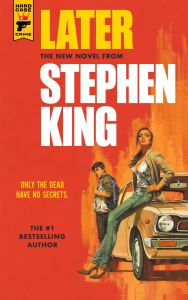 Later by Stephen King
Type: Novel
Publisher: Hard Case Crime
Release date: March 2

Den of Geek says: Stephen King, author of The Stand, The Shining, and many more, needs no introduction. The top name in horror is sure to be the one everyone is talking about.
Publisher's summary: The son of a struggling single mother, Jamie Conklin just wants an ordinary childhood. But Jamie is no ordinary child. Born with an unnatural ability his mom urges him to keep secret, Jamie can see what no one else can see and learn what no one else can learn. But the cost of using this ability is higher than Jamie can imagine – as he discovers when an NYPD detective draws him into the pursuit of a killer who has threatened to strike from beyond the grave.
LATER is Stephen King at his finest, a terrifying and touching story of innocence lost and the trials that test our sense of right and wrong. With echoes of King's classic novel It, LATER is a powerful, haunting, unforgettable exploration of what it takes to stand up to evil in all the faces it wears.
The Second Bell by Gabriela Houston
Type: Novel
Publisher: Angry Robot
Release date: March 9

Den of Geek says: Horror meets legend in a different take on the werewolf. Author Gabriela Houston has been praised for her character work and mixture of grounded realism and chilling fantasy.
Publisher's summary: To the world you are an abomination; a monster with unholy abilities. You're shunned and left to fend for yourself. Your only chance of survival is to tap into that dark potential – would you do it?
In an isolated mountain community, sometimes a child is born with two hearts. Such a child – a striga – is considered a dangerous demon, which must be abandoned on the edge of the forest to protect the community. The only choice the child's mother can make is whether to leave her home with her infant, or stay behind and try to forget.
Miriat made her choice. She and her nineteen-year-old striga daughter, Salka, now live a life of deprivation and hardship in a remote village, where to follow the impulses of the other heart is forbidden.
But Salka is headstrong and young, and when threatened with losing everything, she is forced to explore the depths of her true nature, testing the bonds between mother and child.
The Second Bell by Gabriela Houston.
Our Last Echoes by Kate Alice Marshall
Type: Novel
Publisher: Viking Books for Young Readers
Release date: March 16
Den of Geek says: This YA pick reminds us pleasantly of Twin Peaks or Alan Wake. A spooky setting and a protagonist with a strong hook to its location promises a tightly constructed story.
Publisher's summary: In 1973, the thirty-one residents of Bitter Rock disappeared. In 2003, so did my mother. Now, I've come to Bitter Rock to find out what happened to her–and to me. Because Bitter Rock has many ghosts. And I might be one of them.
Sophia's earliest memory is of drowning. She remembers the darkness of the water and the briny taste as it filled her throat, the sensation of going under. She remembers hands pulling her back to safety, but that memory is impossible–she's never been to the ocean.
But then Sophia gets a mysterious call about an island names Bitter Rock, and learns that she and her mother were there fifteen years ago–and her mother never returned. The hunt for answers lures her to Bitter Rock, but the more she uncovers, the clearer it is that her mother is just one in a chain of disappearances.
People have been vanishing from Bitter Rock for decades, leaving only their ghostly echoes behind. Sophia is the only one who can break the cycle–or risk becoming nothing more than another echo haunting the island.
Buy Our Last Echoes by Kate Alice Marshall.
Top New Horror Books in February 2021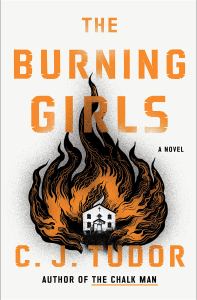 The Burning Girls by C.J. Tudor
Type: Novel
Publisher: Ballantine Books
Release date: Feb. 9

Den of Geek says: A spooky thriller set in a small village promises ghostly visitations and weird happenings that a single mother and her daughter need to investigate. Evil lurking in churches and exorcisms are a horror staple, but the historical grounding here gives it a unique texture.

Publisher's summary: A dark history lingers in Chapel Croft. Five hundred years ago, Protestant martyrs were betrayed—then burned. Thirty years ago, two teenage girls disappeared without a trace. And a few weeks ago, the vicar of the local parish hanged himself in the nave of the church.
Reverend Jack Brooks, a single parent with a fourteen-year-old daughter and a heavy conscience, arrives in the village hoping for a fresh start. Instead, Jack finds a town rife with conspiracies and secrets, and is greeted with a strange welcome package: an exorcism kit and a note that warns, "But there is nothing covered up that will not be revealed and hidden that will not be known."
The more Jack and daughter, Flo, explore the town and get to know its strange denizens, the deeper they are drawn into the age-old rifts, mysteries, and suspicions. And when Flo begins to see specters of girls ablaze, it becomes apparent there are ghosts here that refuse to be laid to rest.
Uncovering the truth can be deadly in a village with a bloody past, where everyone has something to hide and no one trusts an outsider.
Buy The Burning Girls by C.J. Tudor.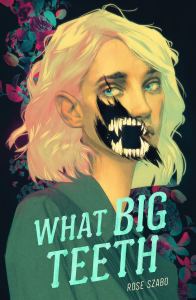 What Big Teeth by Rose Szabo
Type: Novel
Publisher: Farrar, Straus and Giroux
Release date: Feb. 2

Den of Geek says: Fans of the human side of werewolves or the everyday life of the Addams Family may like this story of a student returning home to a strange place after a taste of the outside world. Written for a YA market, but the inventive concept means it has crossover appeal.

Publisher's summary: Eleanor Zarrin has been estranged from her wild family for years. When she flees boarding school after a horrifying incident, she goes to the only place she thinks is safe: the home she left behind. But when she gets there, she struggles to fit in with her monstrous relatives, who prowl the woods around the family estate and read fortunes in the guts of birds.
Eleanor finds herself desperately trying to hold the family together―in order to save them all, Eleanor must learn to embrace her family of monsters and tame the darkness inside her.
Buy What Big Teeth by Rose Szabo.
Never Have I Ever by Isabel Yap
Type: Short story collection
Publisher: Small Beer Press
Release date: Feb. 23

Den of Geek says: At Den of Geek we're always looking for horror that mixes with science fiction and fantasy. Isabel Yap does exactly that. A well-established writer with short stories in genre pillars like Tor.com, Lightspeed, and Strange Horizons, her stories are vivid and unsettling. She's garnered praise from authors including Tamsyn Muir.

Publisher's summary: "Am I dead?" Mebuyen sighs.

She was hoping the girl would not ask.

Spells and stories, urban legends and immigrant tales: the magic in Isabel Yap's debut collection jumps right off the page, from the joy in her new novella, "A Spell for Foolish Hearts" to the terrifying tension of the urban legend "Have You Heard the One About Anamaria Marquez."
Buy Never Have I Ever by Isabel Yap.
Top New Horror Books in January 2021
In the Garden of Spite by Camilla Bruce
Type: Novel
Publisher: Berkley
Release date: Jan. 19
Den of Geek says: This novel for fans of the line where true crime meets horror follows Belle Gunness, a real life serial killer. This looks like a darkly fascinating portrait of a wicked and deadly woman, showing how the "Widow of La Porte" clawed her way through history, leaving victims in her wake.

Publisher's summary: They whisper about her in Chicago. Men come to her with their hopes, their dreams–their fortunes. But no one sees them leave. No one sees them at all after they come to call on the Widow of La Porte.
The good people of Indiana may have their suspicions, but if those fools knew what she'd given up, what was taken from her, how she'd suffered, surely they'd understand. Belle Gunness learned a long time ago that a woman has to make her own way in this world. That's all it is. A bloody means to an end. A glorious enterprise meant to raise her from the bleak, colorless drudgery of her childhood to the life she deserves. After all, vermin always survive.
Buy In the Garden of Spite by Camilla Bruce.
In Darkness, Shadows Breathe by Catherine Cavendish
Type: Novel
Publisher: Flame Tree Press
Release date: Jan. 19
Den of Geek says: Intentionally disorienting fiction can be hit or miss, but in this case it sounds like the non-linear storytelling adds to the intended feeling of a nightmare. Old-fashioned Gothic horror fans with a taste for dark fantasy might enjoy this one.

Publisher's summary: In a luxury apartment and in the walls of a modern hospital, the evil that was done continues to thrive. They are in the hands of an entity that knows no boundaries and crosses dimensions – bending and twisting time itself – and where danger waits in every shadow. The battle is on for their bodies and souls and the line between reality and nightmare is hard to define.

Through it all, the words of Lydia Warren Carmody haunt them. But who was she? And why have Carol and Nessa been chosen?
The answer lies deep in the darkness…
Buy In Darkness, Shadows Breathe by Catherine Cavendish.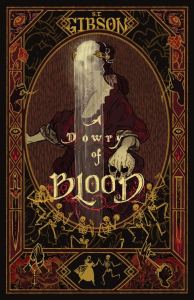 A Dowry of Blood by S.T. Gibson
Type: Novel
Publisher: Nyx Publishing
Release date: Jan. 31
Den of Geek says: Dracula retellings are common, as are takes on the famous vampire's wives. This one sets itself apart by focusing on a relationship between the wives themselves, coloring in the classic story with what the author calls "sapphic yearning at the opera."

Publisher's summary: Saved from the brink of death by a mysterious stranger, Constanta is transformed from a medieval peasant into a bride fit for an undying king. But when Dracula draws a cunning aristocrat and a starving artist into his web of passion and deceit, Constanta realizes that her beloved is capable of terrible things. Finding comfort in the arms of her rival consorts, she begins to unravel their husband's dark secrets.
With the lives of everyone she loves on the line, Constanta will have to choose between her own freedom and her love for her husband. But bonds forged by blood can only be broken by death.
Buy A Dowry of Blood by S.T. Gibson.
Subscribe to Den of Geek magazine for FREE right here!
(function() { var qs,js,q,s,d=document, gi=d.getElementById, ce=d.createElement, gt=d.getElementsByTagName, id="typef_orm", b="https://embed.typeform.com/"; if(!gi.call(d,id)) { js=ce.call(d,"script"); js.id=id; js.src=b+"embed.js"; q=gt.call(d,"script")[0]; q.parentNode.insertBefore(js,q) } })()