Features
They Cloned Tyrone Crowns John Boyega as a True Sci-Fi King
John Boyega's performance in They Cloned Tyrone is the most complex we've seen from the actor in this genre since Attack the Block.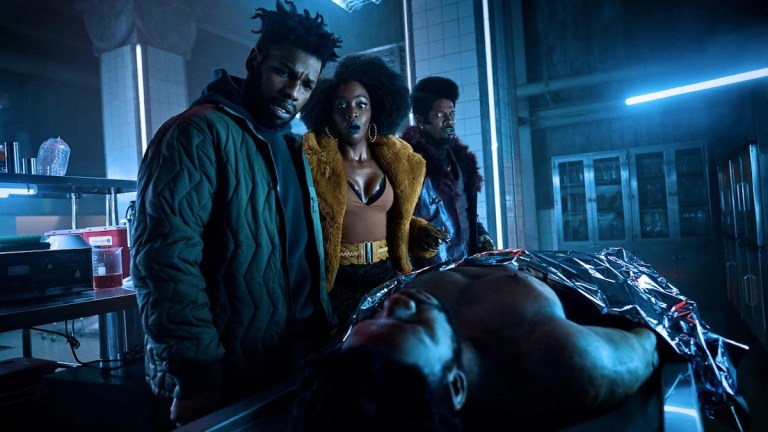 At first glance, They Cloned Tyrone seems to find John Boyega on well-trodden ground. For the first 20 minutes of the Netflix release, Boyega's face never changes from a hardened scowl as his character Fontaine goes through his day. Fontaine's actions will seem familiar to anyone who's heard an "urban" narrative, as Hollywood once often called them; Tyrone buys a 40 and some scratch-offs, he beats up a competitor on his corner, and he threatens a pimp who owes him money. 
More than the generic constraints of Fontaine's day, however, viewers may recognize elements of Boyega's breakout character from more than a decade ago now in the unrepentant drug dealer he plays in Tyrone. Moviegoers first met Boyega as Moses in the British science-fiction comedy Attack the Block (2011), a film directed by Joe Cornish. As Moses, the leader of a gaggle of latchkey kids who defend their British council estate from furry extraterrestrial invaders, Boyega does many of the things you'd expect from a sci-fi action hero. 
But Attack the Block also allowed Boyega to play a completely unique type of character. Boyega's Moses shows no concern for the audience. He sneers in every scene, rarely raising his eyes above his furrowed brow and cap pulled low. Even when performing an unquestionably heroic action, like stuffing an alien youngling into his backpack to run down a hallway, thereby drawing the monsters toward him, Moses makes no concessions to the audience. He does not need to be liked, he does not need to be accepted by people.
Boyega pulls an equally impressive move in Tyrone, slowly revealing the depths of his apparently shallow thug. After Fontaine's day of stereotypical monotony ends with him getting gunned down by a rival, Fontaine wakes up in bed and mechanically repeats the process from the day before. It's not until he demands money from pimp Slick Charles (Jamie Foxx, exercising broad sketch comedy muscles he hasn't used since In Living Color) that Fontaine realizes something is wrong. When Slick Charles insists that he saw Fontaine die, the duo team up with sex worker Yo-Yo (Teyonah Parris) to uncover a vast conspiracy involving mood-altering chicken, mind-controlling hair straightener, and, yes, clones. 
Director Juel Taylor, who co-wrote They Cloned Tyrone with Tony Rettenmaier, gives Boyega plenty of room for comedy within the outlandish premise. When he and his collaborators eat the aforementioned chicken, Fontaine tries so hard not to laugh that he ends up looking more ridiculous than those not trying to be tough. When the promised clones arrive, Boyega gets to play men acting hard while stumbling around naked and confused.
It's a tremendous turn for Boyega who uses all the tools of his career that have come before, including in genre filmmaking. After all, comedy is nothing new to the actor's sci-fi career, as demonstrated in his most famous, and yet most underrated, performance.
Unsurprisingly, the internet exploded when the first trailer for Star Wars: The Force Awakens dropped in 2015. Even more than the general excitement for a new Star Wars movie, the first set after the events of Return of the Jedi, the internet couldn't help but notice the first image in the trailer. A stormtrooper, his helmet removed, looking around in fear. 
That stormtrooper, who we would come to learn is Finn, was played by Boyega. Not only did Boyega put a Black character front and center in the franchise, but early images from the film showed him wielding a lightsaber. Of course most (including Boyega) would argue that Finn never met the potential that was suggested by those first teasers. Over the course of three movies, Finn had his lightsaber taken by Daisy Ridley's Rey, was shuffled off to a side story on a garish casino planet, and couldn't even manage to tell Rey that he was Force-sensitive.
And yet, even if he never became a Jedi, Finn made an unquestionable impression on the series. In a complete 180-degree turn from Moses, Boyega played Finn as a bit of a bumbler, a person unsure of himself as he literally came into his own. Even if some found the arc disrespectful to the character, there's no denying Boyega's comic and dramatic chops. He completely commits to stumbling into a room in The Last Jedi while covered in plastic medical gear, water spurting from his sides. Elsewhere he showed genuine romantic chemistry with Oscar Isaac's Poe Dameron, and heroic intensity while leading the resistance in The Rise of Skywalker.
That same versatility allowed Boyega to elevate the Steven S. DeKnight-helmed sequel to the Guillermo del Toro passion project, Pacific Rim, beyond its predecessor in the eyes of many (okay, in the eyes of just me). Boyega stakes his claim early in Pacific Rim: Uprising, from the moment when he swaggered into a room and poured himself a bowl of Fruit Loops. Boyega controlled the screen, radiating with a charm and confidence that had an effect greater than even the movie's giant fighting monsters. 
Such confidence brings a thrill to what could have been a generic roguish hero. Oozing with charisma, Boyega's Jake Pentecost, the prodigal son of Idris Elba's Stacker Pentecost, hits all the expected beats of the heroic journey. He goes from an outcast who wants nothing to do with his father's legacy to a troublemaker within the corps to an unlikely hero, helping the Jaegers defeat the enemy Kaiju. 
In the hands of a lesser actor, Jake would be little more than a collection of familiar tics, a lazy walk through beats we've seen time and again. But Boyega brings such verve and excitement to the role that even the expected heroic turn feels fresh.
Even better than the comedy beats are the subtle bits of character development Boyega brings to the role. Amidst the high-concept conspiracy that Fontaine and the others uncover, Boyega finds real pathos in the portrayal of a man who is, quite literally, not himself. The despair and anger he portrays when quietly knocking on his mother's bedroom door or firing a pistol at technology he cannot understand makes Fontaine a fully-fleshed-out human being, not the caricature he first appeared to be. 
With these unlikely turns, Boyega continues the path he began with Attack the Block. Despite putting in fantastic performances in movies such as the historical epic The Woman King or the realist Small Axe entry, Red, White, and Blue, Boyega returns to science fiction again and again. With each return, he continues pushing himself toward new and interesting takes, thus pushing the genre toward new possibilities.