Features
Steve McQueen's Small Axe: 'I Wanted These Stories to Go Through the Bloodstream of the Country'
John Boyega and the cast of Steve McQueen's Small Axe films share their experiences of making real-life British West Indian stories for a primetime BBC audience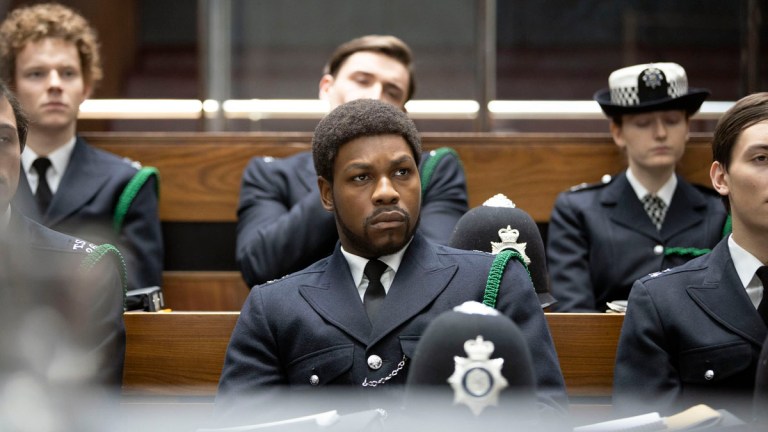 If there's a sense of planetary alignment in the timing of Steve McQueen's Small Axe – five films about London's West Indian community airing weekly from this Sunday on BBC One – it's not by design. Over a decade in the making, the creators couldn't have known that these stories would land in a year marked by both the global Black Lives Matter protests sparked by the murder of George Floyd, and the disproportionately devastating impact of Covid-19 on black communities in the UK. 
The collision of 2020's events with five stories celebrating black British history feels fortuitous to the cast. "The timing of it is so trippy," says actor Shaun Parkes, who plays Frank Crichlow in the first film in the series Mangrove, about London's real-life Mangrove Nine protest and Old Bailey trial.
Speaking at the BBC Small Axe press launch chaired by Akua Gyamfi, founder of The British Blacklist, Parkes continues, "We're all learning what the timing of this is daily. We all knew that it was special but I don't think anyone knew what it was going to be like looking at it from these lenses."
Director Steve McQueen takes a grounded approach to the timing question. "Why now? Because we made it happen. It wasn't a miracle. It wasn't a gift from the heavens. It was a lot of effort to get these stories out." He doesn't know when is the right or wrong time for Small Axe but, after 11 years in development, he's happy it exists. "Now's the time, like Charlie Parker said."
McQueen is also happy that the films will air on primetime BBC One in the 9pm Sunday night drama spot. He wants them to be accessible to a mainstream audience and felt that the BBC was the only UK organisation able to do that. "I wanted my mum to watch it. I wanted these stories to go through the bloodstream of the country." 
The five films – Mangrove, Lovers Rock, Red White and Blue, Alex Wheatle and Education, serve as witness to a West Indian-British generation that was starting to pass away, says producer Tracey Scoffield. Before Small Axe, these stories didn't exist in written form. The films aren't based on books or magazine articles, but written from researching and speaking to the real-life people involved. 
"We're oral historians essentially," says actor Sharlene Whyte of black British communities. "We pass them down rather than writing them down or filming them." Whyte plays Agnes Smith in Education, a coming-of-age story about the experiences of black boys and young men in the British education system. 
Small Axe will thus act as a much-needed record of underreported events in British history and a tribute to London's West Indian community. In Red, White and Blue, Steve Toussaint plays Ken Logan, father to Leroy Logan whose decision to fight racism by joining the British police service sent shockwaves through his circles. He reflects on how minimised the black experience was in the history books he encountered at school. 
"When I was a kid we had Roots and we all rushed in to watch that," remembers Toussaint, "but it was a slavery story. These are people who talk and think like me." It would have been wonderful to have had something like Small Axe back then, he says. The films are important representation for black audiences, Toussaint agrees, as well as for non-black viewers who are being invited into a community marked by struggle, but also joy. 
Joy is part of the texture of 1980s-set romance Lovers Rock, which takes place over the course of a single night at a party. Actor Micheal Ward, who plays Franklyn in the film, admired the script for not feeling forced or didactic. "It didn't feel like we're trying to hold people and say 'listen', we had fun. We had fun back then and we have fun now." His co-star Amarah-Jae St. Aubyn, who plays Martha, remarks that through her acting training, she never thought she'd play the lead in a love story and hopes that the film will inspire young black girls to see themselves as romantic leads. 
John Boyega, who plays Leroy Logan opposite Toussaint in Red, White and Blue, hopes that audiences will take away "a revelation and an education" from Small Axe. "For those who have no perspective on the history here, they're going to get that. And after that, they're going to experience that Steve McQueen." 
Boyega bats away the suggestion that his film should inspire young people, but notes how inspiring the process has been for him, and that he personally wouldn't have been able to make the decisions made by his character Leroy Logan, a man he describes as "strong enough to swallow the conflicts and give us the representation we needed." 
Boyega was left inspired to work with McQueen again and their next project is already under discussion. Collaboration emerges as a theme of the discussion. The various castmembers speak of plans to collaborate once again and to tell more stories from their own black British perspectives and from inside their own communities.
Will Small Axe change the black British narrative? McQueen is hopeful that it will advance the conversation. This series of films are, for him, like science-fiction, he explains. "It tells us where we are. It tells us how far we've come. And it tells us where we need to go." 
Mangrove airs on BBC One at 9pm on Sunday the 15th of November, and lands on Amazon Prime Video in the US on Friday the 20th of November.