News
John Boyega's Black Lives Matter Speech Is Required Viewing
Star Wars actor John Boyega's speech in support of Black Lives Matter is one we should all listen to and think about.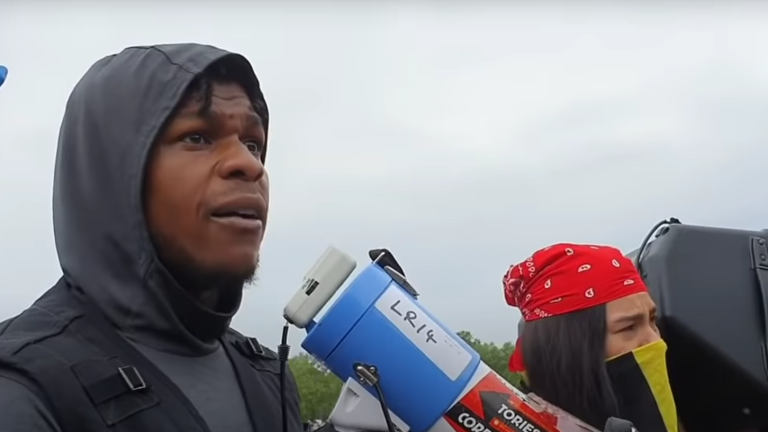 Actor and activist John Boyega, best known for his role as Finn in the Star Wars Sequel Trilogy, joined the Black Lives Matter protest in London's Hyde Park on June 3, delivering a powerful speech that we should all listen to and think about at this moment. Surrounded by a crowd of hundreds, Boyega spoke about the pain he felt over the rampant police violence and racial injustice that has resulted in the death of not only George Floyd but many other Black people before and since.
"I need you to understand how painful it is to be reminded every day that your race means nothing — and that isn't the case anymore, that was never the case anymore. We are a physical representation of our support for George Floyd. We are a physical representation of our support for Sandra Bland. We are a physical representation of our support for Trayvon Martin. We are a physical representation of our support for Stephen Lawrence."
The protest in London is just one of countless demonstrations that rose up all over the world, including in all 50 states of the US, following the death of George Floyd, who was killed while in the custody of white police officer Derek Chauvin, in Minneapolis on May 25. Chauvin was captured on video kneeling on Floyd's neck for over 8 minutes while Floyd pled that he couldn't breathe. Chauvin was taken into custody on May 29 and has been charged with second-degree murder and second-degree manslaughter. He's scheduled to appear in court in June. Three other officers involved in the incident have also been taken into custody and charged.
The killing sparked protests in Minneapolis that spread to other cities in the country and eventually Paris, London, and other places around the world. Many of these demonstrations, including ones in Minneapolis, New York City, Los Angeles, Washington D.C., and Atlanta, turned violent when police officers began using tear gas, mace, and rubber bullets to disperse the crowds.
Boyega urged Londoners to make demonstrations "as peaceful and as organized as possible," stressing that law enforcement "wants us to mess up. They want us to be disorganized. But not today."
Watch the rousing speech below:
"Today is about innocent people who were halfway through their process," Boyega continued. "We don't know what George Floyd could have achieved, we don't know what Sandra Bland could have achieved, but today we're going to make sure that won't be an alien thought to our young ones."
"Black lives have always mattered," Boyega shouted to the roar of the crowd. "We have always been important. We have always meant something. We have always succeeded regardless. And now is the time. I ain't waiting."
Boyega, one of the world's most famous actors, with millions of followers on Twitter alone, said that he didn't care if speaking up and standing with Black Lives Matter hurt his career: "Look, I don't know if I'm going to have a career after this, but fuck that."
It wasn't long before filmmakers like Jordan Peele, Matthew A. Cherry, J.J. Abrams, Mike Flanagan, Charlie Brooker, Jack Thorne, Olivia Wilde, Seth Graham-Smith, and others expressed their support for Boyega and a willingness to work with him in the future. Hopefully, Hollywood, an institution with much work to do when it comes to understanding the systemic racism embedded in the movie and entertainment industries, has listened to Boyega's words and is willing to make the changes necessary.
Boyega's speech is an inspiring example of using your platform and influence for good. Here, Boyega proves himself to be not just a hero in the Star Wars galaxy but one in real life.
If you'd like to help those affected by police brutality or support the Black Lives Matter movement and those that stand against injustice, consider helping by donating to bail funds that help free protestors unjustly imprisoned for practicing their First Amendment rights. You can also spread your donation evenly across several organizations working for change by going here.