News
John Boyega Speaks Out About Being Sidelined in Star Wars
John Boyega opens up about the way Finn was sidelined in the Star Wars Sequel Trilogy and criticizes Disney for giving white characters "all of the nuance."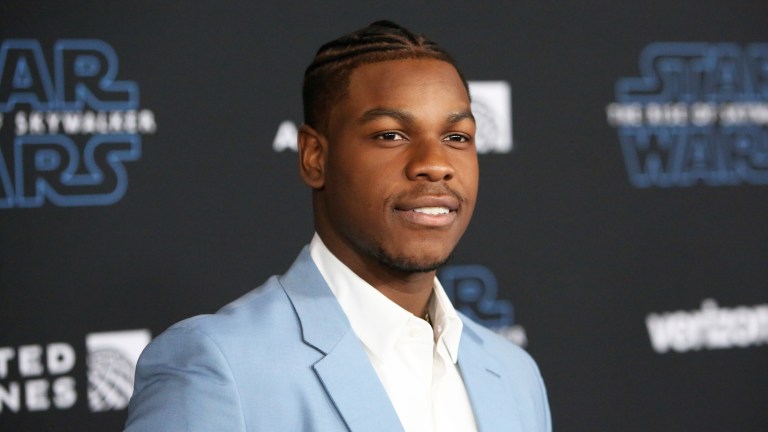 We don't deserve John Boyega, his inarguable acting talent, or his captivating Black Lives Matter speech, speaking to the world without fear of reprisal, which will undoubtedly go down as one of the most important moments of 2020/the decade. It's a shame that we even live in a society where a Black actor would have to worry about "having a career" after speaking out against racial injustice and inequality. As Boyega would say, "Fuck that."
Boyega is once again speaking out in a new interview with GQ, this time about being one of the stars of the Star Wars Sequel Trilogy. In his chat with the magazine, which also covers the events leading up to his BLM speech, his work with Steve McQueen on the new BBC series Small Axe, and his family life, the actor is very candid about his time working with Disney on the multi-billion-dollar trilogy that capped the Skywalker Saga last year.
In the interview, Boyega is particularly critical of the way his character was sidelined from the main storyline. It's no secret that as the Sequel Trilogy proceeded, Finn's role in the story was diminished by saga's end — from brandishing a lightsaber in The Force Awakens as one of the movie's central and more complicated heroes to barely being given anything to do in The Rise of Skywalker at all.
"You get yourself involved in projects and you're not necessarily going to like everything," Boyega said of jumping into the six-year blockbuster gig, criticizing Disney for the way it approached characters of color in Star Wars. "[But] what I would say to Disney is do not bring out a Black character, market them to be much more important in the franchise than they are and then have them pushed to the side. It's not good. I'll say it straight up."
Boyega could be referring to any number of things here — from being marketed as a true heir to the Skywalker legacy in The Force Awakens trailer and then having his involvement in the movie minimized in the marketing for other parts of the world because he's Black to the way he was relegated to side character with the other actors of color in The Last Jedi.
Boyega has been particularly vocal in the past about his thoughts on the trilogy's middle chapter. "I liked the idea of these characters being challenged and separated and stressed, like everyone's just trying to get to each other – that excited me," he told THR in 2019 while promoting The Rise of Skywalker. "But I will be honest in saying I think that they could have done better with it, especially with Finn and Rose [Kelly Marie Tran]."
His feelings haven't changed since then. In the GQ interview, he points out Disney's failure to highlight the trilogy's characters of color in any meaningful way.
"Like, you guys knew what to do with Daisy Ridley, you knew what to do with Adam Driver," he said of the way the movies explored Rey and Kylo Ren's stories versus Rose, Finn, and Poe's. "You knew what to do with these other people, but when it came to Kelly Marie Tran, when it came to John Boyega, you know fuck all. So what do you want me to say? What they want you to say is, 'I enjoyed being a part of it. It was a great experience…' Nah, nah, nah. I'll take that deal when it's a great experience. They gave all the nuance to Adam Driver, all the nuance to Daisy Ridley. Let's be honest. Daisy knows this. Adam knows this. Everybody knows. I'm not exposing anything."
Indeed, by the end of the Sequel Trilogy, Finn is relegated to delivering funny quips with only a hint of a storyline that never coalesces and is mostly tied to Rey anyway. It seems that Naomi Ackie's character Jannah can only exist as a part of the saga because she might be Lando Calrissian's daughter. Oscar Isaac's Poe is revealed to have been a drug smuggler at one point in his life, a dangerous stereotype often lodged at Latinx people (this Colombian writer knows). Kelly Marie Tran's Rose never even gets to leave the Resistance base.
The franchise's approach to creating a more diverse Star Wars galaxy on the big screen has so far been shallow at best. The way the film saga approached a "scene" meant to represent a LGBTQ relationship in The Rise of Skywalker is another shining example of how far Disney still has to go to catch up with the times.
That said, Boyega is quick to defend J.J. Abrams, The Rise of Skywalker's director and co-writer (with Chris Terrio), saying, ""Everybody needs to leave my boy alone. He wasn't even supposed to come back and try to save your shit." He is of course referring to how Abrams was asked to direct the final chapter of the Skywalker Saga after Lucasfilm parted ways with the movie's original director, Colin Trevorrow.
It all hardly seems worth it when you consider the amount of abuse and bullying actors of color faced when they were cast in Star Wars. This is especially true of Boyega, whose casting in The Force Awakens led to a racist campaign against him led by a group of racist crybabies who shouldn't even remotely be considered "fans."
"I'm the only cast member who had their own unique experience of that franchise based on their race," Boyega said. "Let's just leave it like that. It makes you angry with a process like that. It makes you much more militant; it changes you. Because you realize, 'I got given this opportunity but I'm in an industry that wasn't even ready for me.' Nobody else in the cast had people saying they were going to boycott the movie because [they were in it]. Nobody else had the uproar and death threats sent to their Instagram DMs and social media, saying, 'Black this and black that and you shouldn't be a Stormtrooper.' Nobody else had that experience. But yet people are surprised that I'm this way. That's my frustration."
Boyega speaking out when so many other young actors of color still feel like they can't will hopefully pave the way for a better future not only for Star Wars but the film industry as a whole. As Boyega said in his BLM speech, "Now is the time."
The actor will next be seen in the anthology series Small Axe, which premieres on BBC One and Amazon Prime Video on Sept. 25. He also stars in the film Naked Singularity, which is currently set for a 2020 release.