News
Spider-Man: How the No Way Home Integrated Suit Connects All Three MCU Spidey Movies
Spider-Man: No Way Home's Integrated Suit is getting an eerily accurate action figure from Hot Toys, revealing the best look yet.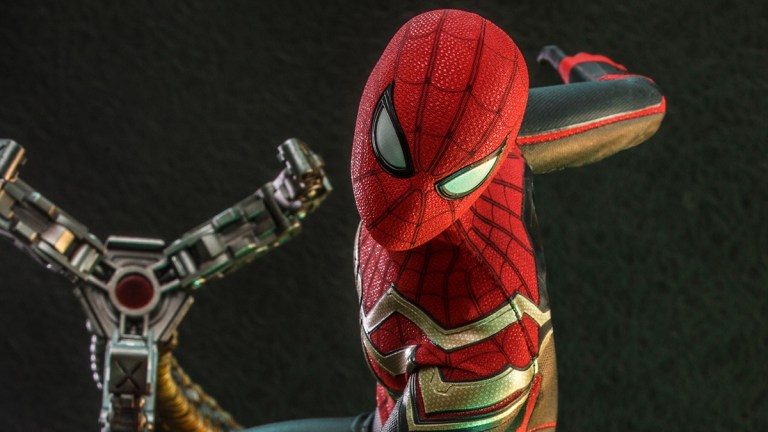 While fans are still reeling from Spider-Man: No Way Home's new trailer, the medium that provided a first glimpse at the film, toys, is teasing another revelatory release. Hot Toys, the company known for providing the pricey pinnacle of poseable plastic doppelgangers, has revealed a stunning take on one of star Tom Holland's new costumes, the Integrated Suit. While said suit was introduced to the public in this past summer's preview of No Way Home's retail tie-in toys, the movie-accurate details here highlight an intriguing aspect.
With Spider-Man: No Way Home being touted by Holland himself as "the end of a franchise," meant to cap off solo films that are now being collectively called the Homecoming Trilogy, it does seem that the Integrated Suit is meant to be the culmination of Spidey's consistently-evolving new duds across his Marvel Cinematic Universe version's thus-far six total film appearances. Thus, it appears to be a hybrid of his previously showcased sartorial choices. It's an idea effectively clarified by the just-unveiled Hot Toys figure, which advantageously reproduces the suit in a line-standard 1/6 scale, standing at approximately 11.2 inches, featuring an insane array of display options—that is, if you're willing to shell out $285, which is just for the standard release version.
Check out the official photos of Hot Toys' Spider-Man: No Way Home Integrated Suit just below.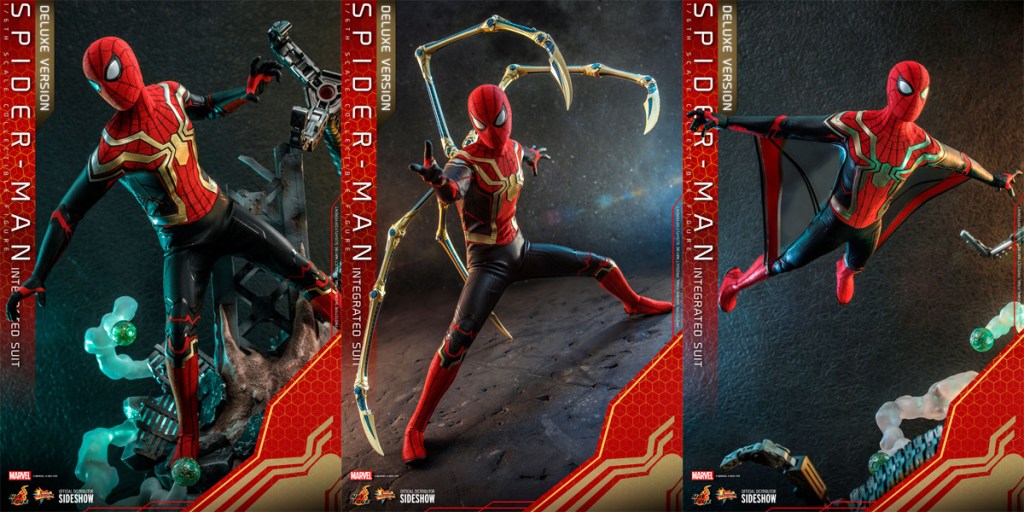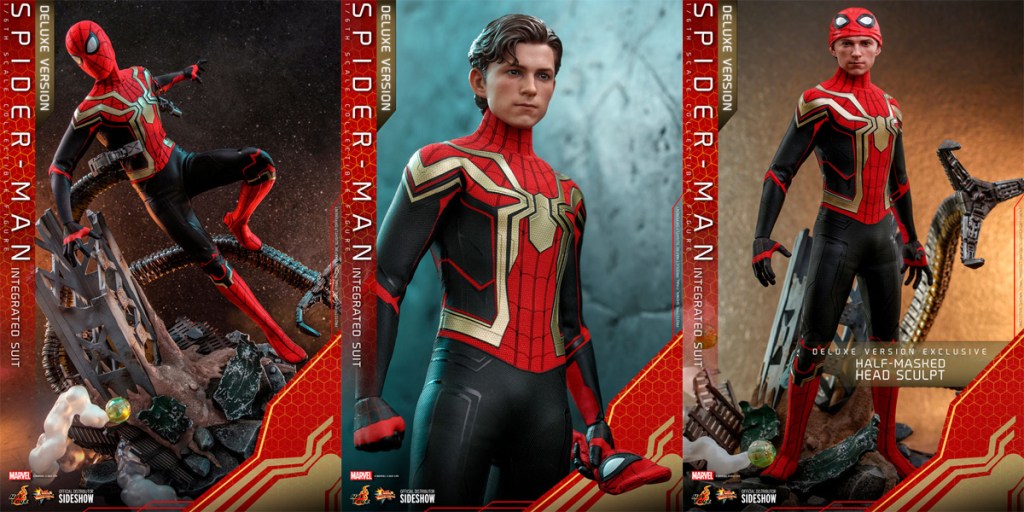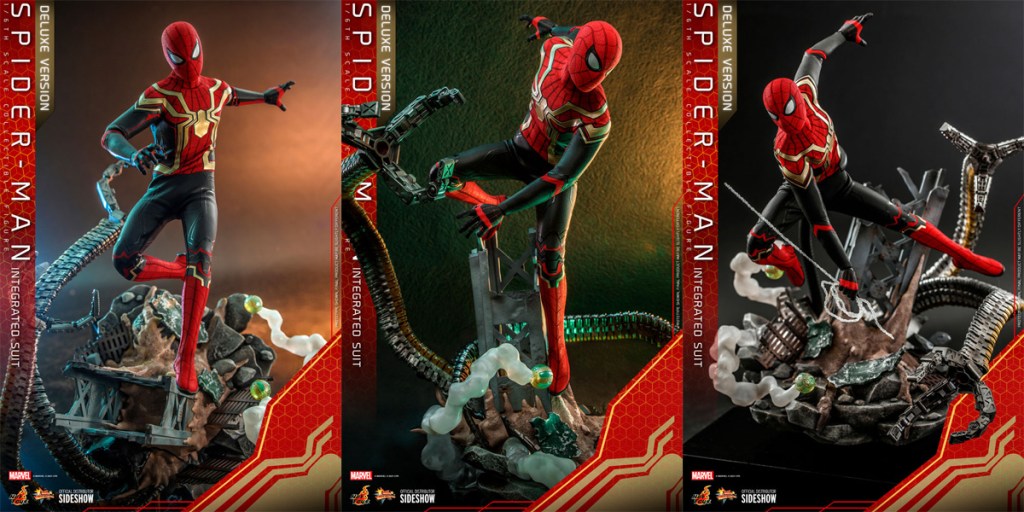 Of course, one of the most defining aspects of Holland's Spidey has been his costume evolution, which is a story arc in its own right. After debuting in 2016's Captain America: Civil War with a crudely-cobbled homemade outfit, Spidey was quickly upgraded to a comic-evocative red and light-blue upgrade courtesy of Tony Stark's vast resources; a costume he took over to 2017 solo debut Spider-Man: Homecoming. However, when 2018's Avengers: Infinity War and 2019's Avengers: Endgame showcased a crisis of cosmic proportions, he would don a Stark-tech-imbued outfit that appropriately matched the stakes. Thus, he debuted the shiny, durable, accessory-imbued outfit known as the Iron Spider costume, which utilized nano technology for an instant fit, and debuted the comic-book-inspired attribute of four golden pincers, which essentially fulfilled the hero's branding as an arachnid with eight appendages. Yet, the darker colors of the Iron Spider costume would carry over to a new version of the standard outfit for 2019's Spider-Man: Far from Home, which bore the new feature of under-arm webbing evocative of Spidey's early comic book look, which—as we saw in the film—also has an arial utilitarian purpose similar to a skydiver's wingsuit.
Based on the intricately-detailed Hot Toys figure, No Way Home's Integrated Suit is aptly name, showcasing costume attributes culled from across the Homecoming Trilogy, with design choices that make it stand out uniquely. In fact, what immediately stands out is the dominating solid gold spider logo on his chest, which—with a potentially protective riveted texture—has legs that span widely across Spidey's shoulders and waist. Plus, as previously revealed by the retail releases, one of the unique attributes of the MCU costume, large, wrist-band-attached web shooters, appears to have been given an aesthetic upgrade, leaving his wrists now completely free, with the web shooters' only visible presence now relegated to openings on his palms. It's a look that is complemented by new gloves with fingers sporting the costume's new black-dominant color, which against the signature red, almost appear tactilely finger-less.
Compounding the Hot Toys figure's coolness, the even-pricier deluxe version will include a diorama display stand that perfectly captures the chaos teased in the trailers, showcasing building debris broken by the signature tentacles of Doctor Octopus, as played by Alfred Molina in a highly-anticipated reprisal of his Spider-Man 2 role, and some smoke-seeping, imminently-exploding pumpkin bombs courtesy of the Green Goblin from the Sam Raimi films—in this case the very first one—played once again after nearly 20 years by Willem Dafoe. However, this beautiful piece is far more dynamic than the simple static sculpture it resembles, since Doc Ock's tentacles are actually bendable, allowing one to pose Spidey in some difficult scenarios, including the instantly-famous new trailer scene in which he's being wrapped and ready to have his head-crushed. This awesome amenity, however, will require one to shell out $425 ($140 more than the standard) for the deluxe release.
Impressiveness aside, the Hot Toys release seems to be conspicuously missing a potentially-major aspect apparently attached to the Integrated Suit, that being spells. Indeed, the aforementioned unveiling of the retail tie-in toys, which occurred back in July, first name-dropped "Integrated Suit" for a Funko Pop! figure, which notably has Spidey jumping in the air (perhaps flying?) while wielding Doctor Strange-like magic spell glyphs from his right wrist and chest. Thus, one would assume that, with Spidey not being magic-adept, the suit's Stark technology might have some improvised spell-casting abilities courtesy of the Wall-Crawler's new magical multiverse crisis cohort. However, that ability won't be unique to the Integrated Suit, since No Way Home's recent trailer—even in its very thumbnail—shows Spidey utilizing those same magical upgrades while sporting the also-debuting Black and Gold suit. Of course, we'll have to wait for the film to get the context behind this ability—and, for that matter, why Spidey has so many suits this time.
Spider-Man: No Way Home swings its way to theaters for a potentially watershed pandemic-era run on Dec. 17. MCU sequel Doctor Strange and the Multiverse of Madness will presumably follow up directly, now scheduled (notwithstanding delays from the reported reshoots) for May 6, 2022.